10 Students Earn Their Degree in Medical Studies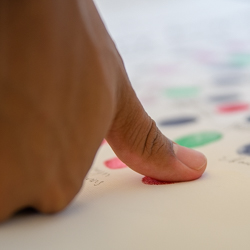 Ten Pathway Scholars earned master's degrees in Medical Studies May 8 and will join the University of Arizona College of Medicine – Phoenix's Class of 2023 in July.
"The vision of the Pathway Scholars Program was to prepare a diverse, underrepresented-in-medicine cohort of individuals that would matriculate into our College of Medicine – Phoenix," said Maria Manriquez, MD, director of the Pathway Scholars Program. "Our goal is that they would thrive and strive and become physician leaders who would give back to the community and patients who, like themselves, have had greater-than-normal challenges in navigating systems in power."
Graduating Pathways Scholars Class of 2019:
Brittany Begaye.
Kathryn Blevins.
Brett Clark.
Sabrina Dahak.
Naim Duran.
Jorge Gonzalez.
Estefania Lopez.
Brittani Miller.
Isiah Romo.
Abigail Solorio.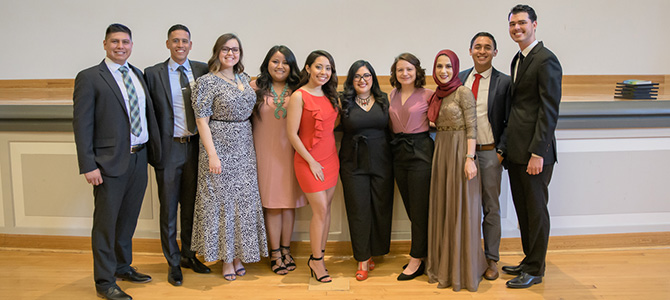 At the graduation ceremony, students presented their legacy project, a pamphlet to help those living on the streets keep track of their health records. They created the pamphlet for the Phoenix Street Medicine program, a student-led program that provides health care to Phoenix's homeless population.
The Pathway Scholars Program is for Arizona students who want to pursue a career in medicine and have experienced unique or greater-than-average challenges in preparing to become competitive medical school applicants.
"Everyone in this room is proof of the strength and the benefit of perseverance in the face of extreme adversity," Pathway scholar Brittani Miller said.
The program provides academic support to tailor a learning plan to the individual student's needs.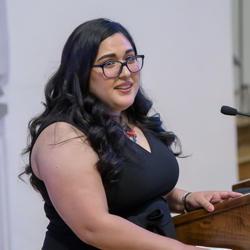 The first cohort of Pathway scholars graduated from the medical school May 6 with the Class of 2019.
The program recently received the prestigious UA Peter W. Likins Inclusive Excellence Award. Francisco Lucio, JD, associate dean of the Office of Diversity and Inclusion at the College of Medicine – Phoenix, nominated them. In his nomination letter, Lucio wrote that the program has helped 39 of its 40 participants enter medical school, a success rate of nearly 98 percent.
Support is needed to help prepare select disadvantaged students for a future in medical school. Make a gift to the Pathway Scholars Program.
Media Contact:
Lindsay Roberts
Phone: 602-827-2585
Categories