Sixth Annual ChArt Journal Announces Winners
The Celebrating the Humanities through Arts (ChArt) Journal began in 2012 as an interdisciplinary arts and humanities publication. The journal was created to allow students, faculty and staff at the University of Arizona College of Medicine – Phoenix to share their experiences through original works.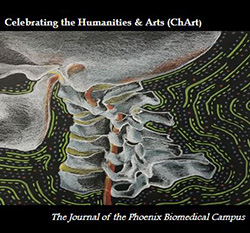 Every year, members of the UA College of Medicine – Phoenix community submit original works of art, essays, photography and poetry. With the purpose to promote reflection, create community and inspire humanism through creation, sharing and appreciation of the arts.
Jennifer Hartmark-Hill, MD, is the director of the Program for Narrative Medicine and Medical Humanities at the college and serve's as the ChArt Journal's editor-in-chief.
"The important diversity of perspectives, alongside the shared core values of compassionate, humanistic patient care, played a strong role in my professional identity formation," Dr. Hartmark-Hill said.
Each year, the editors of the journal choose award winners in the categories below; this year's winners were:
The Patient Voice Award – Dr. Lisa Shah-Patel (College of Medicine – Phoenix faculty).
Humanities in Medicine Award—Melissa Gordon (MS4).
The Bard Award for Transformative Poetry – Catherine Lockmiller (NAU librarian).
Outstanding Editor Award – Meher Rakkar (Narrative Medicine & Health Humanities Program intern).
People's Choice Award for Most Stunning Photography – Gary Stanzak (Community member).
Visionary Artist Award – Megan Cadigan (MS1).
About the College
Founded in 2007, the University of Arizona College of Medicine – Phoenix inspires and trains exemplary physicians, scientists and leaders to optimize health and health care in Arizona and beyond. By cultivating collaborative research locally and globally, the college accelerates discovery in a number of critical areas — including cancer, stroke, traumatic brain injury and cardiovascular disease. Championed as a student-centric campus, the college has graduated 669 physicians, all of whom received exceptional training from nine clinical partners and more than 2,600 diverse faculty members. As the anchor to the Phoenix Bioscience Core, which is projected to have an economic impact of $3.1 billion by 2025, the college prides itself on engaging with the community, fostering education, inclusion, access and advocacy.