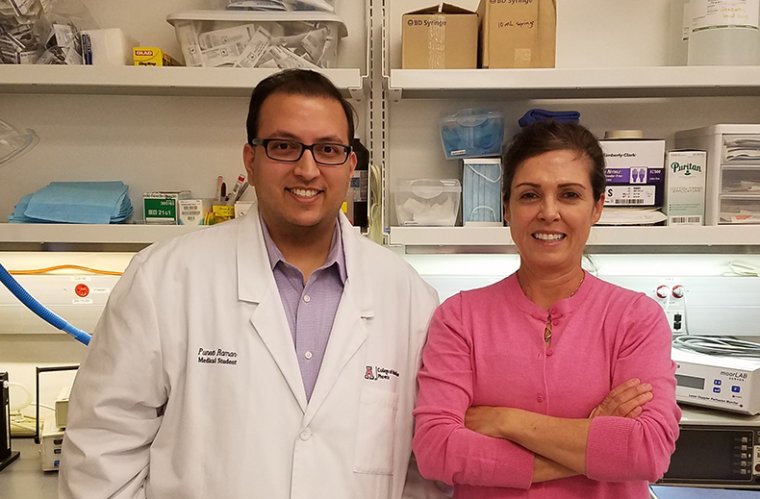 UA Medical Student Leads Study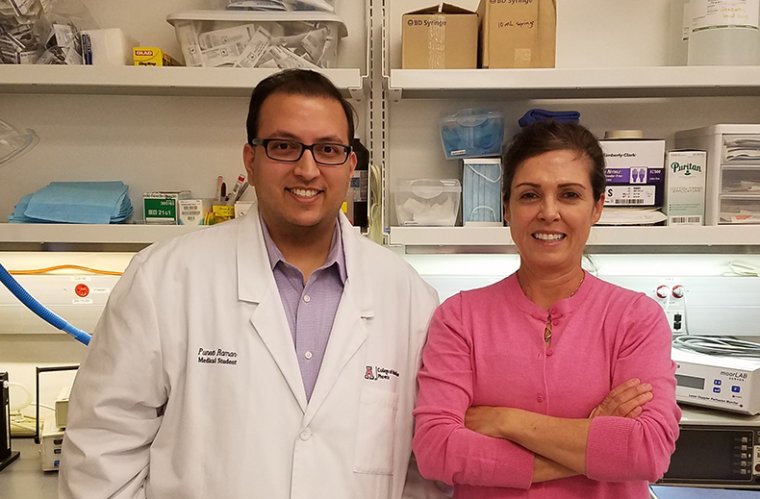 Study Discovered Novel Mechanism that Reduces Inflammation Associated with Heart Disease
A study led by a University of Arizona College of Medicine – Phoenix medical student has identified a mechanism in human vascular cells that regulates levels and activity of a proinflammatory mediator and its downstream biomarker of inflammation associated with heart disease.
Fourth-year medical student Puneet Raman published a research article in May 2018 in the American Journal of Physiology - Cell Physiology on the impact of saturated fats on the health of the blood vessel wall.
"We found that fats cause inflammation in arteries in the heart and brain, and there are multiple mechanisms by which it does so," Raman said. "We can potentially target some of these mechanisms in the future to preserve the health of those blood vessels and reduce the risk of stroke, heart attack and other vascular diseases."
Raman worked on the research as part of his scholarly project with mentor Rayna Gonzales, PhD, an associate professor in the Department of Basic Medical Sciences at the college. All students at the UA College of Medicine – Phoenix are required to complete a four-year scholarly project in order to graduate.
One of the novel mechanisms reported in Raman's study has to do with how a specific inflammatory protein expressed in the blood vessel wall is activated during high fat conditions. He found that one type of glucosamine reversed this process and reduced downstream production of inflammatory markers. Glucosamine is commonly recognized as a supplement for arthritis or joint disease, but it may play a role in reducing inflammation associated with heart disease or stroke.
"Our research is one of the initial steps in clarifying the link between a high fat diet and vascular disease," Raman said. "We found a novel mechanism for the inflammation caused by the most common dietary saturated fat, palmitic acid. Looking forward, we would like to investigate how other pharmacologic agents can impact the glycosylation and activity of COX-2, a key inflammatory mediator, with the goal of reducing or preventing inflammatory changes in the blood vessel wall. We also see the importance of understanding how unsaturated fatty acids, the 'healthy fats', may impact this inflammatory process."
Raman started volunteering in Dr. Gonzales' lab in January 2013, prior to starting medical school. He praised the training he received from Dr. Gonzales, who is a member of the UA Sarver Heart Center, and three former members of her lab.
"I worked hard on my research, but it would not have been possible without Dr. Gonzales and her past and current lab members," Raman said. "She laid the foundation for the success of this current research project, and I feel truly grateful that she gave me the opportunity to join her lab six years ago."
Raman presented his work at the American Society for Pharmacology and Experimental Therapeutics meeting in April 2017. He received first place in the division of Cardiovascular Pharmacology Graduate Student Best Poster Competition and was chosen to give an oral presentation on his research at the Arizona Biomedical Research Centre research conference in March 2018. His most recent research was funded through a Sarver Heart Center Investigator Award.
"Modern medical practice is rapidly evolving as our understanding of the human body grows exponentially. Evidence-based medical practice is heavily emphasized in our curriculum, but large quantities of research studies are published daily," Raman said. "As clinicians, we must distinguish high-quality and poor-quality evidence to determine what to implement in our practice. Additionally, patients have varying levels of education and understanding of human biology. The best physicians have mastered the art of presenting high-level evidence-based clinical information in plain language everyone can understand."
Raman plans to complete his residency in internal medicine and pursue a fellowship in hematology and oncology.
"I did not understand how to evaluate research with the most rigorous or critical eye until this manuscript was submitted and published," Raman said. "I now believe that I have the ability to evaluate current and future research with the rigor necessary to ensure patient safety while also improving methods of diagnosis and treatment. I know this will be essential to practicing in my future specialty."
About the College
Founded in 2007, the University of Arizona College of Medicine – Phoenix inspires and trains exemplary physicians, scientists and leaders to optimize health and health care in Arizona and beyond. By cultivating collaborative research locally and globally, the college accelerates discovery in a number of critical areas — including cancer, stroke, traumatic brain injury and cardiovascular disease. Championed as a student-centric campus, the college has graduated 593 physicians, all of whom received exceptional training from nine clinical partners and more than 2,400 diverse faculty members. As the anchor to the Phoenix Biomedical Campus, which is projected to have an economic impact of $3.1 billion by 2025, the college prides itself on engaging with the community, fostering education, inclusion, access and advocacy.