White Coat Profile: Jessica Callan
Incoming Medical Student Finds Motivation to Pursue Childhood Dream of Medicine
The White Coat Ceremony marks the first time a medical student will don his or her white coat, the defining symbol of a physician. The coat bestows a great honor on each student, and with it comes a responsibility to uphold the trust of every patient they will encounter. The Class of 2022 will receive their white coats on July 20 during a ceremony that begins at 3:30 p.m. at Symphony Hall in downtown Phoenix.
Meet Jessica Callan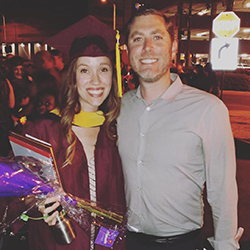 After spending several months taking care of a critically injured family member, incoming medical student Jessica Callan felt inspired to finally pursue her childhood dream of medicine. She began work to complete prerequisite classes, studying for the MCAT, shadowing doctors and volunteering — all while being a stay-at-home mom.
She received a bachelor's degree in Spanish and completed an accelerated master's degree in Health Care Delivery from Arizona State University.
"Learning more about health care policy, quality improvement and population health was invaluable for me as a future physician, and I'm thankful for having had that detour," Callan said. "Despite having an incredibly busy schedule and juggling several roles, studying medicine and working in clinical settings is rewarding and profoundly satisfying. I feel so at home in health care and can't imagine doing anything else with my life."
Why Did You Choose the College of Medicine – Phoenix?
"Most medical schools have a strong focus on clinical medicine, education, and research," she said. "However, I have yet to encounter another school which is also so explicitly dedicated to serving the community."
Callan said she believes that service to the community is the ultimate reason to pursue excellence in clinical medicine, research and education, and it excites her to see this same mission for the College of Medicine – Phoenix. Having lived in Phoenix for her adult life, Callan said she knows that it's "not just words in a mission statement, but that the institution truly does serve the people of Phoenix."
"I felt a deep sense of belonging during my visit to the College of Medicine – Phoenix and thoroughly enjoyed all aspects of the facility — from the cutting-edge simulation lab to the fact that there were bins for composting in the cafeteria," Callan said. "It's evident that the college values its culture, and works hard to foster a connection and well-being in its staff and student body. I am confident that the program here is perfectly suited to help me become the competent and compassionate doctor that I've long dreamed of being."
Describe Your Volunteer Experiences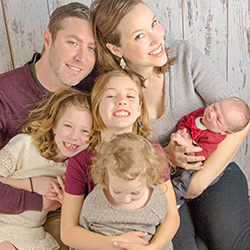 Callan began volunteering at Phoenix Children's Hospital as a patient escort, helping patients and families navigate the vast campus, then moved on to volunteering as a nurse assistant and a clinical researcher there. Additionally, she worked as a medical interpreter at a local free clinic.
What Does the White Coat Mean to You?
"Donning the respected white coat, and all of the responsibilities it represents, is something I take very seriously," Callan said. "The coat connects me to the healers who have come before me, and to those who presently practice, both in my community and around the world. It symbolizes the culmination of my pre-med journey, validates all the hard work I've put in thus far, and marks the beginning of this exciting new chapter. I'm honored and humbled to be able to serve humanity in this capacity, and I'm especially resolved to be a worthy testament to the power and potential of women everywhere."
Be a part of this storied tradition by becoming a White Coat Sponsor today! Your generous gift will provide one of these future physicians with their white coat.
About the College
Founded in 2007, the University of Arizona College of Medicine – Phoenix inspires and trains exemplary physicians, scientists and leaders to optimize health and health care in Arizona and beyond. By cultivating collaborative research locally and globally, the college accelerates discovery in a number of critical areas — including cancer, stroke, traumatic brain injury and cardiovascular disease. Championed as a student-centric campus, the college has graduated 500 physicians, all of whom received exceptional training from nine clinical partners and more than 2,000 diverse faculty members. As the anchor to the Phoenix Biomedical Campus, which is projected to have an economic impact of $3.1 billion by 2025, the college prides itself on engaging with the community, fostering education, inclusion, access and advocacy.