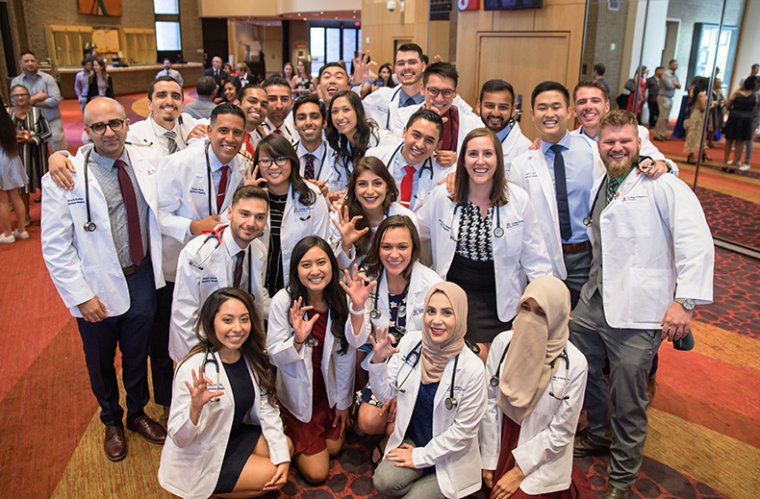 80 Students Welcomed to Begin Training as Physicians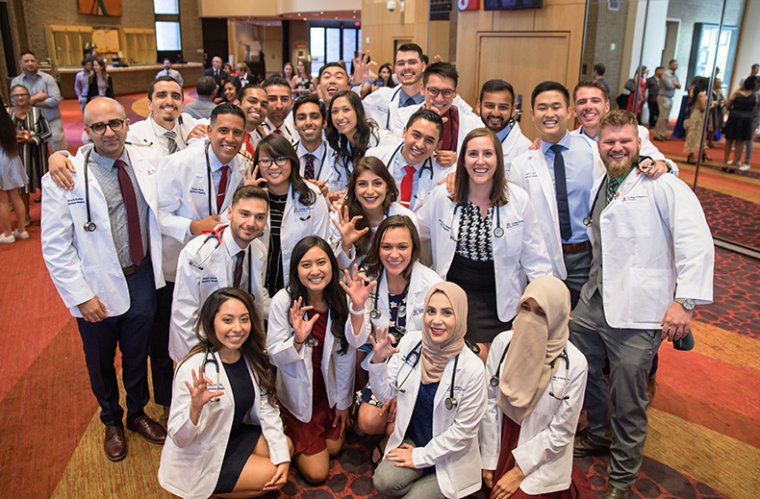 13th Class at UA College of Medicine – Phoenix Begins Journey to Become Doctors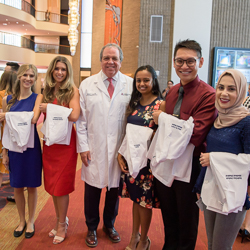 Eighty first-year students from the University of Arizona College of Medicine – Phoenix received their first white coats and stethoscopes, both mantles of the medical profession, Friday, July 19, during ceremonies at Symphony Hall in Phoenix.
The medical students were chosen from 5,900 candidates who applied to the downtown Phoenix medical school. The students are from 32 undergraduate schools and 13 states. Forty-nine of the incoming students are from Arizona. Their average overall undergraduate GPA was 3.7, with 10 students graduating from the University of Arizona and 21 graduating from Arizona State University.
Half of the class identifies with a group underrepresented in medicine such as from a rural background, socioeconomically disadvantaged or educationally under-resourced.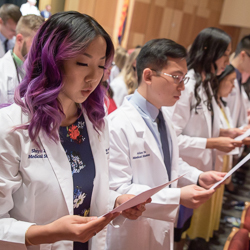 The ceremony marks the students' entry into clinical medicine and is a rite of passage in their journey toward a career in health care.
Nearly 800 family members and friends cheered as each new medical student put on their brand new white coat.
Guy Reed, MD, MS, Dean and Valley of the Sun Professor of the UA College of Medicine – Phoenix, told students that the white coat "signifies the beginning of a marathon journey of transformation from talented, carefully selected students into exceptional, skilled, highly educated and compassionate physicians. Putting on this coat demonstrates your commitment to improving health and alleviating suffering."
The college in downtown Phoenix was established as a way to ease the growing shortage of physicians in Arizona. In just 12 years, 500 physicians have graduated. The state still ranks just 44th nationally in the number of primary care physicians, and the need remains great.  
Joan Y. Reede, MD, MS, MPH, MBA , dean for Diversity and Community Partnership at Harvard Medical School, delivered the keynote address.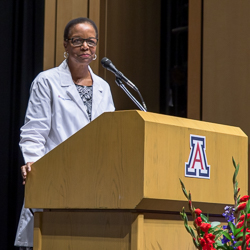 She recalled the health disparities her family and her students faced because of their race.
"In my lifetime, there were students who were denied entry, residents who were denied placements and physicians who were denied privileges because they were perceived to be different," she said. "At the same time, I've seen great positive change. Our profession has become more inclusive, more equitable and more responsive to the needs of those who we have the privilege to serve."
Dr. Reede told the students that they have the opportunity to carry this positive change forward. "Each of us has an incredible potential and a purpose, but it is up to us to choose our direction and determine our path for making a difference.
"Class of 2023, you must be resilient, you must persevere, learn, grow, be willing to ask questions, take contingent risks and challenge the status quo."

Alumni speaker Rachel Lusk, MD, who graduated from the College of Medicine – Phoenix in 2013 and is a pediatrician with the Maricopa Medical Center Comprehensive Health Center, encouraged the students to figure out things they enjoy outside of medicine that can reinvigorate them when times are difficult or they feel overworked.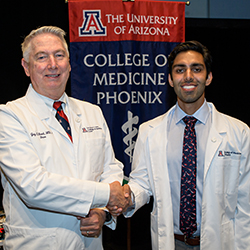 "Think about what those things are for you and prioritize them with your time off," she said. "You cannot give from an empty well. Make time for those things that help you to be you."
She said to step back when things get chaotic to remind themselves to see their patients "as the amazing human beings that they are. Each has a story and journey that has led them across your path," she said. "They have their own unique perspective and wisdom, and they will be some of your greatest teachers."
First-year student Arjun Johal said the ceremony was the culmination of many years of hard work chasing a goal that at times seemed lofty and unreachable.
"It's amazing to have it all come together all at once like this," he said.
Johal graduated with a bachelor of science degree in biochemistry from the University of California Santa Barbara. When asked what he envisions doing in four years, he said: "I hope I'm still advocating for those who cannot advocate from themselves and trying to bridge health care disparities, serving those who need it the most."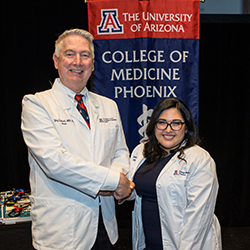 said wearing the white coat "means first reminding myself to have respect for the profession, the patients, their families and really remember why I want to become a physician and the people I want to serve."
She attended high school in San Luis, Arizona, and received a bachelor of science in biochemistry, a bachelor of arts in Spanish translation and interpretation, and a master of medical studies from the University of Arizona.
She said she was excited and nervous before the ceremony. "I have been dreaming of this moment my whole life." She wants to serve as a bilingual physician.
Putting on his white coat for the first time was humbling for Patrick Mayolo, who earned a bachelor of science in life science from the United States Military Academy.
"It's very humbling," he said. "I realized there's so much that I have to learn and so much that I need to develop to be a role model and provider to my patients."
The White Coat Ceremony was initiated in 1993 at Columbia University College of Physicians and Surgeons. The widespread adoption of the event, currently practiced by 90 percent of medical schools, is endorsed by the Robert Wood Johnson Foundation. Beginning in 2007, the College of Medicine – Phoenix began holding the ceremony at the conclusion of first-year students' first academic block, Introduction to Medicine.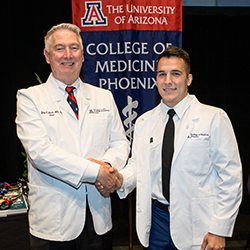 In addition to their white coats, which were donated by 100 sponsors, students received a 3M Littmann Cardiology III Stethoscope from Banner University Medicine, the textbook "The Patient History: An Evidence-Based Approach to Differential Diagnosis" from District Medical Group at Maricopa Integrated Health System, and a Keeping Healthcare Human lapel pin from The Arnold P. Gold Foundation.
Videos, Photos and More
About the College
Founded in 2007, the University of Arizona College of Medicine – Phoenix inspires and trains exemplary physicians, scientists and leaders to optimize health and health care in Arizona and beyond. By cultivating collaborative research locally and globally, the college accelerates discovery in a number of critical areas — including cancer, stroke, traumatic brain injury and cardiovascular disease. Championed as a student-centric campus, the college has graduated 500 physicians, all of whom received exceptional training from nine clinical partners and more than 2,000 diverse faculty members. As the anchor to the Phoenix Biomedical Campus, which is projected to have an economic impact of $3.1 billion by 2025, the college prides itself on engaging with the community, fostering education, inclusion, access and advocacy.