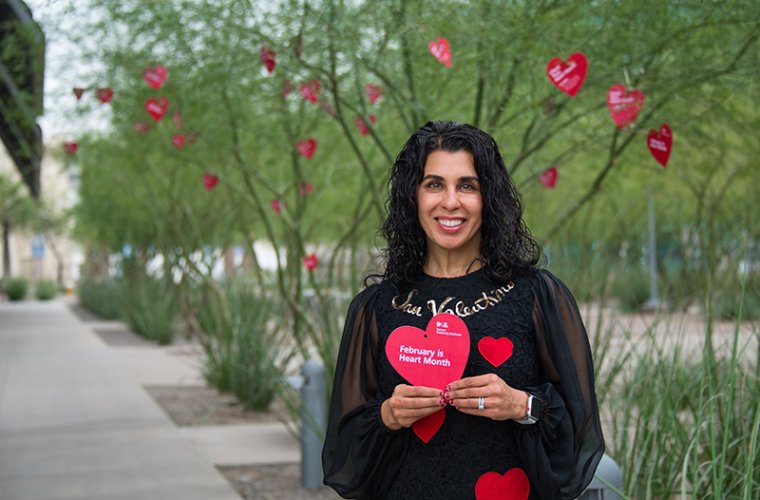 Women in Medicine: Trailblazers, Advocates and Leaders - Martha Gulati, MD, MS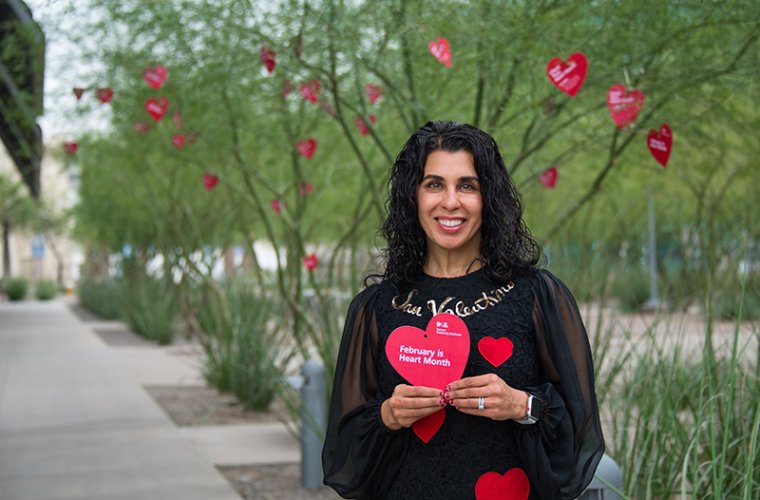 In honor of this year's Women in Medicine and Science theme, "Women in Medicine: Trailblazers, Advocates and Leaders," the College of Medicine – Phoenix has asked a few faculty to share their inspiring stories about female physicians or scientists who helped advance their career.
Martha Gulati, MD, MS, FACC, FAHA, is chief of the Division of Cardiology at the College of Medicine – Phoenix and physician executive director for the Banner – University Medicine Heart Institute. She is a fellow of the American College of Cardiology and the American Heart Association and board-certified in cardiovascular disease.
Dr. Gulati is passionate about educating and treating women with heart disease and preventing it. She is a member of numerous advisory boards and societies, including the American College of Cardiology, and has published articles in The New England Journal of Medicine, Circulation and the Journal of the American Medical Association (JAMA). Prior to coming to Phoenix, Dr. Gulati served as an associate professor of Medicine and Clinical Public Health in the Division of Cardiology at the Ohio State University, where she was the Sarah Ross Soter Chair in Women's Cardiovascular Health and section director for Women's Cardiovascular Health and Preventive Cardiology.
Tell Us About a Woman Who Influenced You
I was influenced by many men and women. To be honest, I was blessed by supportive people in my world who did not make my sex or gender a perceived issue to my goals. But I was aware, obviously, that others did. My mother was my childhood influence. She wanted to be a doctor and her father told her it was a man's field, so she became a physicist instead. I grew up knowing that some people might not want women in this field — but not from my parents. When we were growing up, they told us that there was nothing we couldn't do.
As a medical student, I had the opportunity to meet the incomparable Dr. Nanette Wenger. She is a professor emeritus at Emory University and the former chief of cardiology at Grady Hospital. She spoke to our university (University of Toronto at Women's College Hospital), and influenced my path toward what I do currently.
She spoke about women's cardiovascular health and how little we knew about women's heart health by excluding them from studies. We didn't know how many drugs worked in women, or how to treat women, because of their exclusion. At the time, women were dying at greater rates than men. Her words had so much impact on me. I knew that day what I was going to do when I graduated medical school: Be a cardiologist, but specialize in women. What I didn't know is that Dr. Wenger would become both a mentor and a dear friend. She has influenced my career in ways I can't even explain. She has opened doors for me, been a voice of reason and has created an army of cardiologists that are advancing the cause of women's cardiovascular health, but also of supporting other women. "Pay it forward" is really all she wants us to do.
What is the Status of Female Cardiologists Today?
For women in cardiology, we still remain a minority. Women cardiologists are only 13 percent of all cardiologists in the U.S. As a result, not every workplace is welcoming to women. Women report all kinds of barriers or issues within cardiology: some relate to being accepted in the workforce that is very male-dominated, some relate to harassment. There are many barriers related to women as leaders in our cardiology field and within universities as a whole. We do surveys regularly to try to assess cardiologists and also to look for potential barriers that may be keeping women from entering our field.
Our goal is to get more women into cardiology. As a result, we know we need to change our field to be more open to women. We need to have more family friendly approaches to ensure women see this as a field for them. We need flexibility in hours and even potential job sharing. We need to get more women as leaders to change the status quo and remove barriers that are antiquated and dated. We need to hire more women, promote women and not make assumptions about women. Such changes will improve things for both men and women. It isn't really unique to cardiology per se, but academic medicine. So we need to make conscious changes to improve our landscape.
How Do You See Your Role in Improving the Path for Future Female Cardiologists?
I feel very fortunate to be chosen as the inaugural chief of cardiology at University of Arizona College of Medicine – Phoenix. It has been challenging, but also very rewarding. This job has taught me so much. A mentor of mine who told me to take this job said "Take the leap," when I asked her advice on taking a chance on a new position in such a different landscape than I was used it (thanks Dr. Sue Pepin!). So I took the leap.
I have learned so much, not just about this job but how to manage people, how to build things, how to collaborate and be a true servant-leader. I also have learned a lot about myself and know my strengths and my weaknesses. I am in a position that makes me a role model for my medical students, residents and fellows and I take that very seriously. In addition, given how few women academic chiefs of cardiology there are in North America, I know what I do and how I do it is being watched by many others. I aspire to be the best I can be, within the limitations of my institution. I am very active in the national and international cardiology community. As such, I am in a unique position to advocate for women in cardiology, and for issues related to the advancement of women in academic medicine.
Throughout the month of September, we will be celebrating and highlighting the important work of women scientists, clinicians, educators, mentors and leaders in academic medicine. They will share their empowering stories about female physicians and scientists who helped shape their careers in medicine and paved the way for the next generation of trailblazers in academic medicine.
About the College
Founded in 2007, the University of Arizona College of Medicine – Phoenix inspires and trains exemplary physicians, scientists and leaders to optimize health and health care in Arizona and beyond. By cultivating collaborative research locally and globally, the college accelerates discovery in a number of critical areas — including cancer, stroke, traumatic brain injury and cardiovascular disease. Championed as a student-centric campus, the college has graduated 665 physicians, all of whom received exceptional training from nine clinical partners and more than 2,500 diverse faculty members. As the anchor to the Phoenix Bioscience Core, which is projected to have an economic impact of $3.1 billion by 2025, the college prides itself on engaging with the community, fostering education, inclusion, access and advocacy.