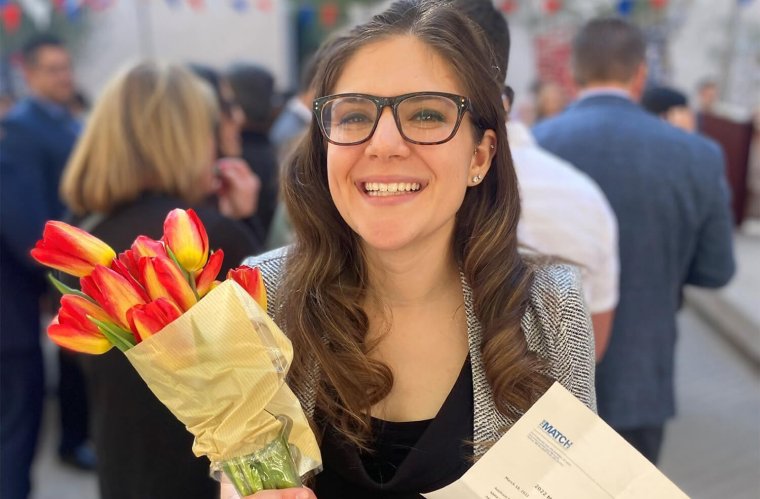 Commencement Profile: Alex Meilech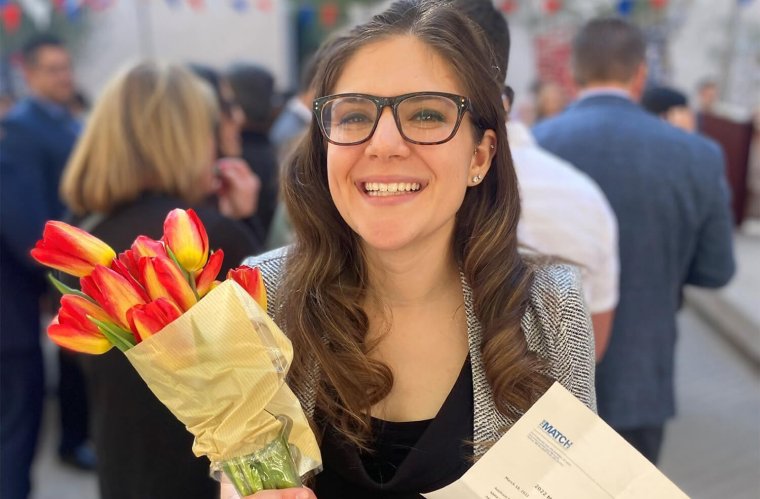 Combining her love for social justice and medical education, Meilech hopes to continue her mother's legacy of helping patients through medicine
On Monday, May 9, the University of Arizona College of Medicine – Phoenix will hold its 12th Commencement. Led by a pipe and drum corps, the Class of 2022 will process through downtown Phoenix, finishing at the Phoenix Convention Center for their official ceremony. The day marks the beginning of the next phase in their journey as physicians. The college profiled a series of graduating students to commemorate the milestone.
Meet Alex Meilech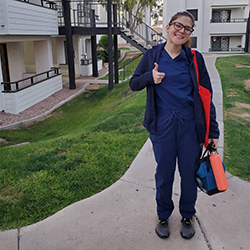 Although her parents are from South Africa, Alex Meilech was born and raised in Phoenix. She went to college in Virginia and came back to Arizona for medical school at the University of Arizona College of Medicine – Phoenix.
Meilech credits her family, friends and husband as her biggest supporters and praises the many mentors she has had during her time in medical school — especially Jacob Anderson, DO, at Wesley Community and Health Center — for their teaching and support.
Undecided about the specialty around which her career will focus, Meilech is keeping many doors open and going into internal medicine. She's open to the possibility of doing primary care, hospital medicine or sub-specializing. Her personal interests within medicine are social justice, medical education and health care policy.
Path Toward Medicine
What was the spark that led you to become a physician?
My interest in medicine was sparked by my mom, who is a psychiatrist. She has worked for Valleywise (formerly MIHS) for nearly her entire career, originally in the outpatient setting at the HIV clinic and currently in the inpatient setting. She derives a lot of meaning from working with the underserved, which has always been inspirational to me.
While I considered medicine for some time, I wanted to have some experiences with medicine independently to further explore this path. In college, I was able to participate in women's health during my undergraduate studies — volunteering with survivors of sexual assault and domestic violence and researching pregnancy in rural settings. These experiences helped me see a lot of the impact of public policy and social factors on health.
What clinched the decision for me was shadowing with a primary care physician in Richmond. I was so impressed with the way this physician knew and cared about his patients and their lives. I knew that this was the field I wanted to be in and the way I wanted to interact with my patients.
Match Day
On Match Day, what was it like discovering where you were headed for residency?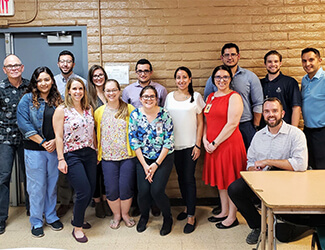 It was a roller coaster of emotions leading up to Match Day. I leaned on the people closest to me for reassurance. I was so excited and grateful to find out that I had matched into internal medicine on the Monday of Match Week. Come Match Day, I was ready to accept all the possible outcomes. When we finally counted down and opened the envelopes at 9:00 a.m., it was a dream come true for me to find out I would be staying at the UArizona College of Medicine – Phoenix. We had a lot of family and friends across the country and around the world tuning in on Zoom, so we went to the live stream and gave the 'two thumbs up' sign to let our fans know we were happy with the results.
What's Next?
What excites you most about your upcoming residency? Where are you headed?
I'm doing my residency in internal medicine here at the college. The best part of staying at the college is that I got to know the program during medical school. I know that I am joining a residency program with a supportive resident culture. That's something I especially appreciate with the challenges of COVID-19. It has increased the already large burden on trainees. I think this college also has a great balance of high-quality inpatient, outpatient and sub-specialty training. I'm excited to explore those interests during residency as I start to figure out my career path.
The College of Medicine – Phoenix Culture
Looking back, what's your favorite medical school memory?
I would have to answer Match Day; it was such an outpouring of joy for me and so many of my classmates. A particular highlight would also be falling in love with and marrying my husband Wael. While I know our professional and personal lives have their fair share of ups and downs, I'm excited to form new favorite memories these next three years.
About the College
Founded in 2007, the University of Arizona College of Medicine – Phoenix inspires and trains exemplary physicians, scientists and leaders to optimize health and health care in Arizona and beyond. By cultivating collaborative research locally and globally, the college accelerates discovery in a number of critical areas — including cancer, stroke, traumatic brain injury and cardiovascular disease. Championed as a student-centric campus, the college has graduated 745 physicians, all of whom received exceptional training from nine clinical partners and more than 2,700 diverse faculty members. As the anchor to the Phoenix Bioscience Core, which is projected to have an economic impact of $3.1 billion by 2025, the college prides itself on engaging with the community, fostering education, inclusion, access and advocacy.