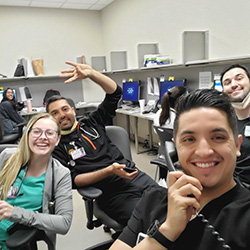 Our graduates are well prepared for their chosen paths in general internal medicine (as hospitalists or ambulatory practitioners), subspecialty fellowships at our own programs or other highly competitive programs, or academic medicine with seven chief resident positions per year. Career choices for recent graduates include academic and diverse hospitalist practices, subspecialty fellowship in all subspecialties, and both rural and urban traditional ambulatory practice.
Over the past five years, our residents have entered the following careers:
Fellowship: 39 percent.
Hospital Medicine: 39 percent.
Primary Care: Nine percent.
Chief Resident: 13 percent.

All of our chief residents have transitioned to fellowship or an academic medicine in the internal medicine programs after completion of their chief year.
Where are They Now