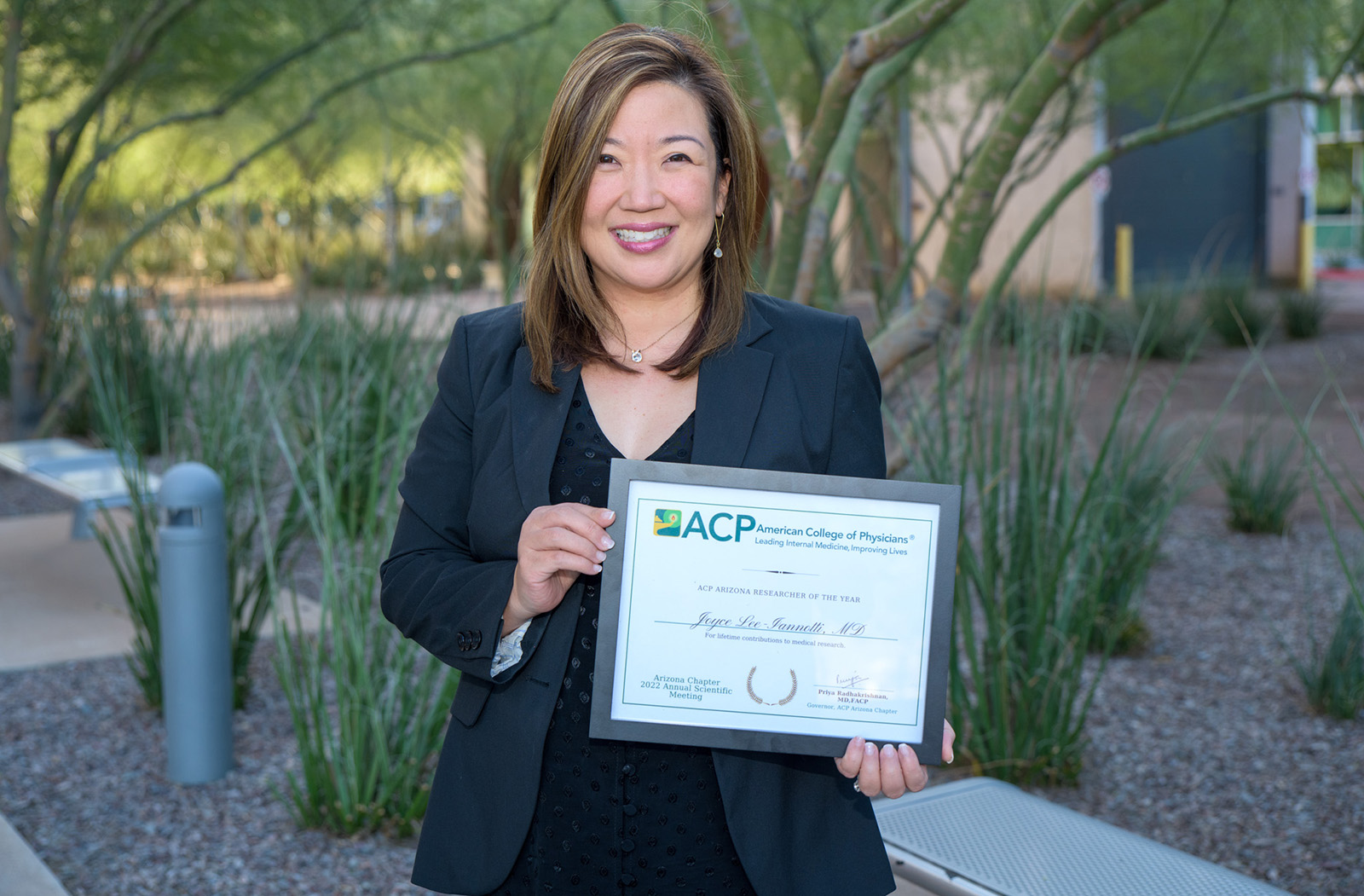 Joyce Lee-Iannotti, MD, Named Arizona Researcher of the Year by the American College of Physicians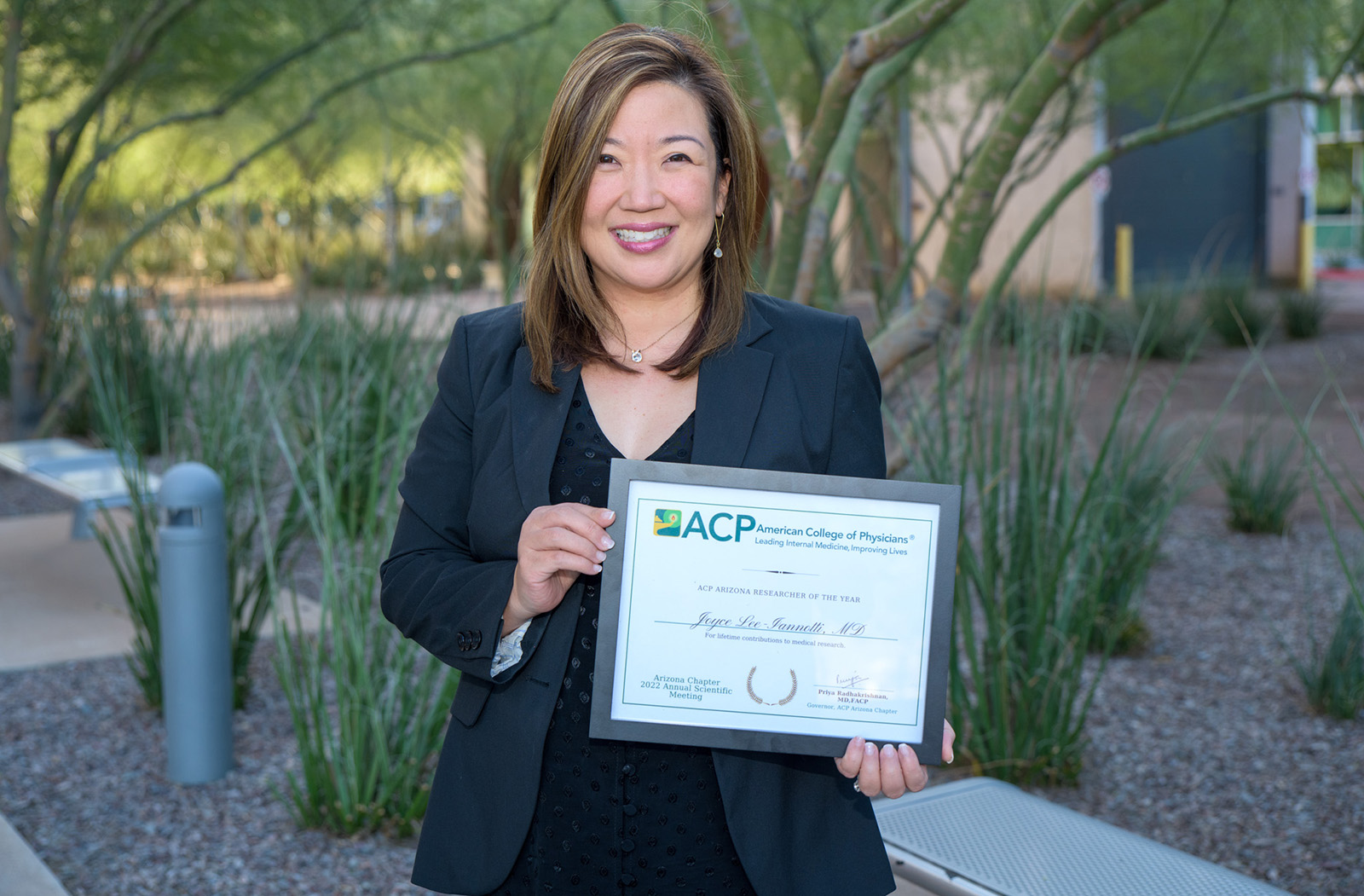 She was recognized for her significant contributions to medical research, including COVID recovery and sleep apnea
Joyce Lee-Iannotti, MD — an associate clinical professor in the Division of Pulmonary, Critical Care and Sleep Medicine and in the Department of Neurology, director of the Sleep Disorders Center at Banner – University Medical Center Phoenix, as well as the program director for the Sleep Medicine Fellowship at the UArizona College of Medicine – Phoenix — has always had a passion for research.
"I've always loved research, purely for the fact that research is the thing that brings therapeutics and innovative therapies to our patients forward," she said. "Without research, we would just kind of stay stagnant. And this is true for every field."
After a decade of devoting her time to direct patient care and building programs, she has spent the last couple of years being an active participant in numerous studies related to stroke and sleep neurology.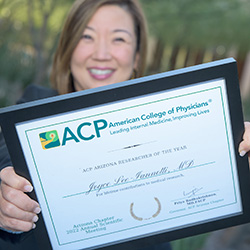 "I am fueled by the endless possibilities of providing more treatment options and diagnostic tools to help my patients," Dr. Lee-Iannotti said. "With innovation comes better care."
Her efforts have not gone unrecognized. She was named Arizona Researcher of the Year by the Arizona Chapter of the American College of Physicians for her contributions to medical research. Those contributions are plentiful.
Dr. Lee-Iannotti is currently engaged in several projects designed to provide better treatments for patients with long-term illness. One example is the Researching COVID to Enhance Recovery (RECOVER) Study.
Funded by the National Institutes of Health, RECOVER aims to understand how people progress after a COVID infection, and why some people develop Long COVID or PASC (post-acute sequelae of SARS-CoV-2).
With New York University Langone serving as the central site, RECOVER encompasses researchers from across the country, including a team at the University of Arizona Health Sciences featuring Janko Nikolich-Žugich, MD, PhD, department head and professor of Immunobiology at the College of Medicine – Tucson, Ken Knox, MD, associate dean of Faculty Affairs and Career Development at the College of Medicine – Phoenix, Sairam Parthasarathy, MD, division chief of Pulmonary/Critical Care Medicine and Sleep at Banner – University Medical Center Tucson, and Eric Reiman, MD, head of Banner Research and the Banner Alzheimer's Institute.
RECOVER has given Dr. Lee-Iannotti the opportunity to investigate and better understand the pathophysiology of Long COVID symptoms. Patients in the study suffer from neurologic or sleep-related symptoms, including brain fog, insomnia, hypersomnia during the day, headache, numbness/tingling or dysautonomia related symptoms.
In addition, Dr. Lee-Iannotti is a co-investigator on the ReSt study, examining phrenic nerve stimulation for the treatment of central sleep apnea in patients with heart failure. The study is based at the University of Pennsylvania.
Her other research ventures include SLEEP SMART, a clinical trial conducted at the University of Michigan, which treats acute stroke patients with obstructive sleep apnea for the prevention of recurrent stroke and mortality; the OSPREY Study with the University of California San Diego, which analyzes continuous hypoglossal nerve stimulation for the treatment of obstructive sleep apnea.
A specialist in sleep disorders, she was also invited to collaborate on a pilot study for Rem Sleep Behavior (RBD). Researchers are studying biomarkers to predict who is at the greatest risk of developing neurodegenerative disease states. Working with the Banner Sun Health Research Institute and the Banner Alzheimer's Institute, The RBD study is being funded by the Michael J. Fox Foundation.
Dr. Lee-Iannotti's work focuses on investigating skin biopsies of RBD patients to better predict whether they are at risk for developing Parkinson's disease.
The breadth of her research is building toward the design of clinical trials to study the neurological complications of COVID and the overlap of sleep and other neurological diseases. Her ultimate goal is to identify therapeutics for patients suffering the effects of neurological conditions, including stroke, dementia and Parkinson's.
She hopes that her work will serve as an inspiration for other clinicians who are interested in pursuing research. "I still find it intimidating and challenging at times, but I am invigorated by the opportunities and windows it opens for our patients," she said.
Dr. Lee-Iannotti joins other accomplished researchers, and role models, from the College of Medicine – Phoenix who have received the ACP Research award, including Michael Fallon, MD, chair of the Department of Internal Medicine, and Dean Guy Reed, MD, MS.
About the College
Founded in 2007, the University of Arizona College of Medicine – Phoenix inspires and trains exemplary physicians, scientists and leaders to optimize health and health care in Arizona and beyond. By cultivating collaborative research locally and globally, the college accelerates discovery in a number of critical areas — including cancer, stroke, traumatic brain injury and cardiovascular disease. Championed as a student-centric campus, the college has graduated more than 800 physicians, all of whom received exceptional training from nine clinical partners and more than 2,700 diverse faculty members. As the anchor to the Phoenix Bioscience Core, which is projected to have an economic impact of $3.1 billion by 2025, the college prides itself on engaging with the community, fostering education, inclusion, access and advocacy.