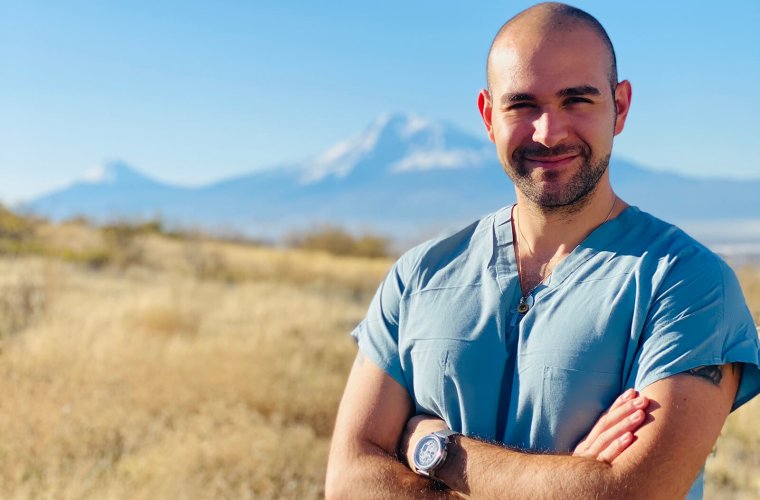 Alumni Profile: Haig Aintablian, MD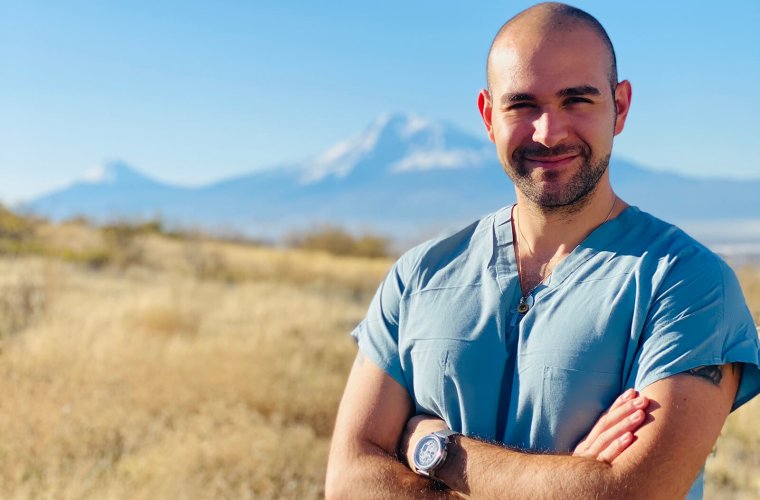 Treating Patients in Critical Need during Pandemic Affirms His Calling to Be a Physician
The University of Arizona College of Medicine – Phoenix has graduated 573 medical students since our inaugural class entered in 2007. Our alumni have matched at prestigious residencies and fellowships across the United States, and their accomplishments speak to their dedication to provide outstanding health care to their respective communities.
Meet Haig Aintablian, MD
Dr. Haig Aintablian is committed to serving patients in urgent need, whether they present at the emergency department or an under-resourced hospital in Armenia. The Ronald Reagan UCLA Medical Center senior resident, and College of Medicine – Phoenix Class of 2018 alumnus, served on the front lines of the coronavirus pandemic.
California was hard hit by the pandemic. Los Angeles County had more than 40,000 daily coronavirus cases at its peak. Aintablian, who was born in the state, said the experience of treating patients during the pandemic affirmed his calling to be a doctor.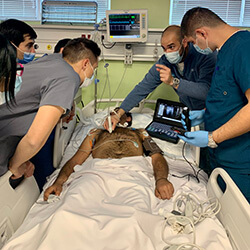 Aintablian and his family have a strong connection to their Armenian roots, and he regularly monitors news of the region. When the war-torn area made a plea for medical aid, Aintablian was inspired to do what he could to help. He collected more than $100,000 in medical supplies and ultrasound equipment; and having been granted leave from the hospital, he traveled to Armenia. Aintablian spent 12 days caring for the wounded and displaced, training residents on some of the most modern ultrasound techniques.
Choosing Your Path
When deciding on where to apply for medical school, what guided your decision to choose the College of Medicine – Phoenix?
The College of Medicine – Phoenix was my first interview, amongst many. I initially was shocked at how much I loved it and expected the other schools to be a similar experience. After my last interview, I knew exactly that my heart belonged at the College of Medicine – Phoenix. I made the best decision.
How did your medical school training prepare you to hit the ground running in residency?
In a nutshell, medical school taught me to be ready for anything. It taught me to always have the capacity to expect more, and that's one of the greatest gifts. The sleepless weeks on surgery rotation, the complex research for my scholarly project — they all taught me to have the capacity to do more at all times. This, amongst the incredible clinical training we receive in medical school, has allowed me and my incredible classmates and alumni to propel in residency.
You were named Resident of the Year 2020 by the American Academy of Emergency Medicine. Can you describe your experience in residency?
I've been fortunate to be in one of the best — in my heart, the best — emergency medicine residency programs in the nation. My program has allowed me to prosper and to build on much of the work that I started in medical school. Things like state and national advocacy for physicians, global medicine initiatives in my ancestral country, and being president of nearly 8,000 EM residents and medical students. When I won the award, I felt so incredibly blessed. The award isn't one just for me, it's also for my medical school and residency program that have housed me as one of their own and trained me to be the best I can be. I am honored to be named the Resident of the Year in Emergency Medicine.
If you could give advice to prospective medical students deciding on their medical school journey, what it would be?
Pick the place that your heart urges you to. You'll come across many medical schools, but pick the one that really speaks to your heart. You're going to be in medical school for four (or maybe even more) years. If the place fits, don't ignore it. Half of medical school is the people around you and the relationships you make. You'll be calling the medical school you choose your home for a good amount of time. Listen to your heart.
Commitment to Serve
Were there community service events or programs at the College of Medicine – Phoenix that engaged your interest in philanthropy?
Too many to list, to be honest. Whether it be on-site community outreach programs, the free clinics or the general philanthropic opportunities at the College of Medicine – Phoenix, they've all reinforced my philanthropic pursuits.
Who were the faculty or mentors that reinforced your philanthropic mentality?
I'd like to thank the faculty that have really influenced me not just philanthropically, but also through their mentorship and advice — including Dr. Guttman, Dr. Grebe, Dr. Moffitt and Dr. Gustin. You've all played huge roles in my life in medical school and have allowed me to do what I do. Thank you!
Dr. Haig Aintablian joined the reimagine Medicine podcast — along with hosts Katie Brite, MD, and Jonathan Lifshitz, PhD — to discuss doctors' commitment to serve.
Topics
About the College
Founded in 2007, the University of Arizona College of Medicine – Phoenix inspires and trains exemplary physicians, scientists and leaders to optimize health and health care in Arizona and beyond. By cultivating collaborative research locally and globally, the college accelerates discovery in a number of critical areas — including cancer, stroke, traumatic brain injury and cardiovascular disease. Championed as a student-centric campus, the college has graduated 745 physicians, all of whom received exceptional training from nine clinical partners and more than 2,700 diverse faculty members. As the anchor to the Phoenix Bioscience Core, which is projected to have an economic impact of $3.1 billion by 2025, the college prides itself on engaging with the community, fostering education, inclusion, access and advocacy.