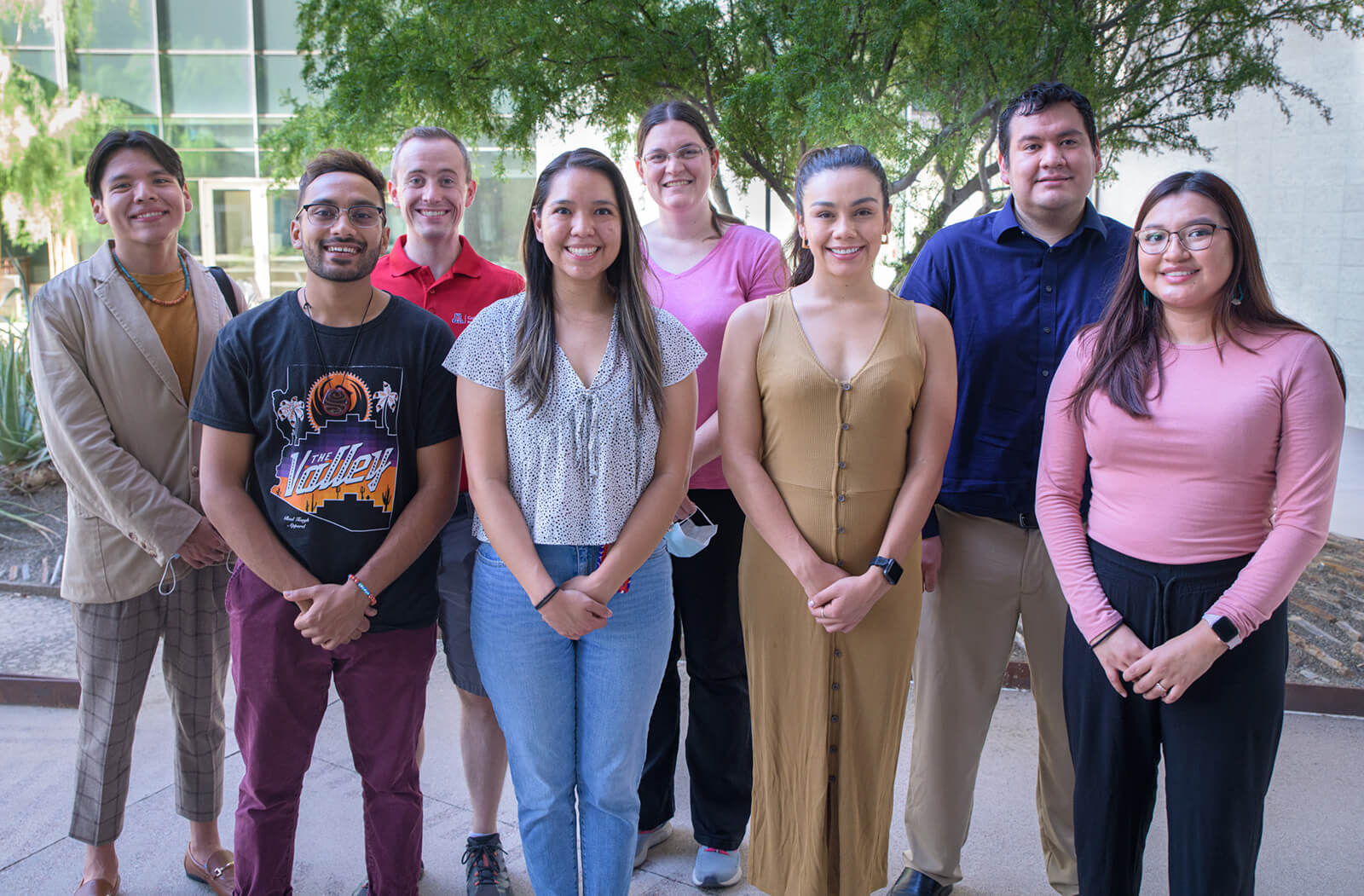 Blessing Ceremony Held for Native and Non-Native Medical Students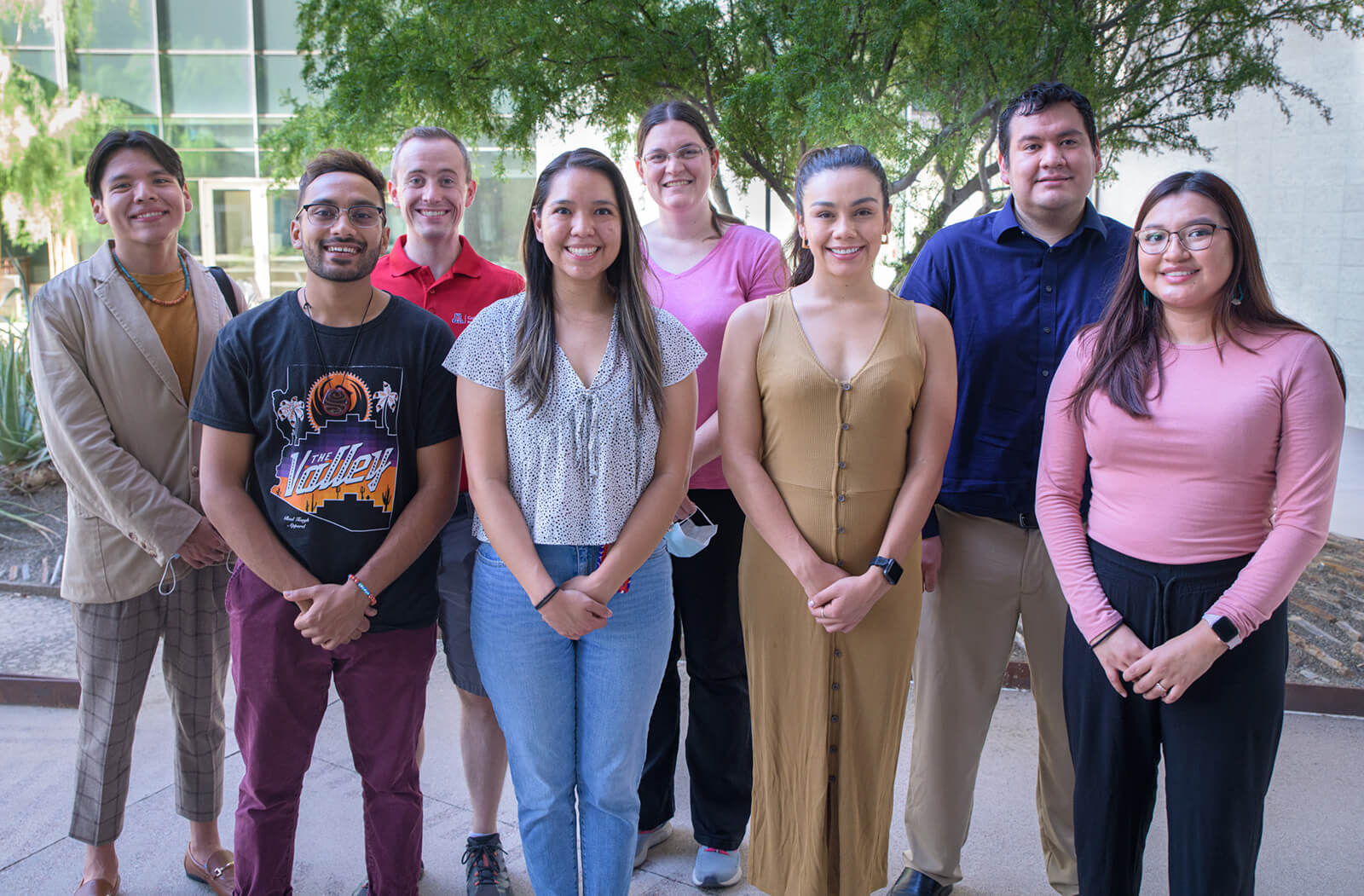 Miguel Flores, a traditional healer, led a blessing for students' medical school journey
In honor of welcoming Native American medical students to the new academic year, the Office of Diversity, Equity and Inclusion organized a blessing ceremony for Indigenous and Non-Indigenous students.
The University of Arizona College of Medicine – Phoenix hosted the ceremony on Aug. 2; the blessing took place outside in the morning before classes.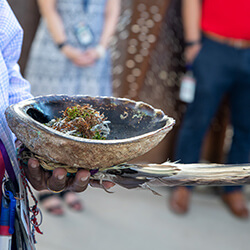 The ceremony was led by Miguel Flores, Jr., a Native American traditional healer who is a member of the Pascua Yaqui and Tohono O'odham tribes.
Flores, Jr., who's been a spiritual and traditional leader for more than 30 years, said the blessing is for Native people to remember where they come from and gain a sense of grounding and balance.
"The prayer of the four directions instills a cleansing of the Spirit," Flores, Jr. said. "The smoke that goes up to whatever your higher power is and takes away any negative energy you have."
Flores, Jr., also performed a family song, which he said is to help the students remember who they are as Indigenous people and remind them that they're not alone in their educational journey.
Students and faculty from all backgrounds were in attendance, with several considered honorees because of their Native American heritage.
For this year's ceremony, seven students, faculty and staff members were among the honorees.
One of the honorees, Niomi Tsingine, is a Pathway Scholars Program student and member of the Navajo Nation. She said that the blessing ceremony brings comfort to her because she's from a small reservation border town.
"Finding that sense of community serves as a sense of balance and foundation," Tsingine said. "I can ease into anything, whether it is school or a new city; it makes it much easier."
Jessmine Fernandez, MS2, is a member of the Tohono O'odham tribe. She said the ceremony serves as a reminder for her to look beyond medical school and see what life is all about.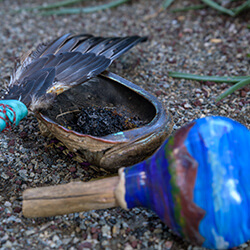 "It's a small community we have here, and it's nice we are celebrated this way before we get into the deep of what school is," Fernandez said. "I participated in this last year, and it was a really good perspective change."
Rudy Smith works as a cancer research technician in the lab of Shalini Sharma, PhD, and is an undergraduate student at Arizona State University. As an Indigenous student, he said that the blessing ceremony is a great way to honor Native American students.
"I think it's awesome, considering the disconnect some Indigenous students have and the cultural shock that sometimes goes along with that," Smith said. "For me, the blessing ceremony is a great way of integrating the two cultures, and I just appreciate the opportunity to be a part of this as well."
About the College
Founded in 2007, the University of Arizona College of Medicine – Phoenix inspires and trains exemplary physicians, scientists and leaders to optimize health and health care in Arizona and beyond. By cultivating collaborative research locally and globally, the college accelerates discovery in a number of critical areas — including cancer, stroke, traumatic brain injury and cardiovascular disease. Championed as a student-centric campus, the college has graduated more than 800 physicians, all of whom received exceptional training from nine clinical partners and more than 2,700 diverse faculty members. As the anchor to the Phoenix Bioscience Core, which is projected to have an economic impact of $3.1 billion by 2025, the college prides itself on engaging with the community, fostering education, inclusion, access and advocacy.