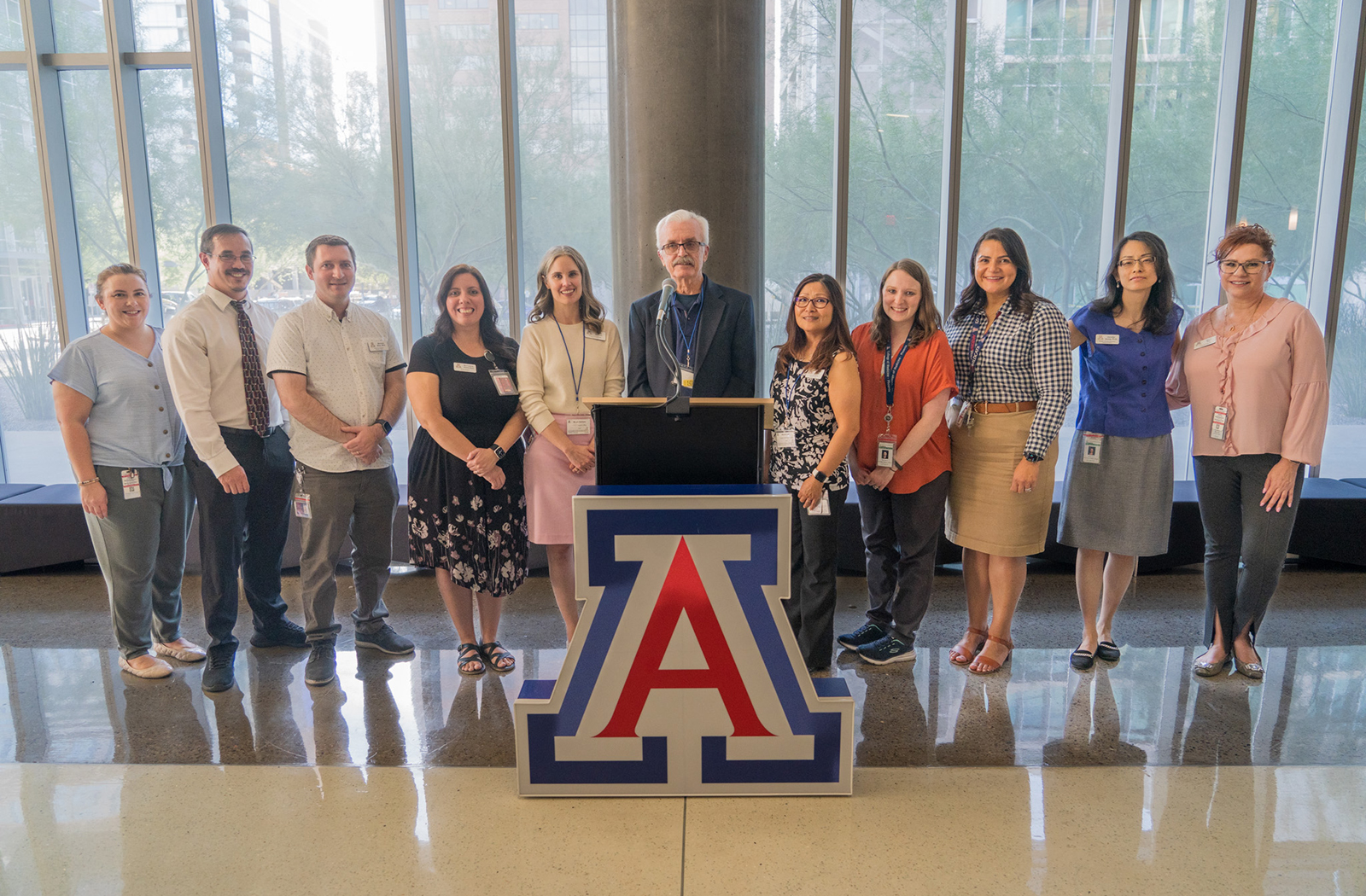 College hosts 5th Annual Research Resource Open House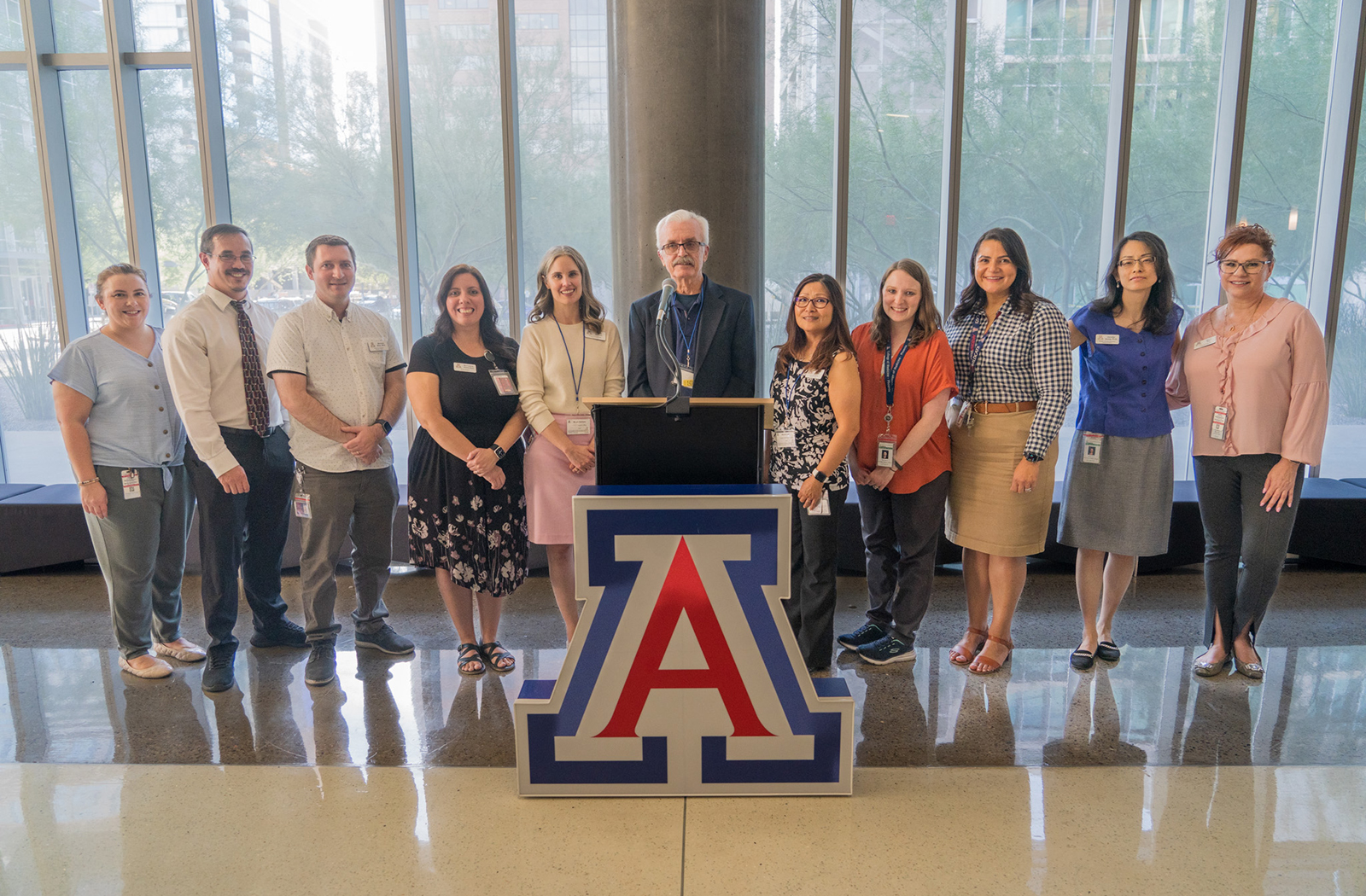 Researchers from Phoenix and Tucson come together to show new research methods and network
The 5th Annual Research Resources Open House, hosted on the University of Arizona College of Medicine – Phoenix campus, invited students, faculty, residents and staff to learn more about resources provided in Phoenix and Tucson to support biomedical research.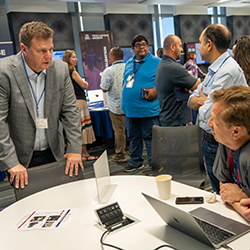 Held September 21, the event was followed by a networking reception. Chris Glembotski, PhD, the associate dean for Research at the college, spearheaded the leadership remarks.
Dr. Glembotski reflected on the growth and accomplishments of research being done by investigators across the enterprise. "We have an amazing, rich, research environment, and the cores are great for supporting our research," Dr. Glembotski said. "The amount of growth in research I've seen since I arrived just three years ago is amazing."
Dr. Glembotski was followed by Lauren Zajac, MPA, an associate vice president for Research Administration for the University of Arizona Health Sciences, and Elliott Cheu, PhD, the interim senior vice president for UArizona Research, Innovation & Impact, as well as associate vice president for University Research Institutes.
In Zajac's speech, she celebrated the community's accomplishments and mentioned several initiatives — such as the Center for Advanced Molecular and Immunological Therapies and the 25th Master Agreement between Banner and UA Pharmaceutical Company.
"I've been really excited for all the great work we've done in collaboration with the College of Medicine – Phoenix and thankful for partners in other units represented here," Zajac said. "We support research administration needs, so it's our pleasure to serve."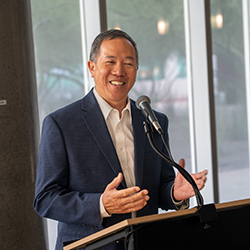 Dr. Cheu discussed the rise the university has seen in grant activity. In six years, the amount of funding grew from roughly $600 million to $824 million.
"We are on an extremely high growth path as a result of everyone involved in our research enterprise," Dr. Cheu said. "It's an indication of what we can do when we're really focused on great outcomes."
Dr. Glembotski said that events like the open house help innovation in medicine because researchers across the two UArizona Colleges of Medicine can network together and share new research ideas.
"It's one thing to read about new technology or treatment methods on a webpage, but it's another thing to talk to the people who are actually implementing the new technologies," Dr. Glembotski said.
The event included 30 booths, with 14 representing resources in Phoenix and 16 representing resources in Tucson. More than 140 people attended the open house.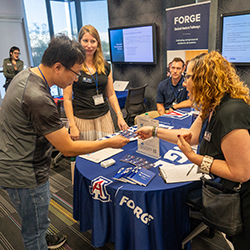 Among the Phoenix Research Services booths in attendance were the Bio5 Institute, Clinical Research Support Services, Tech Launch Arizona, University Animal Care and the Molecular Discovery Core.
Regarding the Tucson Research Services, booths included the Data Science Institute, Research and Discovery Technologies, Arizona Genomics Institute and Sponsored Projects Services, as well as Training & Development.
About the College
Founded in 2007, the University of Arizona College of Medicine – Phoenix inspires and trains exemplary physicians, scientists and leaders to optimize health and health care in Arizona and beyond. By cultivating collaborative research locally and globally, the college accelerates discovery in a number of critical areas — including cancer, stroke, traumatic brain injury and cardiovascular disease. Championed as a student-centric campus, the college has graduated more than 800 physicians, all of whom received exceptional training from nine clinical partners and more than 2,700 diverse faculty members. As the anchor to the Phoenix Bioscience Core, which is projected to have an economic impact of $3.1 billion by 2025, the college prides itself on engaging with the community, fostering education, inclusion, access and advocacy.