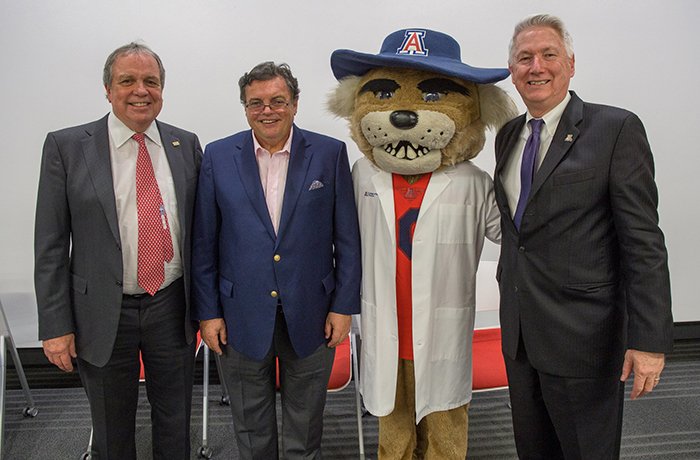 College Opens Its Campus to Academic Medicine Leaders from Throughout the Country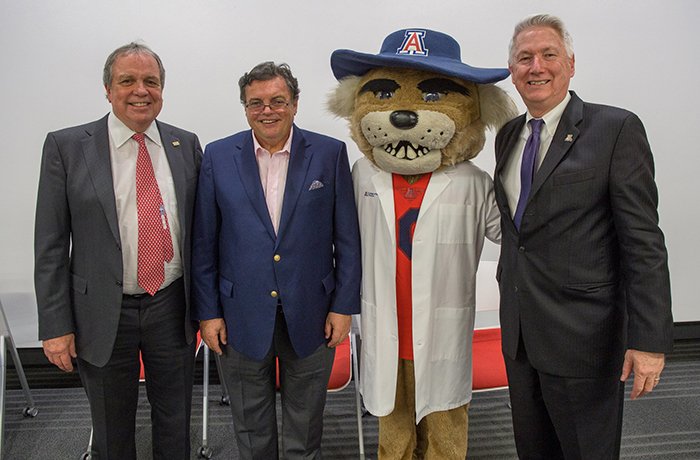 One year ago, the University of Arizona College of Medicine – Phoenix extended an invitation to leaders in academic medicine across the U.S. and Canada. These leaders were invited to reimagine Phoenix. It's All Here. The college launched a next-level marketing campaign designed to showcase the culture of collaboration and innovation that created the Phoenix Biomedical Campus.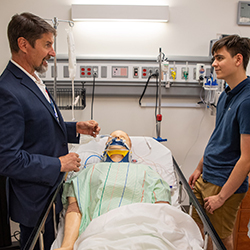 The multi-faceted campaign culminated at the Learn Serve Lead Conference hosted by the Association of American Medical Colleges Conference in Phoenix November 8–12. It was a coming out party of sorts for the college and the city of Phoenix, as both emerged as the epicenter of a new bioscience hub.
This was an opportunity to showcase the college's world-class researchers, innovators, clinicians, administrators and educators who are working in a dynamic environment dedicated to improving health care across Arizona and throughout the world.
"In creating this college, we chose to reimagine medical education by making it personalized to each student; we chose to reimagine translational research to treat the most difficult illnesses; and we chose to reimagine academic medical centers using novel partnerships to build a distinctive clinical program," said Guy Reed, MD, MS, dean of the College of Medicine – Phoenix.
More than 4,800 leaders, the largest attendance in conference history, came to address the most pressing issues related to health care, including health equity, patient care, biomedical research and physician shortage. Joining the discussions were experts in social justice, American history, learning and innovation.
The UA College of Medicine – Phoenix welcomed more than 300 peers and dignitaries to the campus for a reception and open house on Nov. 9, where guests toured the Center for Simulation and Innovation, anatomy lab, doctoring suites and the research lab of the Center for Applied NanoBioscience and Medicine (ANBM).
The evening was highlighted by the college's announcement that it has received the green light from the AAMC's Liaison Committee on Medical Education to increase its class size from 80 to 100 in the coming year.
During his reception remarks, Dean Reed announced the increased class size is critical to addressing Arizona's shortage of physicians. Until the UA College of Medicine – Phoenix opened in 2007, the UA College of Medicine – Tucson was the only MD-granting school in the state. As the state's population boomed, the physician shortage problem became more pronounced, especially in rural and underserved areas.
Phoenix Mayor Kate Gallego told attendees at the "Arizona Nights" reception that the downtown biomedical campus is a real point of pride for Phoenix.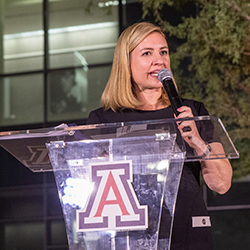 "As we create new jobs, our number one area for new jobs has been health care and biosciences," she said. "We could not have done it without our great partners at the University of Arizona. Thank you to Arizona for helping us change the face of Phoenix."
Arizona Nights
Rebecca Fisher, PhD, interim co-chair of Basic Medical Sciences and director of the Gross Anatomy Lab, hosted a steady stream of visitors during the reception.
"It was a wonderful opportunity to welcome colleagues from across the country into the anatomy laboratory," Dr. Fisher said. "The lab is a state-of-the-art facility; visitors were interested to discover that the lab is utilized by students from three state universities, including College of Medicine – Phoenix students, Northern Arizona University allied health students and Arizona State University graduate students."
The Center for Simulation and Innovation hosted guests who were led through five unique simulations demonstrated by faculty physicians and simulation staff.
Teresa Wu, MD, director of simulation curriculum and a clinical associate professor of emergency medicine, called the reception a huge success.
"People from all over the country were able to see and experience what we do with simulation," she said. "Educators and leaders have seen how simulation saves lives; now, they can take what they learned from us and incorporate it into their curriculum to help improve patient care across the country.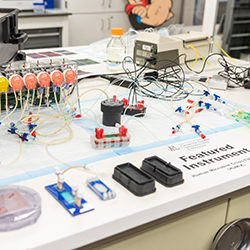 The college's Research Office introduced guests to labs at the Center for Applied NanoBioscience and Medicine, including electronics, milling, fabrication, optics labs and cleanroom. Also highlighted were a bioreactor system and the Senior's Virtual Assistant (SeVA), an artificial emotional intelligence, natural language processing and machine-learning-capable, low-cost intuitive platform and device.
AAMC Conference
The city of Phoenix and the college welcomed those thousands of professionals from diverse communities within medical education, patient care and research to the Phoenix Convention Center during the five-day conference.
More than 10 experts at the College of Medicine – Phoenix gave oral presentations to AAMC attendees. Additionally, faculty and staff presented posters on a variety of topics including medical education, advising, alumni programs and women in medicine programs.
The college also hosted six special events that drew more than 550 visitors to the campus. Included in the events were the Deans' Assistants Group 25th anniversary dinner, the National Leaders of Women in Medicine and Science Symposium, a reception for the Association of Academic Health Sciences Libraries, a meeting of AAMC Learning Specialists, a AAMC LGBTQ+ reception and a luncheon hosted by the Executive Leadership in Academic Medicine.
reimagine Phoenix
Last year, at Learn Serve Lead 2018, the College of Medicine – Phoenix introduced reimagine Phoenix to peer institutions through a video, virtual reality stations used in patient care, a booth and promotional items. Since then, the college has launched a podcast, redesigned its website, earned increased local and national media placements, increased social engagement and updated the brand toolkit.
To conclude the campaign, the college hosted another booth at the Learn Serve Lead 2019 conference highlighting the medical school's successes. At the booth, participants viewed a virtual reality simulation of brain surgery recorded by renowned neurosurgeon Peter Nakaji, MD, chair of the University of Arizona College of Medicine – Phoenix Department of Neurosurgery at Banner – University Medical Center Phoenix.
"We designed a campaign for our community and peers from across the country to reimagine their perceptions of Phoenix and the University of Arizona," said Beth Smith, interim senior director for Marketing and Communications. "The campaign was a year in the making and we could not be prouder of its success in highlighting our college and showcasing how we are changing the face of medicine, right here in Phoenix."
Contact:
For questions, please contact Marian Frank, 602-827-2022.
About the College
Founded in 2007, the University of Arizona College of Medicine – Phoenix inspires and trains exemplary physicians, scientists and leaders to optimize health and health care in Arizona and beyond. By cultivating collaborative research locally and globally, the college accelerates discovery in a number of critical areas — including cancer, stroke, traumatic brain injury and cardiovascular disease. Championed as a student-centric campus, the college has graduated 745 physicians, all of whom received exceptional training from nine clinical partners and more than 2,600 diverse faculty members. As the anchor to the Phoenix Bioscience Core, which is projected to have an economic impact of $3.1 billion by 2025, the college prides itself on engaging with the community, fostering education, inclusion, access and advocacy.