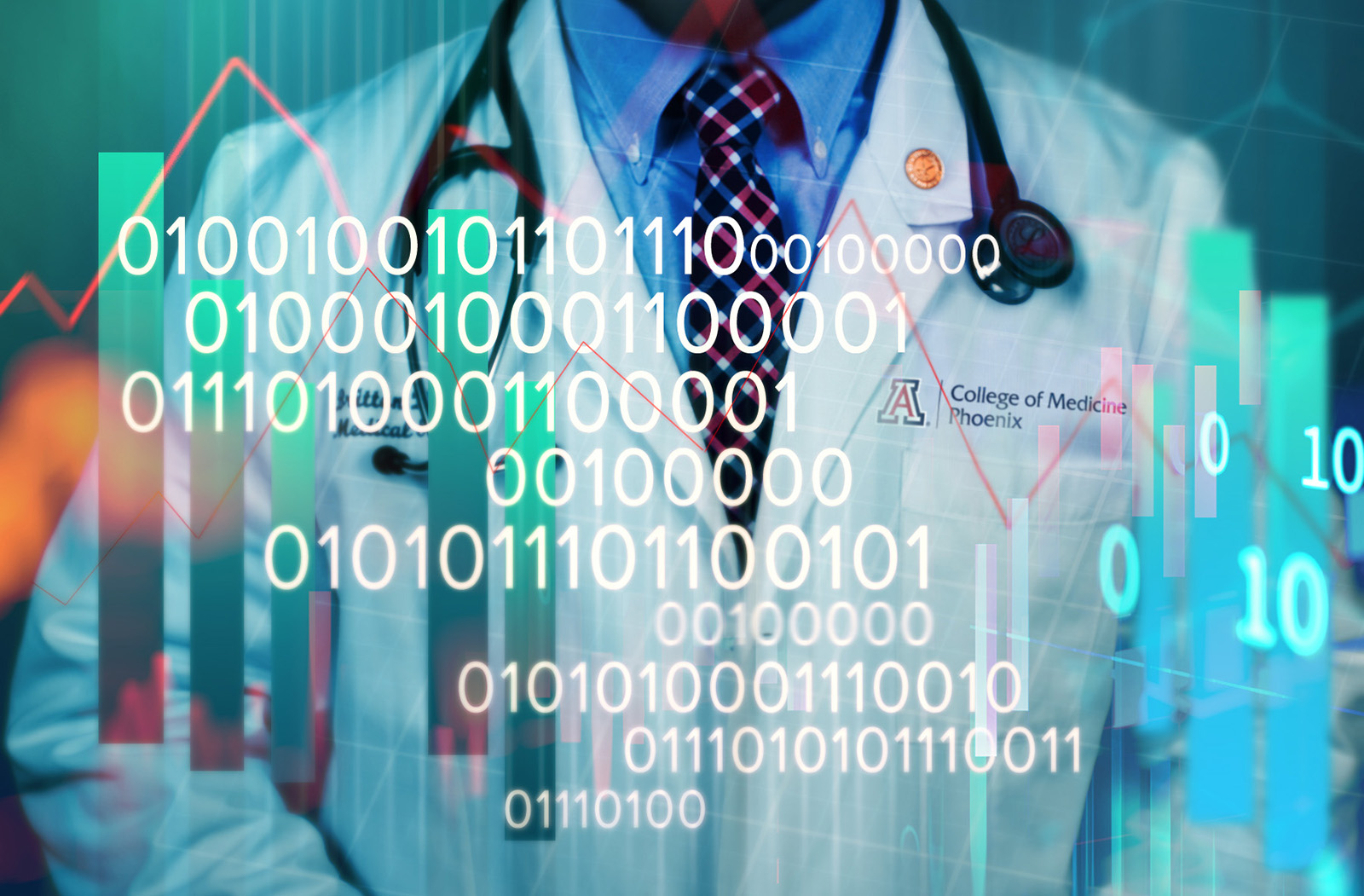 Data Analytics Symposium Highlights Importance of Informatics in Health Care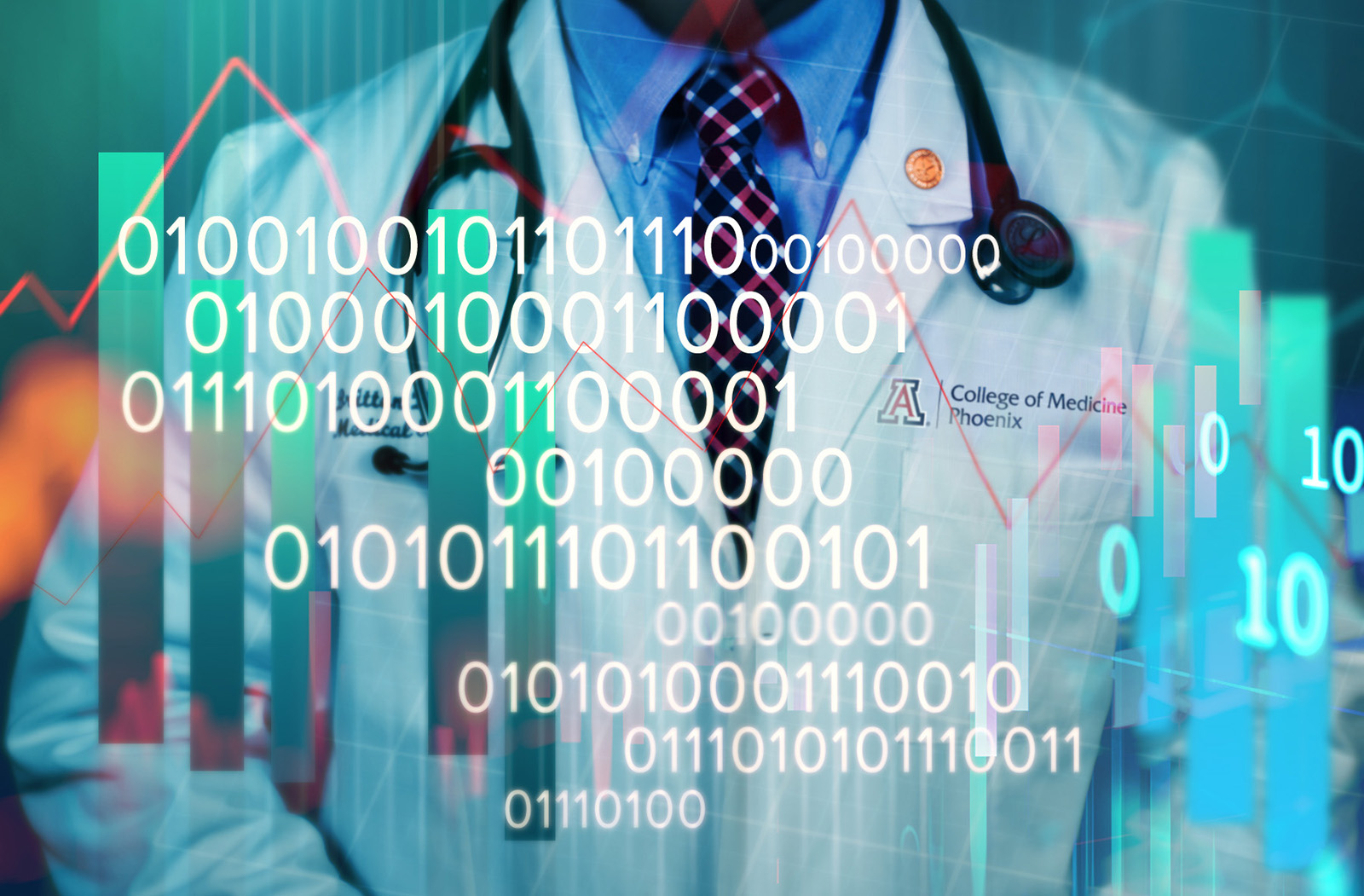 College Hosts Data Analytics Symposium via Zoom to Showcase the Work of Researchers in Arizona
Medical providers and community members gathered virtually to learn about data analytics in the health care setting, which has become an increasingly popular topic in the medical community due to the demand for telehealth and data during the pandemic.
The Virtual Phoenix Symposium on Data Analytics in Health Care, which was hosted by the University of Arizona College of Medicine – Phoenix, took place on August 13. Topics covered the use of data and analytics tools/methods, health and medical research, and public health. 
"An event like this is important because we cannot let the pandemic interfere with the work that we are trying to do in health care. Secondly, data analytics is evolving, and we are trying to present the most recent work that researchers in Arizona are doing," said Richard Gerkin, MD, medical director of Graduate Medical Education at Banner – University Medical Center Phoenix and a member of the symposium's planning committee.
The event included a keynote presentation from Anthony Dunnigan, MD, vice president and chief medical information officer at Valleywise Health and an assistant professor in Biomedical Informatics at the College of Medicine – Phoenix. Dr. Dunnigan discussed care in the COVID-19 era with a focus on telemedicine and analytics.
"At Valleywise, we went from 0 to just under 60,000 telemedicine visits in 4.5 months," Dr. Dunnigan said. "I have been doing informatics for about 15 years. This is really a once in a career moment. I've never seen a curve like this in my lifetime, and I probably never will again."
After discussing the adoption curve of Valleywise on telemedicine visits, Dr. Dunnigan shared the adoption curve of other technologies in the last century. Over the decades, there has been a slow adoption of electronics. However, we are now seeing a 0-80 percent adoption in a matter of years, or even months.
"As we get close to modern times, things like social media, smartphones and tablets get introduced into our culture and have a rapid spike of adoption," Dr. Dunnigan said. "Because of this, we were already thinking differently on how to introduce technology and how to spread it. Introducing virtual care during the pandemic really fits that model. We had an Incredibly pressing need to get this technology out there to keep well-patients at home with chronic conditions that needed care, which we figured out very quickly."
Dr. Dunnigan added that the challenge now is to maintain this use of telemedicine, they don't want this to go away. Their statistics have shown that both providers and patients have loved the experience.
"Our providers and their tolerance of this, and quick adoption, was quite amazing," Dr. Dunnigan said.
Among the statistics shared include provider feedback. A majority of providers rated their comfort level engaging virtually with patients as "above average" or "outstanding." When asked if providers wanted telehealth to continue after COVID, a resounding 86 percent said yes. Patients have also had a positive experience as satisfaction scores are in the mid- to high-90s.
"It has been a great experience, and I give all the credit to our providers and the staff who overnight became tele-facilitators."
Dr. Dunnigan said they have only scratched the surface, but have forever changed the way ambulatory care will look like.
In addition to Dr. Dunnigan, the symposium also included various sessions on data analytics as it relates to predictive models to inform state opioid resource allocation, accuracy finding adverse drug events, cost-effective computer-aided diagnosis of lung cancer and even an approach to predict clinic no-shows.
"We were pleased that there were more attendees at this year's event than at our inaugural meeting last year," Dr. Gerkin said. "The sessions ran quite smoothly, involving the keynote presentation, as well as six scientific talks. We received good feedback from our post-survey for attendees, and we feel our goal was met in providing current data analytics methods and projects to attendees."
About the College
Founded in 2007, the University of Arizona College of Medicine – Phoenix inspires and trains exemplary physicians, scientists and leaders to optimize health and health care in Arizona and beyond. By cultivating collaborative research locally and globally, the college accelerates discovery in a number of critical areas — including cancer, stroke, traumatic brain injury and cardiovascular disease. Championed as a student-centric campus, the college has graduated more than 800 physicians, all of whom received exceptional training from nine clinical partners and more than 2,700 diverse faculty members. As the anchor to the Phoenix Bioscience Core, which is projected to have an economic impact of $3.1 billion by 2025, the college prides itself on engaging with the community, fostering education, inclusion, access and advocacy.