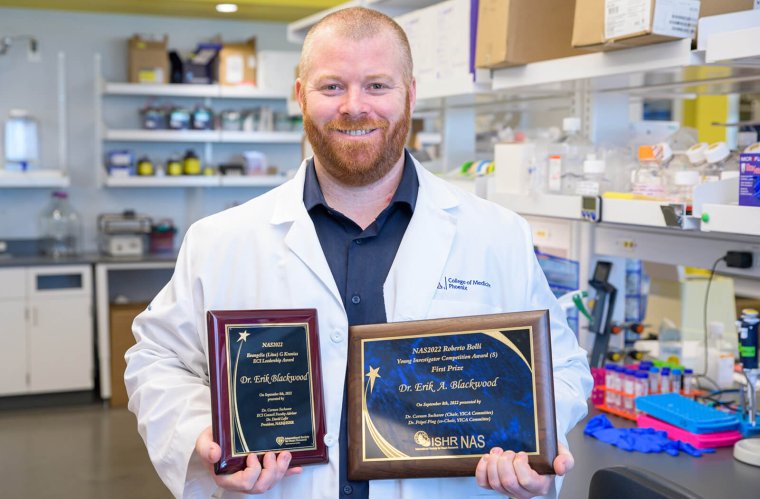 Erik Blackwood, PhD, Wins Two Awards for His Work in Cardiovascular Research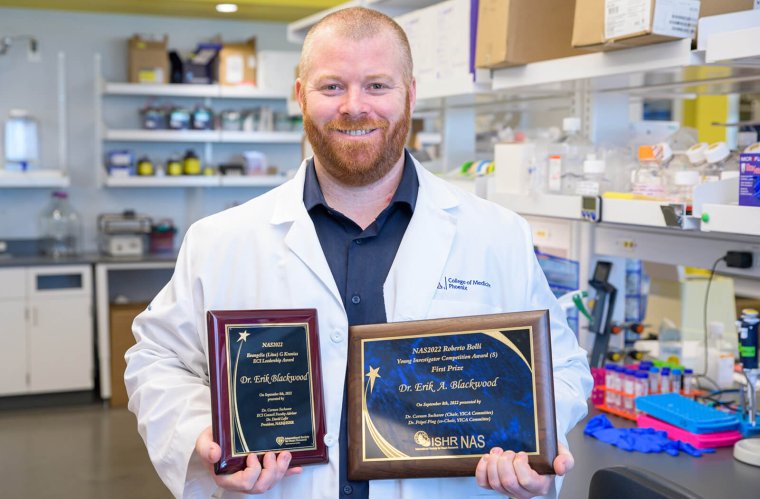 The researcher hopes to become a mentor for future physicians
The International Society for Heart Research (ISHR) recently awarded Erik Blackwood, PhD, the Young Investigator Competition Award (YICA) and the Litsa Kranias Early Career Investigators (ECI) Leadership Award.
Dr. Blackwood received the ECI Leadership Award while presenting his research at the North American Section ISHR meeting in Winnipeg. He said the awards help him become closer to fulfilling his dream of mentoring future physicians.
"As I'm trying to make the transition to faculty myself, I'm looking to present myself as a good mentor," Dr. Blackwood said. "I think these awards are recognition that you can go through that process and then hopefully mentor the next generation through it, as well."
The Litsa Kranias ECI Leadership Award was founded to recognize early career scientists who demonstrate astounding leadership qualities.
The award's namesake originates from Dr. Litsa Kranias, who has worked to understand the complexity of the heart function for much of her career. She was especially dedicated to researching cardiac illness and mentoring the next generation of researchers.
For Dr. Blackwood, winning this award demonstrates not only his excellence as a cardiovascular researcher, but also his dedication to the ISHR organization and mission.
"I think that a very important aspect of our career is training the next generation of scientists," Dr. Kranias said. "This is probably the biggest legacy we leave behind. The research is important … but having scientists to continue that is even more important."
While preparing for medical school, Dr. Blackwood started working as an EMT. He initially had an interest in going into neurology because of his family's history with Alzheimer's disease.
It was after he started volunteering at a lab run by Christopher Glembotski, PhD, the college's associate dean for Research and director of the Translational Cardiovascular Research Center, that he discovered a passion for cardiovascular research.
"I realized how a career in the research field in academia could actually fit more in line with finding and discovering novel therapies and making a clinical impact," Dr. Blackwood said. "I really just fell in love with the research and the way that [Dr. Glembotski] mentored. It allowed for a lot of freedom."
Dr. Blackwood earned his doctorate in June 2020 while working in Dr. Glembotski's lab and transitioned to a postdoctoral fellowship
"I sought him out early on in my career because I could recognize that he was excellent at taking in trainees and building up their careers," Dr. Blackwood said. "I want to do the same."
Dr. Glembotski said he wrote a letter of recommendation for Blackwood regarding the Litsa Kranias ECI Leadership Award. He said he believes Dr. Blackwood is more than deserving of these honors.
"I find his leadership, professional society engagement and his volunteer time to our field to be truly astounding accomplishments for such an early career investigator," Dr. Glembotski said. "Erik has made outstanding progress toward becoming an independent cardiovascular research scientist."
About the College
Founded in 2007, the University of Arizona College of Medicine – Phoenix inspires and trains exemplary physicians, scientists and leaders to optimize health and health care in Arizona and beyond. By cultivating collaborative research locally and globally, the college accelerates discovery in a number of critical areas — including cancer, stroke, traumatic brain injury and cardiovascular disease. Championed as a student-centric campus, the college has graduated 745 physicians, all of whom received exceptional training from nine clinical partners and more than 2,700 diverse faculty members. As the anchor to the Phoenix Bioscience Core, which is projected to have an economic impact of $3.1 billion by 2025, the college prides itself on engaging with the community, fostering education, inclusion, access and advocacy.