Graduate Medical Education Program Graduates 96
College of Medicine - Phoenix Leads Residents and Fellows in 22 Programs as Next Step in Path to Become Physicians
Ninety-six residents and fellows in 22 programs at the University of Arizona College of Medicine – Phoenix Graduate Medical Education Program have officially begun the next step of their medical journey, with some entering independent practice and others continuing with more training.  
The UA College of Medicine – Phoenix has more than 350 residents and fellows in training. For more than 50 years, the program was administered by Banner Good Samaritan, but sponsorship transitioned in 2015 to the medical school.
The largest of the programs is internal medicine, which in June graduated 23 residents, six combined internal medicine and pediatrics residents and five chief residents. Of the 23 residents and five chief residents, 10 will move on to subspecialty fellowships, nine will enter practice within Banner Health, one at the Phoenix VA Health Care System, four will enter practice out-of-state and four will join other practices in town.
"Each class is special," said Cheryl O'Malley, MD, associate dean for Graduate Medical Education, who also directed internal medicine residents for the last 11 years. "Like others, they have bonded as a group while maturing their clinical and leadership skills."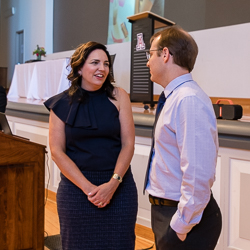 Each resident allowed themselves to be touched by life with marriages, births, new homes, death of loved ones and all of the other aspects of growth that happen as individuals go through their late 20's and their first real jobs, Dr. O'Malley said.
"The work is hard but meaningful and they have embraced it all," she added.
In addition to internal medicine, other residency programs sponsored by the medical school include obstetrics/gynecology, family medicine, surgery, combined internal medicine and pediatrics, cardiology, orthopaedic surgery, psychiatry and pulmonary/critical care.
"Our program has a large focus on quality improvement and patient safety," Dr. O'Malley said. "These residents understand that patient care is not a one-cowboy show but rather a team sport. They also know that safety takes a continuous focus on near-misses and identifying system vulnerabilities so that we can learn and improve. They are prepared to see these opportunities and to lead them."
Internal Medicine Graduate Izayadeth Aguayo, MD, said she feels prepared to practice on her own.
"Residency has been a wonderful three years that has provided me with a great foundation of medical knowledge and principles for independent practice," she said. She will begin the next step of her career as a hospitalist at Banner Gateway Medical Center.
Paul Muna Aguon, MD, who also graduated from the internal medicine residency, said the program "prepared me to be a proactive and lifelong learner who continues to ask questions to broaden my knowledge base and understanding."
He will be staying at the UA College of Medicine – Phoenix to pursue a fellowship in Gastroenterology starting July 1.
See full profiles of several graduating internal medicine residents:
About the College
Founded in 2007, the University of Arizona College of Medicine – Phoenix inspires and trains exemplary physicians, scientists and leaders to optimize health and health care in Arizona and beyond. By cultivating collaborative research locally and globally, the college accelerates discovery in a number of critical areas — including cancer, stroke, traumatic brain injury and cardiovascular disease. Championed as a student-centric campus, the college has graduated 745 physicians, all of whom received exceptional training from nine clinical partners and more than 2,700 diverse faculty members. As the anchor to the Phoenix Bioscience Core, which is projected to have an economic impact of $3.1 billion by 2025, the college prides itself on engaging with the community, fostering education, inclusion, access and advocacy.