Hispanic Heritage Month: Thomas Ardiles, MD
Dr. Ardiles Recognized as Latino Hospital Hero by NBC Latino
The University of Arizona College of Medicine – Phoenix is proud to highlight a few of our Hispanic students and faculty during Hispanic Heritage Month (Sept. 15th – Oct. 15th).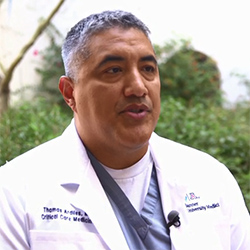 With more than 20 years of experience, Thomas Ardiles, MD, a pulmonologist and an assistant professor of Internal Medicine at the University of Arizona College of Medicine – Phoenix, is one of the leading physicians helping to treat patients with COVID-19 in Arizona. For his work on the front lines during the coronavirus pandemic, Dr. Ardiles was selected as a Latino Hospital Hero by NBC Latino. NBC recognized ten health care professionals for their work during the pandemic in honor of Hispanic Heritage Month.
Dr. Ardiles discusses his work, background and words of encouragement for others.
Describe your background and path toward medicine.
I was born and raised in Lima, Peru. I graduated from an eight-year combined undergraduate-graduate school at Universidad Peruana Cayetano Heredia. It was very rigorous training, but it nurtured the love for medicine and science within me.
What does Hispanic Heritage Month mean to you?
It is a good reminder of what makes the United States a great nation — that people from many backgrounds are welcome to make this a great community.
What words of encouragement do you have for children of Hispanic heritage regarding STEM education and careers?
Keep the values your parents and grandparents teach you, always do your best, but don't forget to give back to your community.
How has your background influenced your practice?
Being an immigrant myself, I understand the fears that come from being in a new place and the value of communication in a familiar language. The uncertainty of illness makes patients and families very anxious. A smile and a conversation in our own language helps a lot under stressful circumstances.
As a physician working on the frontlines during the pandemic, what has been your experience?
It was the hardest experience of my life. Even if we surge again, there will be less unknowns and less uncertainty. Having the families away from patients made it even harder when we had to face difficult conversations.
What do you want the community to know about your work during this time?
That we are here for them. We will risk our lives again if we need to. We trust that the Phoenix community will continue to understand that we will live in this pandemic for a while, and we have to continue to care for each other.
Anything else to add?
The pandemic has shown how great of a team we have at Banner – University Medical Center Phoenix. I have been saying lately that the pandemic is only bringing to the surface things that are already there, unfortunately focusing too much on the problems. It has also brought to the front the strength, unity and commitment that our team had to care for our patients: my valued physician partners, including our fellows and residents, our nurses, respiratory therapists, pharmacists, Lab and X-ray technicians, our brave housekeepers and so many people that I am afraid I am forgetting that helped us all survive the worst.
About the College
Founded in 2007, the University of Arizona College of Medicine – Phoenix inspires and trains exemplary physicians, scientists and leaders to optimize health and health care in Arizona and beyond. By cultivating collaborative research locally and globally, the college accelerates discovery in a number of critical areas — including cancer, stroke, traumatic brain injury and cardiovascular disease. Championed as a student-centric campus, the college has graduated 665 physicians, all of whom received exceptional training from nine clinical partners and more than 2,500 diverse faculty members. As the anchor to the Phoenix Bioscience Core, which is projected to have an economic impact of $3.1 billion by 2025, the college prides itself on engaging with the community, fostering education, inclusion, access and advocacy.