Incoming Student Profile: Jordan Santos
First-Year Medical Student is 'Honored' to Join College of Medicine – Phoenix Community During Pandemic
The University of Arizona College of Medicine – Phoenix welcomed its largest class of students this July. Due to the coronavirus pandemic, incoming students embarked on their medical journey via Zoom for the first time in the college's history. Although they will not be arriving on campus until the fall, we will be highlighting a few of the incoming students from the Class of 2024 and introducing them to the campus community.
Meet Jordan Santos
Jordan Santos graduated from Roseburg High School, which is in a small, rural logging town in Oregon. He received his bachelor's degree in biology from the University of Oregon.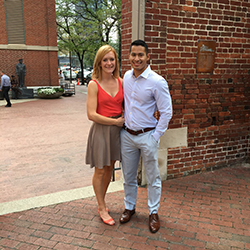 Santos describes himself as a curious person that loves to explore different activities and new places. Arizona will be the 11th state he has lived in. After undergrad, he took on many different careers in Medicaid, personal training, pharmaceuticals and education.
"Throughout my experiences, I have come to enjoy and learn from the diversity of people and thoughts that have come my way," he said. "This has led me to broaden my perspectives on different cultures and ways of thinking."
Path toward Medicine
"With the many twists and turns on my path to medical school, the underlying drive has always been the positive connections I have formed with people. The most memorable moments throughout my career and volunteer endeavors has always involved an honest, unbridled exchange of feelings between me and another person. The simple act of admitting you don't have all the answers yet letting the other person know you will try with their best interest to find them. It takes courage to express your fears and hopes without judgement. I find these exchanges to be the soul of conversation and a bridge for learning from each other. As an aspiring physician, I strive to bring this sentiment into practice with both patients and colleagues."
Jordan Santos with friends

Choosing the College of Medicine – Phoenix
"I chose this medical school, because they are not only invested in our academic success, but the effect that we as medical students have on forging stronger communities through health, education and mentorship. I was very impressed by the collaboration with the Arizona Science Center to inspire underserved children to pursue science education; the community health initiative that sends medical students out to the Wesley Community and Health Center, and the Mini-Medical School lectures, which aim to benefit the general community. From the time I interviewed through matriculation, I felt welcomed and I appreciated the organization's efforts to truly foster a spirit of teamwork and collaboration. There is a tremendous sense of reliability between junior students, senior students, faculty, and administration. It starts to feel like a family."
Entering Medical School During a Global Pandemic
"Parts of me are both afraid yet emboldened to enter medicine at this time. Afraid, because like many today, there is a sense of uncertainty and unrest. It's very easy to get caught up in the headlines. Emboldened, because there is much knowledge to gain and work to be done. I cannot ignore those in need. I am very grateful that we have many brave medical workers out there that put themselves at risk for the greater good. I am honored to join this community and hope to do my part."
Volunteer and Research Experience
Previously, Santos had a career in Medicaid. "In that time, I conducted outreach to underserved populations and enrollment into the Health Exchanges through the Affordable Care Act when it first was enacted. I became involved in policy development and was elated to have developed and passed a policy to limit the unethical rationing of care to Medicaid patients as they were turned away from clinics in Indiana."
Interesting Fact about Santos
A big part of Santos' life has been martial arts. "I started out in Taekwondo obtaining my third-degree black belt and I now train in Muay Thai Kickboxing and Jiu Jitsu. I'm looking forward to finding a new gym of ninjas."
Topics
About the College
Founded in 2007, the University of Arizona College of Medicine – Phoenix inspires and trains exemplary physicians, scientists and leaders to optimize health and health care in Arizona and beyond. By cultivating collaborative research locally and globally, the college accelerates discovery in a number of critical areas — including cancer, stroke, traumatic brain injury and cardiovascular disease. Championed as a student-centric campus, the college has graduated 669 physicians, all of whom received exceptional training from nine clinical partners and more than 2,600 diverse faculty members. As the anchor to the Phoenix Bioscience Core, which is projected to have an economic impact of $3.1 billion by 2025, the college prides itself on engaging with the community, fostering education, inclusion, access and advocacy.