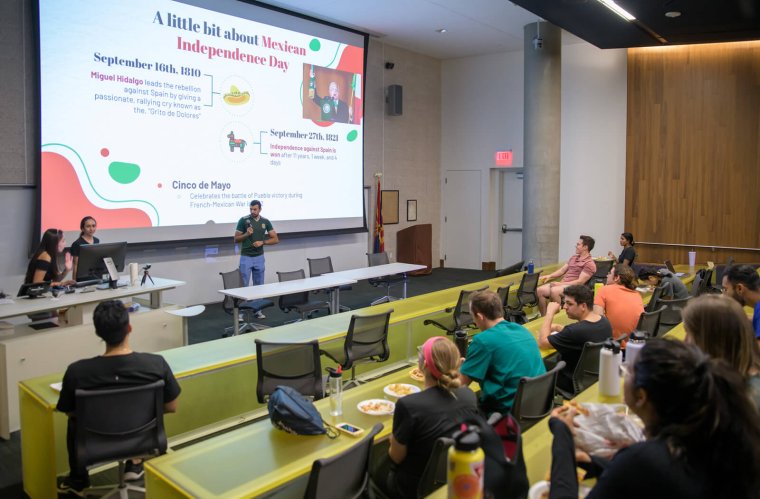 Latino Medical Student Association Hosts Lunch Event for Hispanic Heritage Month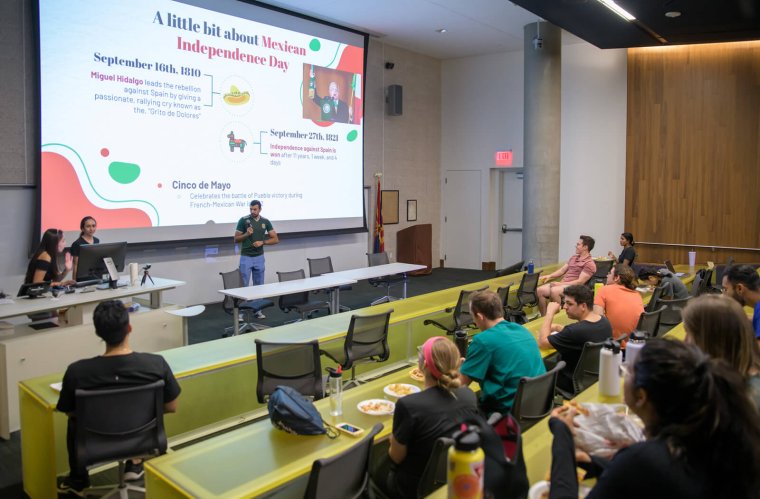 Almuerzo Con Amigos event shared Mexican culture and Spanish language
The Latino Medical Student Association (LMSA) at the University of Arizona College of Medicine – Phoenix hosted the Almuerzo con Amigos event, which translates to "lunch with friends," in celebration of Hispanic Heritage Month.
The theme of Mexico was selected to honor Mexican Independence Day, celebrated on September 16. A brief history of the holiday and elements of Mexican culture were shared by the LMSA. Attendees had the opportunity to learn medical Spanish and practice their language skills with native speakers.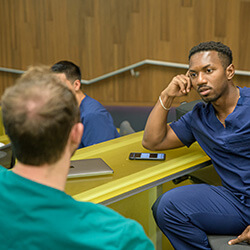 Gillian Reynoso is a second-year medical student at the college and serves as one of the co-presidents on the LMSA leadership team. She said that the purpose for the event was to create a safe space for medical students to ask questions about Hispanic culture.
"Medicine itself is a different language; knowing Spanish and knowing medical Spanish are two completely different mountains to climb," Reynoso said. "We make sure everyone attending knows that they are free to make mistakes, ask questions and not worry about pronunciation."
Attendees were split into groups based on their Spanish skill level. Medical students were able to practice phrases that will help them converse with patients to collect medical history and social history aspects of a patient-centered interview.
Paulo Peña, another second-year medical student at the college, is another one of the co-presidents of the LMSA. He said Almuerzo con Amigos was created in previous years because students identified the high number of Spanish-speaking patients they worked with at volunteer and low-cost clinics in Phoenix.
"It helps break down the barriers between patients and physicians and helps build that trust and relationship," Peña said. "Native Spanish speakers also receive some benefit as they are able to expand their medical Spanish knowledge."
The event began with a presentation about Mexico by four members of the LMSA. They discussed the different regions of Mexico from which they hail, including cultural differences and similarities.
In one of the previous sessions, Peña said he was able to present on Ecuador and connect with others who shared his heritage.
"The presentation helped me connect with my Ecuadorian heritage by learning more about the food, language and holidays that are celebrated in Ecuador," Peña said. "Being half-Ecuadorian and growing up in the United States, I was not able to really connect with individuals who are Ecuadorian or be immersed in my culture."
Hispanic Heritage Month is celebrated in the United States from September 15 to October 15. Reynoso said events like these hosted by the LMSA are intended to promote cultural awareness.
"We may be from the same country or share a language, but each one of us is so unique in how we do things and in how our families celebrate things," Reynoso said. "Hispanic Heritage Month is a reminder that our differences bring us together."
About the College
Founded in 2007, the University of Arizona College of Medicine – Phoenix inspires and trains exemplary physicians, scientists and leaders to optimize health and health care in Arizona and beyond. By cultivating collaborative research locally and globally, the college accelerates discovery in a number of critical areas — including cancer, stroke, traumatic brain injury and cardiovascular disease. Championed as a student-centric campus, the college has graduated 669 physicians, all of whom received exceptional training from nine clinical partners and more than 2,600 diverse faculty members. As the anchor to the Phoenix Bioscience Core, which is projected to have an economic impact of $3.1 billion by 2025, the college prides itself on engaging with the community, fostering education, inclusion, access and advocacy.