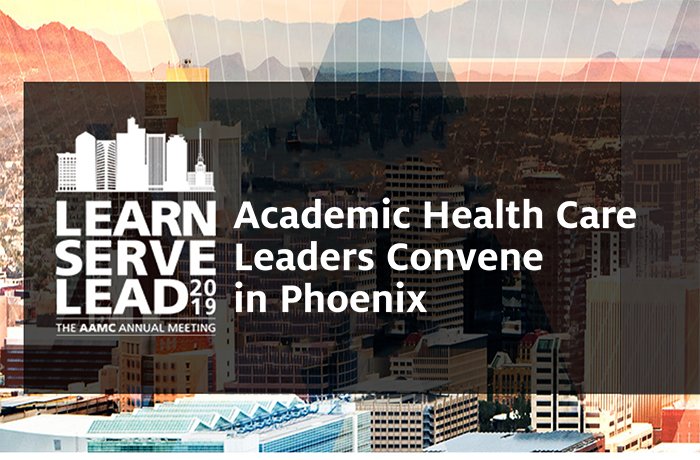 Learn Serve Lead: Academic Health Care Leaders Convene in Phoenix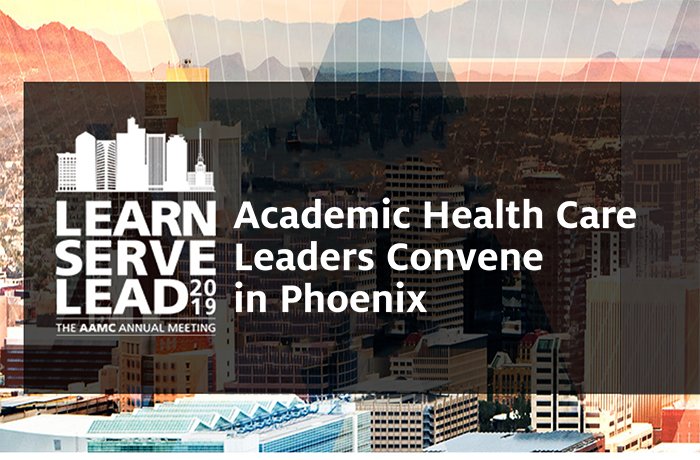 Signature Event Brings Together Academic Medicine Professionals
More than 4,600 leaders from medical schools and teaching hospitals in the U.S. and Canada will converge in Phoenix Nov. 8-12 to discuss the future of medical education, innovations in biomedical research and transformation in patient care.
The University of Arizona College of Medicine – Phoenix will host an open house, "Arizona Nights: Colors of the Desert," for conference attendees on Sat., Nov. 9, where visitors can tour the Center for Simulation and Innovation, Gross Anatomy Lab, learning studios and research labs.
The evening reception at the college will feature authentic street food, cactus libations and musical performances. Self-guided tours will include insight from medical students, college leadership and local artists.
At 7:00 p.m., welcome marks will be delivered in the Grand Canyon by Michael D. Dake, MD, senior vice president, UArizona Health Sciences; Dean Guy L. Reed, MD, MS, and Phoenix Mayor Kate Gallego.
In addition to the open house, more than 550 visitors are expected on the Phoenix Biomedical Campus throughout the week to attend various association conferences and events, including:
Nov. 7 – Deans' Assistants Group 25th Anniversary Dinner.
Nov. 8 – National Leaders of Women in Medicine and Science Symposium.
Nov. 8 – Association of Academic Health Sciences Libraries Reception.
Nov. 8 – AAMC Learning Specialists Meeting.
Nov. 9 – AAMC LGBTQ+ Reception.
Nov. 10 – Executive Leadership in Academic Medicine Luncheon.
Eight College of Medicine – Phoenix faculty and staff will deliver presentations during the AAMC conference on Saturday and Sunday at the Phoenix Convention Center. Additionally, faculty, staff, students and alumni will offer poster presentations.
Learn Serve Lead is the signature learning and networking event for professionals in academic medicine. This year's conference includes keynotes from:
Amy Edmondson, PhD – Author, The Fearless Organization: Creating Psychological Safety in the Workplace for Learning, Innovation, and Growth; professor of leadership and management, Harvard Business School.
Jon Meacham – Presidential historian; author, The Soul of America: The Battle for Our Better Angels.
Bryan Stevenson, JD – Author, Just Mercy: A Story of Justice and Redemption; founder and executive director, Equal Justice Initiative.
Topic areas highlighted during discussions include:
Addressing the Opioid Crisis – The academic medicine community is addressing the opioid epidemic with new approaches to substance abuse education, pain management training and pioneering research toward new treatments.
Diversity and Inclusion – Academic medicine is training an inclusive and culturally competent health and biomedical workforce that is culturally responsive and equipped to provide quality care in a multicultural society.
Gender Bias and Harassment – Leaders in academic medicine are working to address gender bias, salary equity and sexual harassment in the learning and clinical environments.
Health Equity and the Social Determinants of Health – Learn how medical schools and teaching hospitals are striving to address health care disparities, gun violence, racism and other pervasive social issues.
Topics
About the College
Founded in 2007, the University of Arizona College of Medicine – Phoenix inspires and trains exemplary physicians, scientists and leaders to optimize health and health care in Arizona and beyond. By cultivating collaborative research locally and globally, the college accelerates discovery in a number of critical areas — including cancer, stroke, traumatic brain injury and cardiovascular disease. Championed as a student-centric campus, the college has graduated 593 physicians, all of whom received exceptional training from nine clinical partners and more than 2,400 diverse faculty members. As the anchor to the Phoenix Biomedical Campus, which is projected to have an economic impact of $3.1 billion by 2025, the college prides itself on engaging with the community, fostering education, inclusion, access and advocacy.