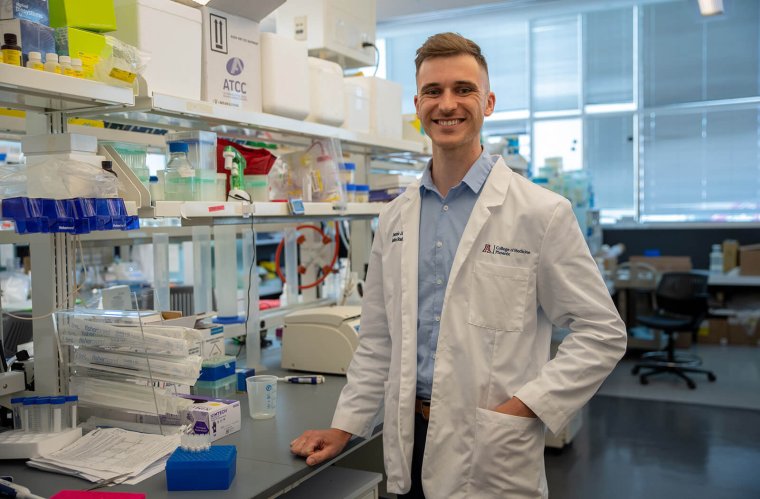 MD/PhD Student Awarded Summer Research Scholarship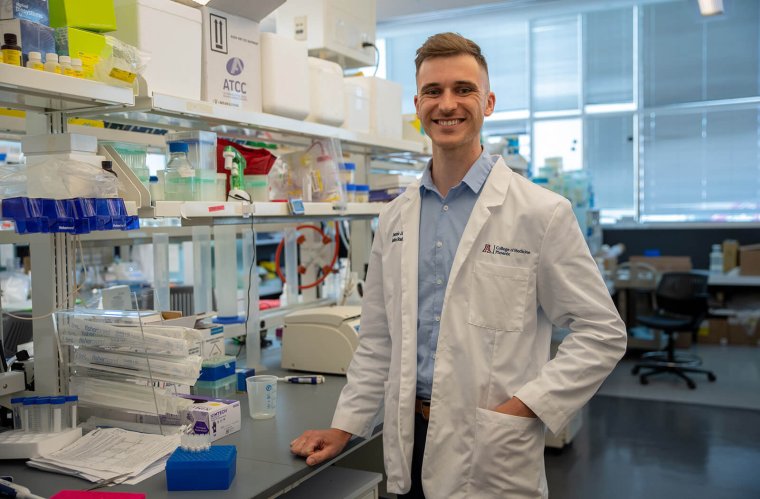 The Child Neurology Foundation selected Dominic Julian to help investigate disorders affecting children
Dominic Julian, a second-year MD/PhD student from Columbus, Ohio, has earned the Neurodevelopmental Disabilities Summer Research Scholarship through the Child Neurology Foundation. Julian is the one medical student across the United States and Canada who was awarded the scholarship.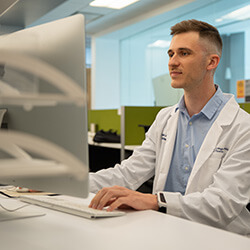 The organization sponsored a $3,500 clinical research scholarship for first-year U.S. or Canadian medical students who have an interest in child neurology or neurodevelopmental disorders.
"As an MD/PhD student, I'm learning how to have a career in both the medicine world and the research world," Julian said. "Once I finish up this next year of medical school, I take a pause on my training and head to the lab for my PhD before I come back for my clinical years. I'm currently rotating through different neuroscience labs to choose the team I want to work with for my PhD."
During his interview for the MD/PhD program, Julian met Michael Kruer, MD, and he realized he'd found a faculty mentor he would love to rotate with in the lab. Julian applied to the Child Neurology Foundation to support his work during his rotation with Dr. Kruer and was awarded the scholarship.
Dr. Kruer is a pediatric movement disorder physician and an associate professor of Child Health, Genetics, Neurology and Cellular & Molecular Medicine at the University of Arizona College of Medicine – Phoenix.
Dr. Kruer said he's excited for Julian and that the program will revolve around Julian conducting neurogenetics research, as well as studying the genetic basis of cerebral palsy by using big data approaches and advanced bioinformatics.
"I have been impressed by Dominic's enthusiasm, intelligence and curiosity," Dr. Kruer said. "Scholarships like these are often launching pads to exciting careers, supporting deserving recipients at crucial times during their career development."
Before matriculating to the UArizona College of Medicine – Phoenix, Julian earned a bachelor's degree in neuroscience and psychology from Ohio State University and then earned a master's degree from the University of Cincinnati.
After earning his degrees, Julian spent nearly four years doing translational stem cell research at Nationwide Children's Hospital in Columbus, Ohio, and several other laboratories.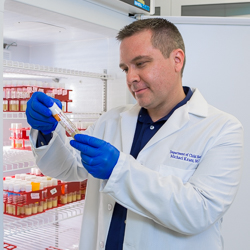 Julian's work this summer will focus on discovering new genetic mutations that may cause cerebral palsy and analyzing genetic data from affected families across the globe.
Julian said Dr. Kruer's excitement and enthusiasm for the work he's doing inspires him to also be passionate about his future as a physician in neuroscience.
"Having him as sort of the backbone of my research proposal was unparalleled," Julian said. "The mentorship and groundbreaking research being accomplished here across all the labs here at the college definitely contributed to me being picked for this award."
After completing residency, Julian hopes to both practice as a physician and direct his own research lab.
"I want to have my research questions framed by the future patients that I'll be trying to help in clinic," Julian said. "For me, there is a beautiful and inspiring reciprocal nature between science and medicine that both excites me and continuously pushes me to work my hardest, so that one day, we can improve the outcomes for patients affected by neurological disorders."
About the College
Founded in 2007, the University of Arizona College of Medicine – Phoenix inspires and trains exemplary physicians, scientists and leaders to optimize health and health care in Arizona and beyond. By cultivating collaborative research locally and globally, the college accelerates discovery in a number of critical areas — including cancer, stroke, traumatic brain injury and cardiovascular disease. Championed as a student-centric campus, the college has graduated 669 physicians, all of whom received exceptional training from nine clinical partners and more than 2,600 diverse faculty members. As the anchor to the Phoenix Bioscience Core, which is projected to have an economic impact of $3.1 billion by 2025, the college prides itself on engaging with the community, fostering education, inclusion, access and advocacy.