Medical School Hosts Inaugural Arizona Primary Care Advocacy Forum
Primary Care Scholars Medical Students Host Discussion Focused on Addressing Arizona's Physician Shortage
Community leaders, physicians and medical students gathered at the University of Arizona College of Medicine – Phoenix for the inaugural Arizona Primary Care Advocacy Forum to address the critical shortage of primary care physicians in Arizona.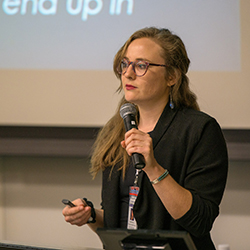 The event, which took place Nov. 19, was hosted by the newly developed Primary Care Scholars Certificate of Distinction program.
"This program was founded to provide a leadership pathway for student scholars interested in addressing the key challenges in our health care system," said Shahrzad Saririan, MD, founder and inaugural director of this innovative program. "Our longitudinal four-year program allows students to participate in primary care seminars, relational leadership training through Primary Care Progress and ongoing community-based projects to understand their unique role as future physicians."
Organized by the Primary Care Scholars students, this inaugural event focused on the concerning trend and the risk it poses to the health and wellness of local and regional communities.
"The shortage of physicians is a national problem, but it disproportionately affects us in Arizona," said Guy Reed, MD, MS, dean of the College of Medicine – Phoenix. "As we know from the Arizona Center for Rural Health, we currently need 563 primary care physicians. In another 10 years, we will need 1,941 more. Citizens in rural counties in Arizona already acutely feel this need. Unless we make a change, every citizen in every county in Arizona will feel these effects in the next few years."
According to statistics provided by second-year Primary Care Scholars medical student Michelle Peterson, for every primary care provider in Arizona, there are 1,678 patients. In isolated rural areas, there are 10.3 providers per 100,000. Typically, a primary care patient workload should not exceed 1,500 to 2,000 patients; however, in small, rural towns, there are 9,872 people per primary care provider.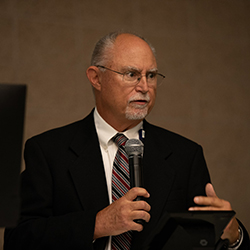 "There are individuals, families and communities that are in crisis behind all of these statistics," said Jeff Wolfrey, MD, chair of Family, Community and Preventive Medicine at the college. "If you are a parent of a young child with a fever of 104 and you are two hours from the nearest health care facility, that is a crisis. If you have depression and there is no practice in your town that delivers mental care, that is a crisis. If you have multiple serious medical conditions and there is no physician that coordinates care that you have access to, that is a crisis."
Peterson said Arizona ranks 31st out of 50 states in active licenses, but 42nd in active primary care providers.
"In Arizona, there are not enough primary care providers to meet the daily demand of patients," she said. "Most of these physicians are practicing in urban areas. As the location gets more rural, there are fewer specialists and fewer primary care physicians."
The event included a discussion by a panel of experts: Heather Carter, EdD, Arizona state senator; Kelli Butler, Arizona state house representative; Jonathan Cartsonis, MD, director of the college's Rural Health Professions Program; Katy Mullens, MD, pediatric and adolescent medicine specialist and clinical professor; Glen Fogerty, PhD, associate dean of Admissions and Recruitment; Merrion Dawson, a second-year Primary Care Scholars medical student, and Cheryl O'Malley, MD, associate dean of Graduate Medical Education.
"We are already at a shortage in Arizona, but I'm here to tell you the crisis is even worse than what those numbers show," Sen. Carter said. "We have a very large population of practitioners who move to Arizona, but are retired and want to maintain their license. When you look at just the numbers reported from our licensing board, that does not give us an accurate number of the people who are seeing patients on a day to day basis."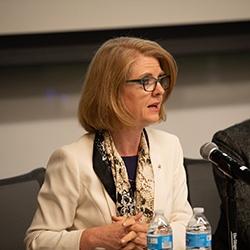 Sen. Carter said that last year, she offered a bill to create a data set that will voluntarily collect information from physicians about the number of patients they are seeing, the location and number of hours.
Rep. Butler discussed the need for more education and public health funding in Arizona to address the need. Arizona is the third worst in public health funding, she said, at the "bottom of the barrel" in education funding, and one of the worst states for an increasing number of children who are uninsured.
"These statistics are very alarming, and I think it is important to know that there are people at the Capitol who recognize the glaring problem that we are facing now," Butler said.
Although most of the conversation was centered around medical students, Dr. O'Malley discussed the need for more residency spots in Arizona. When Dr. O'Malley graduated from the College of Medicine – Tucson in 1999, she said, there was only one medical school in the state, and there were 100 spots per class, with 400 students enrolled in medical school. In 2016, the number was 2,200. However, graduate medical education hasn't kept up with this demand.
"There is more growth ahead," Dr. O'Malley said. "We have all these fabulous medical students with energy that are coming here and will have opportunities training in our medical schools, but then they have to go into residencies. We are fortunate to be able to groom them into primary care, but we need to be able to keep them and have a home for that. We know if they do their undergraduate medical education and then their graduate medical education in Arizona, then it's a 75 percent chance that they are going to stay and practice in the state."
The panel ended with a discussion with the audience, where experts and attendees agreed that more work needs to be done to address the ongoing crisis.
"We still need primary care doctors. If we don't do everything we can to prepare that next generation of practitioners, we are going to be in dire straits," Sen. Carter said.
About the College
Founded in 2007, the University of Arizona College of Medicine – Phoenix inspires and trains exemplary physicians, scientists and leaders to optimize health and health care in Arizona and beyond. By cultivating collaborative research locally and globally, the college accelerates discovery in a number of critical areas — including cancer, stroke, traumatic brain injury and cardiovascular disease. Championed as a student-centric campus, the college has graduated 745 physicians, all of whom received exceptional training from nine clinical partners and more than 2,700 diverse faculty members. As the anchor to the Phoenix Bioscience Core, which is projected to have an economic impact of $3.1 billion by 2025, the college prides itself on engaging with the community, fostering education, inclusion, access and advocacy.