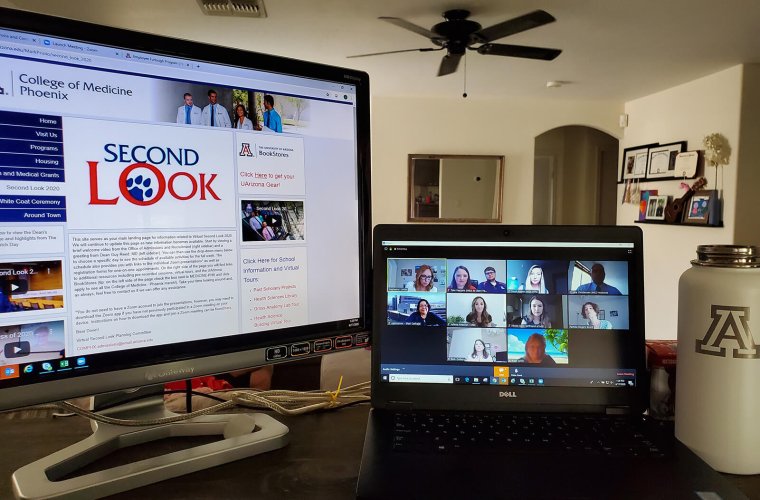 Medical School Hosts Virtual Event for Admitted Students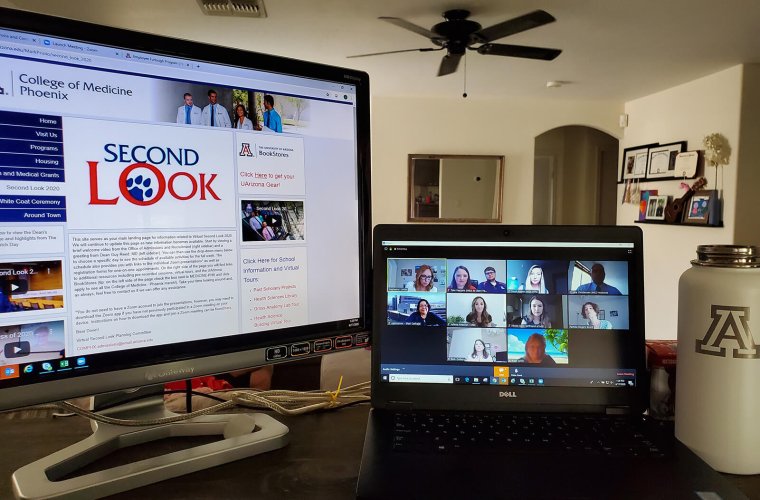 More than 100 Prospective Medical Students Attend University of Arizona College of Medicine – Phoenix Virtual Second Look
Admitted medical students will begin classes in July, but many have yet to make a final decision on where to go. With the coronavirus restricting travel and large group events, students are unable to attend Second Look in person, which many rely on to make their final decision.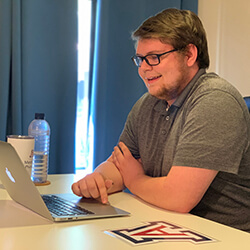 The University of Arizona College of Medicine – Phoenix changed this year's Second Look to a virtual environment to showcase the medical school for more than 100 students who have not yet committed. Second Look events are meant to give potential students an idea of what attending a particular medical school will be like.
The Office of Admissions and Recruitment led the efforts on April 13-17 with 18 live zoom sessions, 25 hours of programming and the help of 70 campus colleagues.
"Like many other medical schools, we had to quickly adapt our plans to move to a virtual environment," said Racheal Mickel, coordinator of event operations in Admissions and Recruitment. "Our primary goal with each of the sessions was to find a way to share the culture and community of the College of Medicine – Phoenix in the most authentic way possible, which we think was still evident even in a virtual setting."
A traditional Second Look is two days of structured events with limited flexibility for students to tailor their schedules. With the virtual event, programming was planned throughout an entire week, and students could choose which sessions to attend based on factors most important to their decision-making process. Sessions were recorded, so students who missed a session could tune in later.
"We are incredibly pleased with the turnout and engagement we observed during our virtual Second Look," said Mark Priolo, director of Admissions and Recruitment. "Like most institutions, we are learning the true capabilities of how we can interact remotely with students. The pandemic forced us to really think creatively, and we came away with several ideas that we will likely continue to use moving forward."
Sessions included opportunities to connect in one-on-one appointments with current students, participate in panels with students about their Scholarly Project and Student Interest Groups, get an inside look of the Gross Anatomy Lab, attend interactive webinars about certificates of distinction programs, meet individually with financial aid staff and hear from alumni of the College of Medicine – Phoenix.
Amoreena Trigg, assistant director for Curricular Affairs, provided an overview of the four years of undergraduate medical education.
"I hope the students were able to feel the friendliness and normalcy that comes from our staff even during these challenging times," Trigg said. "Though we may all be working from home in different parts of the city, we still are a community, and are first and foremost here and available for our students."
Halszka Glowacka, PhD, and Evan Garofalo, PhD, faculty in the college's Gross Anatomy Lab, presented about learning opportunities offered at the lab, including the willed body donor program and ceremony of appreciation.
"In preparing the virtual tour, we wanted to highlight things that stand out about our clinical anatomy block," Dr. Glowacka said. "This included not only information about the physical lab, but also specifics about how the class is run and what students can expect on a typical day in the lab. We also focused on some of the topics that tend to give students anxiety as they begin clinical anatomy and the help we provide to ease that anxiety."
Dr. Garofalo said while the virtual Second Look was a success, she missed the ability to directly connect with students like at a traditional Second Look event.
"In content, the typical tour does not differ greatly from the virtual tour," Dr. Garofalo said. "While the content was very similar, we were just missing the ambiance and the ability to connect with the students. The non-quarantine version of a Second Look tour of clinical anatomy starts in the anatomy lab. The lab itself is incredibly impressive and we walk the students through the room so they can imagine themselves experiencing this quintessential medical school course in this spectacular lab."
The Office of Diversity and Inclusion presented three sessions to prospective students. Sessions were led by Francisco Lucio, JD, associate dean of Diversity and Inclusion, Sonji Muhammad, director of Diversity and Inclusion, and Gabriela Woody, outreach coordinator. They described the Diversity Office and its mission, explained opportunities for support and how the office engages with the community. Six current students participated to give their perspective and field questions.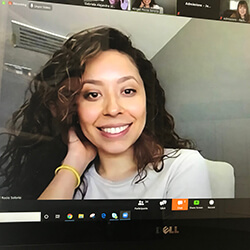 "Having three days allowed us to spend more time on the subjects presented, as well as give more flexibility to students," Muhammad said. "Prospective students could attend the topics of most interest to them. Having current students speak about how they benefit from their relationship with our office was extremely advantageous in giving the prospective students another reason to attend the College of Medicine – Phoenix."
The event even included a session for loved ones to learn about the Friends and Family Network. More than 60 parents, spouses, significant others and siblings tuned in to the virtual meeting to learn about the support and network available on campus.
"Key to our medical students' success is having a strong network of support as they navigate the four years of medical education," said Glen Fogerty, PhD, associate dean of Admissions and Recruitment. "We created a Friends and Family session that turned out to be one of our highest-attended events. During this session, we bring together current family and friends to share their stories of support and provide guidance and advice in how to care for their medical students. It truly is impactful and something we certainly will continue to support."
About the College
Founded in 2007, the University of Arizona College of Medicine – Phoenix inspires and trains exemplary physicians, scientists and leaders to optimize health and health care in Arizona and beyond. By cultivating collaborative research locally and globally, the college accelerates discovery in a number of critical areas — including cancer, stroke, traumatic brain injury and cardiovascular disease. Championed as a student-centric campus, the college has graduated 593 physicians, all of whom received exceptional training from nine clinical partners and more than 2,400 diverse faculty members. As the anchor to the Phoenix Biomedical Campus, which is projected to have an economic impact of $3.1 billion by 2025, the college prides itself on engaging with the community, fostering education, inclusion, access and advocacy.