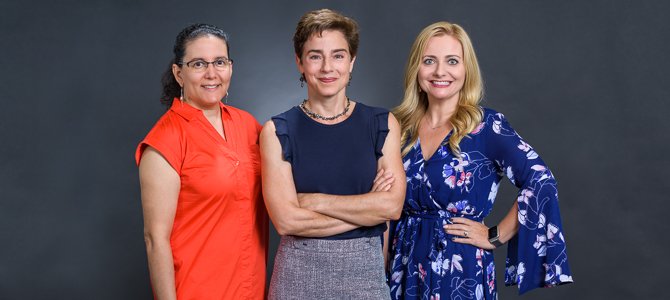 Meet three Extraordinary Scientists Who Are Leading Research Breakthroughs in Health Care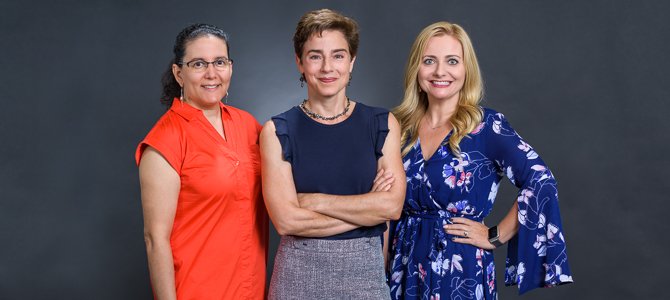 Throughout the Month, Women Faculty and Scientists Detail How They Got Started in Their Career and Their Views on Promoting More Women in Health Care
The University of Arizona College of Medicine – Phoenix is celebrating Women in Medicine and Science in September, highlighting the important work women faculty and researchers are pursuing.
Throughout the month, the college web site will feature women faculty and scientists, explaining their career path and their views on promoting inclusive excellence among women colleagues.
The recognition echoes an initiative developed by the American Medical Association, which this month is showcasing accomplishments of women physicians and highlighting advocacy of women physicians and health issues impacting female patients. The theme is "Celebrating Our Legacy, Embracing Our Future."
Rebecca Fisher, PhD; Amelia Gallitano, MD, PhD, and Melissa Herbst-Kralovetz, PhD, are members of the college's Women in Medicine and Science Committee, which was formed under the Office of Diversity and Inclusion to promote advancement, leadership and success for women faculty in all roles within academic medicine and science. The goal is to create a supportive and instructive network to promote women physicians and scientists into leadership positions and mentor others who hope to pursue careers in medicine or science.
Today, new female medical students outnumber male students across the country. The College of Medicine – Phoenix achieved this over the past four years as 56 percent of our students are women.
"Advocacy, mentoring, networking, developing leadership skills and general support improves recruitment, retention and advancement," said Guy Reed, MD, MS, dean and Valley of the Sun professor at the UA College of Medicine – Phoenix. "I am proud of the successes we have had in promoting our colleagues and hope you join me in celebrating them this month."
Rebecca Fisher, PhD, investigates the musculoskeletal system in mammals, reptiles and cephalopods. She is collaborating with engineers to study the anatomy and control of octopus arms as inspiration for the design of soft robots. The team is funded by a $2.1 million grant from the Office of Naval Research. "Octopuses are capable of complex movements, such as squeezing through tight spaces and carrying objects," Dr. Fisher explained. "Our goal is to design a bio-inspired robot that can adapt to local conditions and perform complex tasks. Robots play important roles in society today, in manufacturing, the military and health care, and bio-inspired robots have the potential to greatly impact our lives."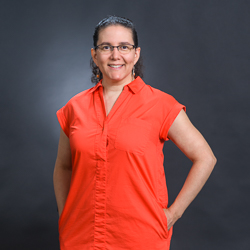 Dr. Fisher is an associate professor in the University of Arizona College of Medicine – Phoenix Department of Basic Medical Sciences and director of the Gross Anatomy Laboratory. She received her PhD from Yale University and completed a postdoctoral fellowship at the Johns Hopkins University School of Medicine. Dr. Fisher was a founding faculty member of the college and gained national recognition for her innovative curriculum in 2008, when she was awarded the Basmajian Award from the American Association of Anatomists. She has received three Excellence in Teaching Awards for the Clinical Anatomy block, two Educator of the Year awards, and was inducted into the Gold Humanism Honor Society in recognition of her leadership in fostering empathy in future physicians.
"As a Latina and ally for the LGBTQ community, I am passionate about promoting diversity and inclusion in medicine."
Amelia Gallitano, MD, PhD, researches how genes that are activated in the brain in response to stress may mediate the dual genetic and environmental influences on the risk to develop mental illnesses. By identifying how dysfunction of these genes can disrupt neurobiology, memory and behavior, she hopes to improve the diagnosis and treatment of these devastating disorders.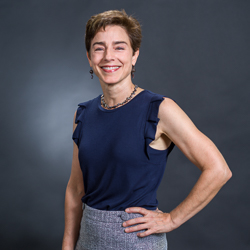 Dr. Gallitano was a founding faculty member of the University of Arizona College of Medicine - Phoenix in 2007, and is an associate professor in the Departments of Basic Medical Sciences and Psychiatry. She is a board-certified psychiatrist and directs an National Institutes of Health-funded laboratory. Dr. Gallitano was instrumental in starting the college's Phoenix Women in Medicine and Science committee in 2017 and serves as its chair.
"When I started the MD/PhD program at the University of Pennsylvania, the assistant to the program director asked me if I had 'decided' whether I was going to complete my PhD. Before I could respond, she added 'Let me tell you what you should do. Pretend for now that you are going to do the PhD, and then see what happens'. I think all women can relate to this experience of having their commitment to their profession questioned. My mission is to support women in overcoming obstacles to succeed in achieving their career goals, whatever those may be."
Melissa Herbst-Kralovetz, PhD, leads a translational research program in women's health. Dr. Herbst-Kralovetz served in a prominent leadership position for UA College of Medicine – Phoenix and was integral in creating an innovative and interactive medical curriculum as a critical step in the college receiving full accreditation. As director of the Women's Health Microbiome Initiative, she builds basic and clinical research partnerships related to women's health throughout Arizona. She has published more than 30 publications, book chapters and patents in this area since 2010. Her influence is reflected by frequent invitations to speak nationally and internationally, serve on expert review panels for the National Institutes of Health and conduct media interviews.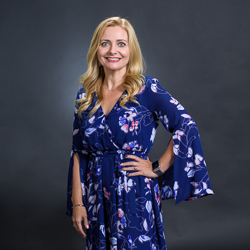 She is passionate about developing and mentoring women in science and has created a nationally recognized research program that has received international attention as evidenced by her participation as a presenter at the Global Health Keystone Symposium in South Africa. Recently, Herbst-Kralovetz was recognized by the Phoenix Business Journal in its "40 under 40" award that recognizes leaders making a difference in their organizations and community.
"I am a female scientist, but I am also a mother, daughter and wife. Each role complements the other. I am a better scientist because I am a mother and vice versa. I teach my mentees that they don't need to choose one role over the other. It is imperative that we teach our young women that science and medicine need our collective voice, passion, ideas and leadership."
If you would like more information about the Women in Medicine and Science group, please contact Julie Parrish. For information about the Phoenix chapter of Graduate Women in Science, contact Sandra Maria Hinz.
Special September/October Content
Look for features each week with women in leadership at the College of Medicine – Phoenix:
Rebecca Fisher, PhD; Amelia Gallitano, MD, PhD; Melissa Herbst-Kralovetz, PhD.
Celebrate our own women in medicine and science by posting photos of your favorite female physician or scientist using the hashtag #WIMmonth.
Share and engage how our women leaders have inspired you on the college's Facebook, Twitter, LinkedIn and Instagram accounts.
About the College
Founded in 2007, the University of Arizona College of Medicine – Phoenix inspires and trains exemplary physicians, scientists and leaders to optimize health and health care in Arizona and beyond. By cultivating collaborative research locally and globally, the college accelerates discovery in a number of critical areas — including cancer, stroke, traumatic brain injury and cardiovascular disease. Championed as a student-centric campus, the college has graduated 593 physicians, all of whom received exceptional training from nine clinical partners and more than 2,400 diverse faculty members. As the anchor to the Phoenix Biomedical Campus, which is projected to have an economic impact of $3.1 billion by 2025, the college prides itself on engaging with the community, fostering education, inclusion, access and advocacy.