Physician Discusses Eating Healthy During the Pandemic and Holiday Season
Preethy Kaibara, MD, Shares Concerns About Pandemic Weight Gain and Provides Tips for Healthy Eating
Unhealthy eating habits and weight gain have been unforeseen consequences from staying home during the coronavirus pandemic. Physicians are worried about the potential consequences from these unhealthy habits and the increased risk it puts on patients for conditions like diabetes and high blood pressure.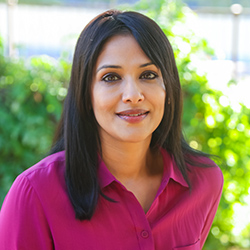 As we head into the holiday season, which is notorious for its unhealthy eating habits, Preethy Kaibara, MD, JD, a clinical instructor in Family, Community and Preventive Medicine at the University of Arizona College of Medicine – Phoenix and owner of local Phoenix restaurant, Tasty Box, shares her concerns and advice on weight gain during the pandemic, the holiday season and healthy eating.
Does excessive weight gain during the pandemic worry physicians?
Yes, because excess weight can negatively impact your health. First, with weight comes changes in the shape of your body and you may experience things like new joint/back pain, acid reflux or snoring. These things then can become even further triggers for weight gain. If your joints hurt, you may avoid exercising and gain weight. Lack of sleep is also a risk factor for weight gain.
Weight can also trigger new conditions like high blood pressure and type 2 diabetes. This worries physicians, because we cannot see patients as freely as before due to the pandemic and we do not know how this will impact our patient's health.
Chronic conditions are known to have poorer outcomes with the pandemic. For those with these conditions, is it more important than ever to eat healthy?
Yes. Diet is a powerful wellness tool for a person with a chronic condition (in addition to their treatments). Feeling well means less contact with the medical system. The pandemic has made visits to emergency rooms, urgent care and the doctor's office more difficult, and we have seen people stay away out of fear. Others have received care in isolation from their loved ones. We have also seen some medications for chronic conditions go in short supply.
To give an example, a person with diabetes who does not eat to keep their system in balance may find that they need to go to the doctor for medication adjustments or even new medication to control their blood sugars. If the imbalance is severe, it will reduce this person's immunity and potentially lead to an infection that requires hospital care.
The holiday season is already a time for many of us to eat unhealthy. What ways can we improve our eating habits during this time?
We all are aware of the cycle holiday indulgences followed by New Year's diet resolutions, but the pandemic holiday season is brand new version. Though sad on one level, less gatherings does mean less occasions to overindulge in rich food and drink. Following the Centers for Disease Control and Prevention guidelines to avoid self-service and buffet style foods can mean better portion control at a gathering.
As many people share the struggle of pandemic weight gain, consider setting up a healthier theme or some rules as to what type of food and drink should be served over the holidays. Working from home can allow some new habits to combat overeating, as well. Consider eating a healthy snack at home prior. Instead of rushing from work to a store to pick up a quick higher calorie option for a holiday meal perhaps there is more time now to prepare or buy something healthier.
How can eating unhealthy impact your overall wellbeing, other than weight gain?
Unhealthy eating means your body is not ideally nourished, which ultimately can lead to a new disease or worsen a chronic condition. Many medical sources have noted increased mental health issues throughout this pandemic, so this is another reason physicians are concerned about healthy eating. Conditions like anxiety, isolation or depression may be expressed in eating. Also, body changes related to eating may cause mental distress.
Are there certain foods or ingredients you should look to add to your diet that may help support the immune system during this time? Or just your overall health?
This pandemic has challenged our eating habits. We see this in the grocery store shortages of flour and butter and the much more common use of drive through and take out eating. People are also at home more with greater access to food than usual. We know that refined foods, alcohol and sugars are less supportive to a healthy immune system than whole foods. Whole fruit and vegetables, whole grains, nuts, beans and legumes are all ingredients that best support your cell functions. Small additions to your diet include: spices (e.g. ginger, cinnamon, black pepper, turmeric), fermented foods (e.g. vinegars, yogurt, sauerkraut, kimchi) and healthy fats (coconut, avocado, olive oil). Most of these small additions make whole foods taste better too.
The pandemic has also challenged our activity level, which also supports cell function and immunity. Many are required to sit for long periods in front of a computer for school or work. Gyms and parks have been intermittently closed. Weather conditions and travel restrictions have limited outdoor activities. Finding ways to keep active goes hand in hand with eating well to maintain wellness. Movement breaks from sitting every hour is a good starting point.
Anything else to add?
We do not know how long pandemic changes will stay and how this will affect our health. But, it could be an opportunity to slow down, change behaviors within us and model behaviors for children that in the long term will keep us healthier. While we are bombarded with many suggestions and products to make radical changes to our diets and lose weight, the most powerful tool is your gentle attention. What are my eating habits? How does eating make me feel? Do I feel energetic and well from my food choices? Second, what are some gentle limits I can set that allow me to pay attention to my eating? Some suggestions are: designated eating areas only (e.g. no eating in front of the computer or tv); setting office hours for the kitchen (e.g. kitchen closures between meals to allow the body to eat with normal hunger cues). Finally, how can I keep this joyful and not punishing? Allowing some occasional indulgences, involving others in your home with food preparation, theme days for habits you want to cultivate but need to take on slowly (e.g. no meat day, sugar free day) are just some suggestions.
About the College
Founded in 2007, the University of Arizona College of Medicine – Phoenix inspires and trains exemplary physicians, scientists and leaders to optimize health and health care in Arizona and beyond. By cultivating collaborative research locally and globally, the college accelerates discovery in a number of critical areas — including cancer, stroke, traumatic brain injury and cardiovascular disease. Championed as a student-centric campus, the college has graduated 669 physicians, all of whom received exceptional training from nine clinical partners and more than 2,600 diverse faculty members. As the anchor to the Phoenix Bioscience Core, which is projected to have an economic impact of $3.1 billion by 2025, the college prides itself on engaging with the community, fostering education, inclusion, access and advocacy.