Physicians Gather Supplies to Help Their Patients in the Navajo Nation
Residents, Faculty and Students Gather Donations to Support the Native American Territory During the Coronavirus Pandemic
After seeing the devastating effects of the novel coronavirus on the Navajo Nation, faculty, residents and students at the University of Arizona College of Medicine – Phoenix wanted to do their part in helping the Native American community during the pandemic.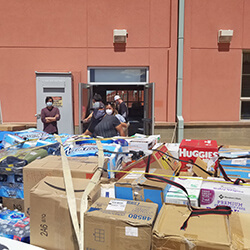 On May 16, two cars, two pick-up trucks and a large trailer full of donation items were driven to the Navajo Nation. Donations included cleaning supplies, hygiene products, masks, gloves, thermometers, baby supplies, water and food.
"We found that there were so many needs including PPE and basic supplies needed in the Navajo Nation," said Jayne Peterson, MD, associate program director of Ambulatory Medicine and an associate professor in the Department of Internal Medicine. "We decided that we would try and help."
Every corner of the Navajo Nation has been hit by the coronavirus, which spans parts of Arizona, New Mexico and Utah.
"At first, we had hoped to just bring more personal protective equipment to Kayenta Medical Center to assist them in following up on our patients that we cared for in Phoenix," Dr. Peterson said. "As we learned about their needs, we thought we could do more. I recently watched a CBS News program that described the Navajo Nation as a food desert. Only 13 grocery stores and difficulty getting fresh fruits and vegetables. We wanted to include those items since patients can't fight infections without adequate nutrition."
The group traveled to Navajo Nation carrying a special letter from the Navajo Division of Public Safety, allowing them to travel during the shelter-in-place order. When traveling, the streets of Kayenta were empty as they made their way up to the designated Health Command Operations Center. They were met by volunteers who helped them unload and sort all of the supplies. They then headed to the Kayenta Medical Center. They were not able to enter the facility, but left all of the PPE with a security person on their loading dock.
The team included three internal medicine residents, Shaunak Pandya, MD, Raquel Burbank-Roberts, MD, and Gabriel Ruiz, MD; one future intern, Arati Pandya; a physician assistant student Danielle Akin; as well as Dr. Peterson and her husband, Todd Peterson, MD, an associate professor in the Department of Anesthesiology. They also had help from medical students Janell Tully and Nicole Segaline to help gather materials, record donated supplies and connect with other donors.
Dr. Pandya said he hopes that these small efforts help with day-to-day life in Kayenta, make it a bit more comfortable, and show a sense of caring from the communities in Phoenix.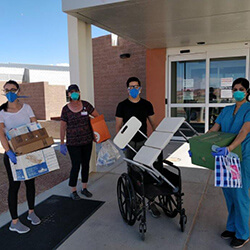 "I was in the ICU when we first started getting COVID-19 patients and a majority came from the reservation, especially Kayenta," Dr. Pandya said. "I talked to the patients' families, and they told me how dire the situation was and a number of supplies they were lacking. I wanted to help limit their exposure to COVID-19 and help bring them resources, supplies, anything they need so that they would not have to go through more suffering and long ICU stays like so many in their community."
The team also visited a patient they treated for COVID-19. They brought them flowers, food and supplies, as well as greetings from the ICU staff that cared for them. They did a clinical assessment and offered their condolences for the recent loss of their loved one who recently passed from the virus.
"It is a moment that none of us will forget," Dr. Peterson said. "In a way of thanks, the daughter presented us each with a homemade spirit catcher and Navajo jewelry for her ICU resident doctors."
Dr. Pandya said that taking the donations up to the Navajo Nation was a profoundly memorable experience. "To see their way of life, the lack of resources, it brought a lot of empathy and further desire to help and be there for them," he said.
"I want the Navajo community to know they are not alone and we care," Dr. Pandya said. "I want the Phoenix communities to know that our fight is not over. Re-opening the states does not mean a return to normalcy. I hope more people make the difficult choices to continue to distance, be safe, be vigilant and help those in need, whether it's an elderly neighbor needing groceries across the street or childcare for a health care worker. This is not over."
The team would like to thank the incredible response from the UArizona College of Medicine – Phoenix community, Esperanza Lutheran Church and the Arcadia chapter of Jesus Christ of Latter Day Saints. They'd also like to thank the faculty in the Department of Internal Medicine, Banner – University Medical Center's Internal Medicine Clinic faculty and staff, and YellowBird.
To donate, visit the COVID-19 Student Service Corps.
About the College
Founded in 2007, the University of Arizona College of Medicine – Phoenix inspires and trains exemplary physicians, scientists and leaders to optimize health and health care in Arizona and beyond. By cultivating collaborative research locally and globally, the college accelerates discovery in a number of critical areas — including cancer, stroke, traumatic brain injury and cardiovascular disease. Championed as a student-centric campus, the college has graduated more than 800 physicians, all of whom received exceptional training from nine clinical partners and more than 2,700 diverse faculty members. As the anchor to the Phoenix Bioscience Core, which is projected to have an economic impact of $3.1 billion by 2025, the college prides itself on engaging with the community, fostering education, inclusion, access and advocacy.