Postdoctoral Researcher One of Four Recipients of the Inaugural ExCEL Scholar Award for Cancer Research
Nicole Jimenez, PhD, recognized for her investigations of gynecologic, cervical and endometrial cancers
Focused on engaging and developing the next generation of leaders in cancer research, the Excellence in Career Enrichment Leadership (ExCEL) Committee at Montefiore Einstein Cancer Center (MECC) created the ExCEL Scholar Award.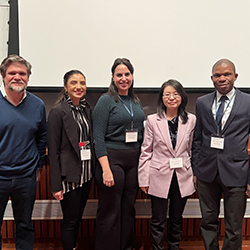 When Nicole Jimenez, PhD, a postdoctoral research associate in the Department of Obstetrics and Gynecology (OB/GYN), read the description for the award, she knew she would be a strong applicant. "I was like, 'Oh, wow … That really resonates with what I am doing and what I am hoping to accomplish,'" she said. She did not hesitate to apply.
That enthusiasm paid off, as she was one of four recipients to receive the inaugural award. She – along with the other successful candidates – visited the Albert Einstein College of Medicine and the MECC to discuss her research on March 14.
Dr. Jimenez presented her work on three bacteria that were recently classified as Atopobium vaginae. A. vagine is a key vaginal bacteria linked to the most common vaginal disorder, bacterial vaginosis — a risk factor for both cervical and endometrial cancers.
Being relatively new to this field of study, it was a rewarding and informative experience for Dr. Jimenez. The award not only helped get her name out there as an emerging cancer researcher, shining a light on her work examining gynecologic, cervical and endometrial cancers, but it also allowed her to network with prominent investigators from across the country.
"These gynecologic conditions are kind of underresearched and underfunded," she said. "If I can get some of these cancer researchers to start thinking about that, as well. It is a great way to kind of bridge that gap."
In 2021, Dr. Jimenez was awarded the two-year Sidney Hopkins, Mayola B. Vail and Patricia Ann Hanson Postdoctoral Fellowship from the Community Foundation for Southern Arizona to further her work on this study.
With the experience proving to be so beneficial, Dr. Jimenez did not hesitate to encourage fellow researchers on campus to apply next year or beyond. "I think we have a lot of excellent postdocs doing cancer research here," she said.
Dr. Jimenez joined the College of Medicine – Phoenix to work with the esteemed Melissa Herbst-Kralovetz, PhD, an associate professor of Basic Medical Sciences and OB/GYN at the college.
Her mentorship and guidance have been invaluable for Dr. Jimenez's development as a researcher. Dr. Herbst-Kralovetz wrote her letter of recommendation for the award, noting that Dr. Jimenez, "is incredibly versatile in having expertise in both data science and genomics. Coupled with wet bench expertise to perform bacteriology and cell culture work — she is truly a translational researcher that can perform her analyses start to finish."
The ExCEL Committee built upon that sentiment when assessing her candidacy. They were, "very impressed by Dr. Jimenez's contributions to the study of the vaginal microbiome and its role in gynecological cancer progression," They also pointed to her, "focus on health disparities in Latinx and Native American communities in Arizona, as well as her efforts to advocate for the development of diversity, equity and inclusion programs," as areas that made her an exceptional applicant.
By highlighting the work of emerging leaders in cancer research across the United States, the ExCEL Scholar Committee hoped to engage candidates whose research interests aligned with the four core MECC Cancer Programs — Tumor Microenvironment and Metastasis, Stem Cell and Cancer Biology, Cancer Therapeutics, as well as Cancer Epidemiology, Prevention and Control.
About the College
Founded in 2007, the University of Arizona College of Medicine – Phoenix inspires and trains exemplary physicians, scientists and leaders to optimize health and health care in Arizona and beyond. By cultivating collaborative research locally and globally, the college accelerates discovery in a number of critical areas — including cancer, stroke, traumatic brain injury and cardiovascular disease. Championed as a student-centric campus, the college has graduated more than 800 physicians, all of whom received exceptional training from nine clinical partners and more than 2,700 diverse faculty members. As the anchor to the Phoenix Bioscience Core, which is projected to have an economic impact of $3.1 billion by 2025, the college prides itself on engaging with the community, fostering education, inclusion, access and advocacy.