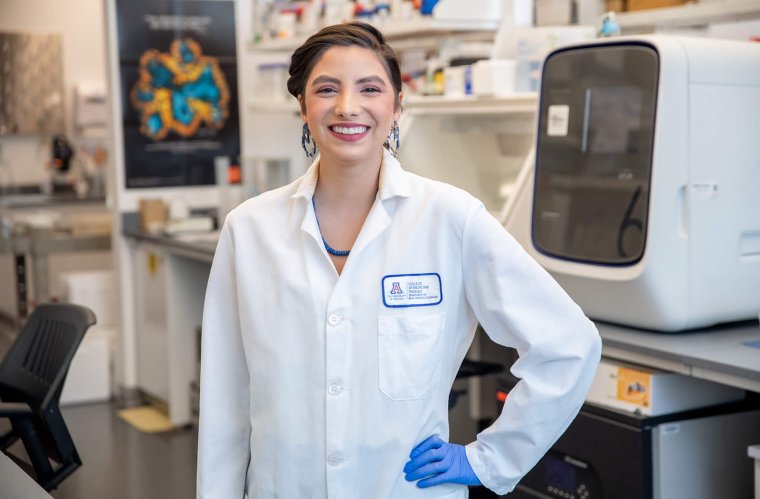 Postdoctoral Fellowship Awarded to Researcher Focused on Women's Health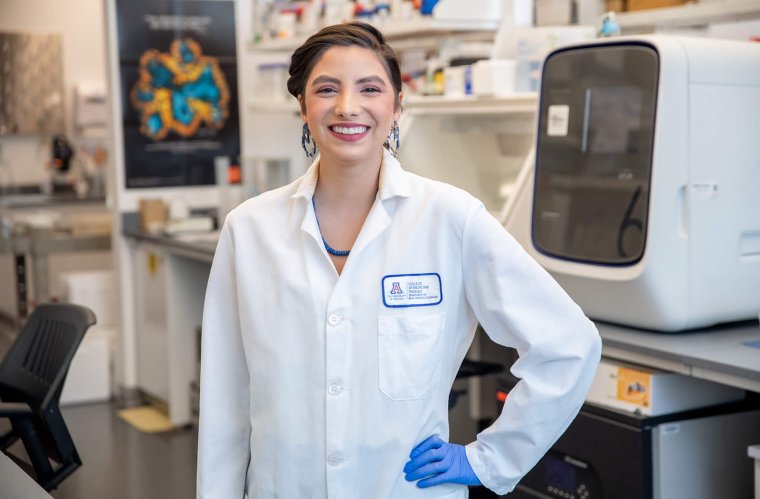 Nicole Jimenez, PhD, will be seeking to identify correlation between three vaginal bacteria and cancer
Nicole Jimenez, PhD, a postdoctoral research associate in the Department of Obstetrics and Gynecology (OB/GYN), was recently awarded the two-year Sidney Hopkins, Mayola B. Vail and Patricia Ann Hanson Postdoctoral Fellowship from the Community Foundation of Southern Arizona.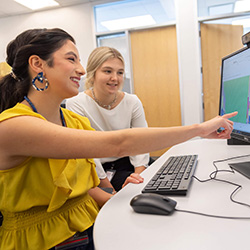 The fellowship will allow her to study three new bacteria that were recently classified as Atopobium/Fannyhessea vaginae, a key vaginal bacteria linked to the most common vaginal disorder, bacterial vaginosis – a risk factor for both cervical and endometrial cancers.
"We hypothesize that there are different cancer-causing contributions amongst these three novel vaginal bacteria," Dr. Jimenez explained.
Her goals for the project are twofold: 1.) analyze the "cancer-causing" potential of these newly identified bacteria using a well-characterized 3-D human endocervical cell model; and 2.) evaluate the clinical phenotypic presentation and microbiome relationship of these novel bacteria in two diverse previously collected cervical and endometrial cancer cohorts.
In doing so, Dr. Jimenez hopes to, "Impact early diagnostics and future clinical care of gynecologic cancers and provide insight into potential oncogenic mechanisms of bacteria that inhabit the cervicovaginal environment."
This line of research has always been of interest to her. Since 2015, she has actively championed research on key vaginal bacterial species in reproductive health. In 2021, she defended her PhD in Microbiology and Immunology at Virginia Commonwealth University (VCU).
While there, her research centered on the microbiome, which she conducted with VCU's Vaginal Microbiome Consortium. The comparative genomics of cervicovaginal bacteria — especially Bifidobacterium species — helped her identify correlations between the cervicovaginal microbiome in reproductive health and disease, and the maternal-infant microbial transmission and toddler health progression.
This work ultimately led her to the lab of Melissa Herbst-Kralovetz, PhD, an associate professor of Basic Medical Sciences and Obstetrics and Gynecology at the College of Medicine – Phoenix. Dr. Jimenez is a key member of her research team, as well as the Women's Health Research Program (WHRP) and Women's Health Microbiome Initiative (WHMI) — both of which Dr. Herbst-Kralovetz leads.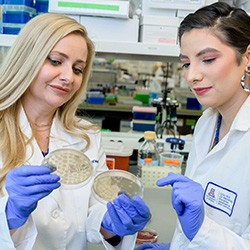 The WHRP seeks to bring together the college's clinical partners for a translational research enterprise to attract and retain world-class faculty, fellows, residents and students to the college; and the WHMI focuses on investigating how a vagina's microbes interact with the rest of the body to promote or harm women's gynecologic, reproductive and obstetric health.
For Jimenez, the mentorship Dr. Herbst-Kralovetz has provided has been invaluable. "Being around such a dynamo has really inspired me to continue in this field where I can carve out a chunk of my experiences and her expertise to make some really cool science happen," she said.
With the goal of one day running her own lab at a research-intensive institution studying the role of the microbiome in women's health and disease, working with Dr. Herbst-Kralovetz has been transformative. It has allowed her to gain a greater understanding of cancer-causing microbes and their relationship within the vaginal, endometrial and rectal microbiomes, as well as to improve her skillset with advanced multiomic analysis.
She credits their use of 3-D cell culture model pipelines with better understanding the pathophysiological mechanisms of key bacteria; and she noted their utilization of microbiome, metabolomics and immunoproteomics as providing an encompassing view of the cervicovaginal microenvironment.
Dr. Jimenez expressed confidence that working with Dr. Herbst-Kralovetz will help her future goals come to fruition. "My overall hope is that my experience in multi-disciplinary research will allow me to substantially contribute to the field of women's health. I intend to leverage my growing skill set to bridge the gap between wet lab science and clinical research, improving and expediting therapeutic and clinical care solutions — especially for underrepresented communities and understudied conditions," she said.
About the College
Founded in 2007, the University of Arizona College of Medicine – Phoenix inspires and trains exemplary physicians, scientists and leaders to optimize health and health care in Arizona and beyond. By cultivating collaborative research locally and globally, the college accelerates discovery in a number of critical areas — including cancer, stroke, traumatic brain injury and cardiovascular disease. Championed as a student-centric campus, the college has graduated 745 physicians, all of whom received exceptional training from nine clinical partners and more than 2,700 diverse faculty members. As the anchor to the Phoenix Bioscience Core, which is projected to have an economic impact of $3.1 billion by 2025, the college prides itself on engaging with the community, fostering education, inclusion, access and advocacy.