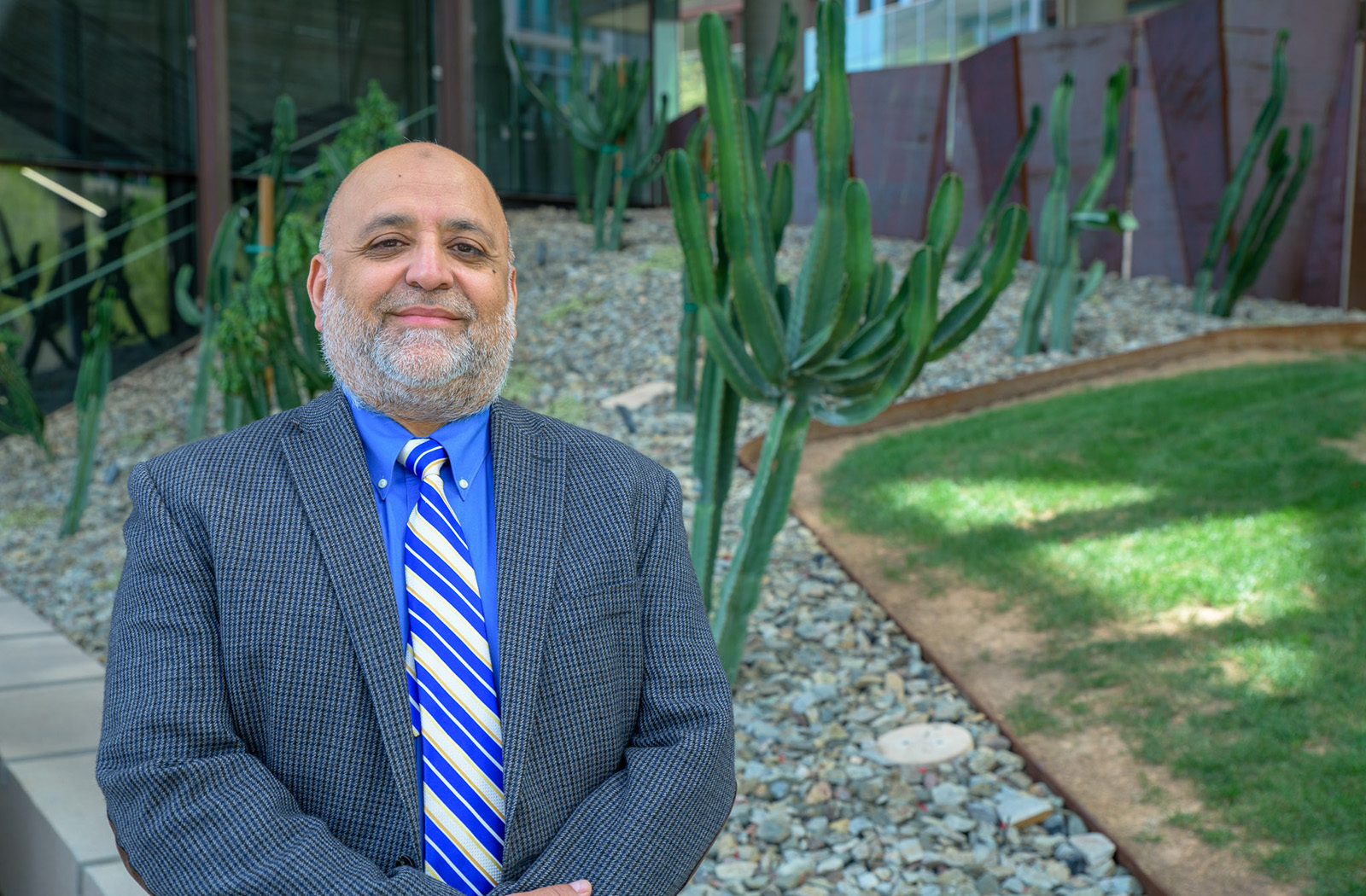 Shakaib Rehman, MD, Named VA's Designated Education Officer of the Year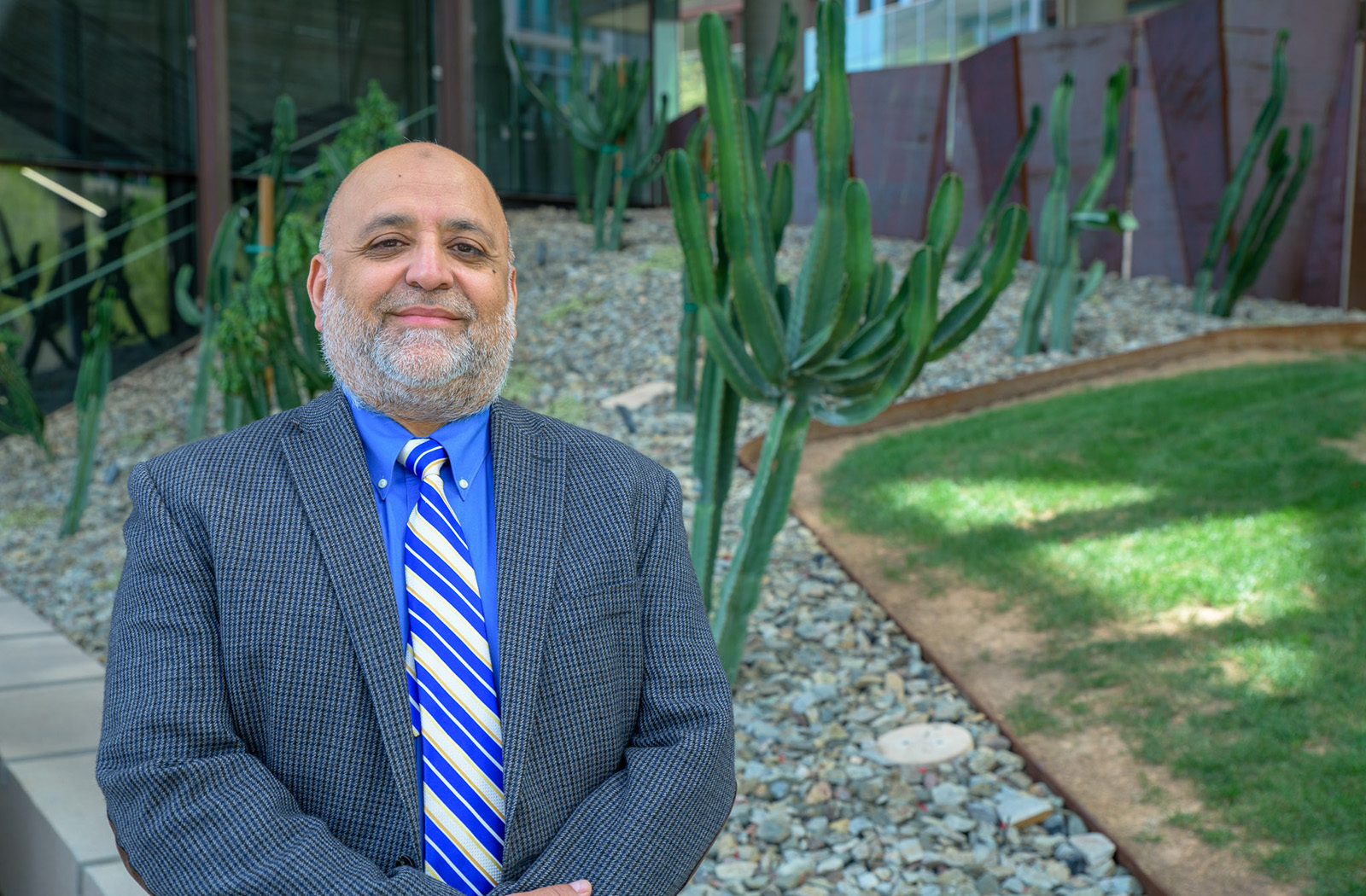 Dr. Rehman is a champion of teachers of health professions trainees
Shakaib (Shak) Rehman, MD, CSH, FACP, FACH — associate chief of staff for Education at the Phoenix VA, as well as interim chair and professor in the Department of Biomedical Informatics and a professor of Internal Medicine at the University of Arizona College of Medicine – Phoenix — was recognized with the Karen M. Sanders, MD, Designated Education Officer (DEO) of the Year Award at VA's DEO Conference in Chicago.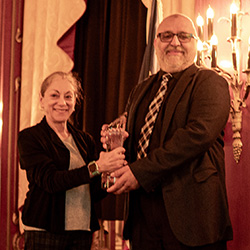 Rehman is an exceptional champion for health professions education within and outside of VA, known for strengthening VA's relationships with the academic community and developing innovative educational programs to train future physicians, nurses and a host of health care professionals in various disciplines.
The annual award recognizes a DEO with an outstanding track record in health professions education in such areas as educational administration, curriculum and affiliate relationships.
"Dr. Rehman is one of the kindest, caring, enthusiastic, passionate and dedicated leaders I have had the honor to call a colleague," said Bryan Matthews, Phoenix VA director.
Established and Expanded Programs
Rehman has expanded Phoenix VA's Graduate Medical Education programs, establishing nearly 20 new VA-based and shared residency and fellowship programs with such academic affiliates as the Mayo Clinic. He also led the expansion of physician assistant, respiratory therapy, chief resident quality and safety, and multiple nursing health professions education programs.
An educational champion dedicated to developing curriculum to address modern health care system issues, his curriculum in humanism and communication skills was adopted by VA, medical schools and multiple national and international professional societies, as well as the University of Portugal. He also developed the first-of-its-kind comprehensive wellness program for students and trainees, and the Justice, Equity, Diversity and Inclusion program to address the local and national issue of systemic racism and equity.
"We are truly honored to present the first Dr. Karen M. Sanders Designated Education Officer of the Year Award to Dr. Rehman, an outstanding clinician educator who challenges us all to be the best teachers for the health professions trainees that train in VA every year through our partnerships with more than 1,400 academic affiliates," said VA chief academic affiliations officer Marjorie A. Bowman, MD, MPA.
70% of All U.S. Doctors Train at VA
The mission of training future health professionals for VA and the nation, established more than 75 years ago, is one of VA's four statutory missions and is overseen by the Office of Academic Affiliations. Nearly 70% of all U.S. physicians complete training in VA, and more than 118,000 health professions trainees in over 60 clinical disciplines train at VA each year as they care for Veterans.
The award is named for longtime VA deputy chief academic affiliations officer Dr. Karen M. Sanders, who retired this year following a 42-year VA career.
This story was written by Tonya Lobbestael, public affairs officer in the VA Office of Academic Affiliations. It originally appeared on the VA's news website.
Topics
About the College
Founded in 2007, the University of Arizona College of Medicine – Phoenix inspires and trains exemplary physicians, scientists and leaders to optimize health and health care in Arizona and beyond. By cultivating collaborative research locally and globally, the college accelerates discovery in a number of critical areas — including cancer, stroke, traumatic brain injury and cardiovascular disease. Championed as a student-centric campus, the college has graduated more than 800 physicians, all of whom received exceptional training from nine clinical partners and more than 2,700 diverse faculty members. As the anchor to the Phoenix Bioscience Core, which is projected to have an economic impact of $3.1 billion by 2025, the college prides itself on engaging with the community, fostering education, inclusion, access and advocacy.