UA College of Medicine – Phoenix Holds Ninth Graduation
College Confers Medical Degrees on 67 Physicians, Helping to Address State's Doctor Shortage

On Monday, May 6, 2019 — after four years of exams, clinical rotations and residency interviews — 67 University of Arizona College of Medicine – Phoenix medical students received their Doctor of Medicine degrees and will continue their training to become physicians at residency programs in Arizona and 24 other states.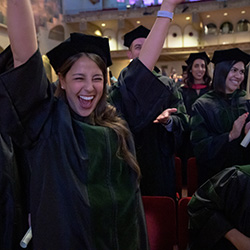 A bagpipe and drum corps led the ninth graduating class from the Phoenix Convention Center to the Orpheum Theatre in downtown Phoenix.
University of Arizona President Robert C. Robbins, MD, discussed the unique challenges in front of us as a society, and how students at the College of Medicine – Phoenix are prepared to tackle those challenges.
"Some of you have likely heard me speak about the importance of the Fourth Industrial Revolution in human history and for the future of the University of Arizona," he said. "I also see it as critically important for the future of health care and for our work as physicians. The technologies we are developing today have the potential to dramatically extend the human lifespan and improve quality of life for people around the world. Our graduates are prepared to lead in this effort. More importantly, you are ready to care for your patients with expertise and compassion."
President Robbins added, "You are entering a profession dedicated to service to others, and it is an incredible calling and privilege. I congratulate you on this achievement and what you are going to do for each of these patients and for society."
UA College of Medicine – Phoenix Dean Guy Reed, MD, MS, told the Class of 2019 to make compassion, inspiration and distinction the marks of their career and to remember to focus on the well-being of the whole patient, just as they seek to cure disease and to restore health.
"To you, our 67 graduates of the Class of 2019, you are an incredible group of committed and talented students, and you've had a big impact on all of us, as well as on your patients," Dean Reed said. "We pray that today marks the beginning of a long and fulfilling career in which you serve and improve the lives of thousands of patients."
Dean Reed told graduates to dream big and never give up on their efforts of making the world a better place.
"Class of 2019, we are so proud of you," he said. "Today is only the beginning, the commencement, of all the great things you will do. You have our deepest and fondest congratulations."
A hooding ceremony and recitation of the oath were part of the festivities, which included a keynote address by Banner Health President and CEO Peter Fine. Fine has led Banner through a significant transformation since he was named to lead Arizona's largest health-care system in 2000.
Fine discussed his own personal journey and experiences as a patient battling cancer. He told the Class of 2019 to make sure to listen to patients, build relationships with a patient's family, respect patients, take the time to grow professionally and be sure to understand the diagnosis, as well as how you can meet the patient's needs.
Fine quoted Winston Churchill in saying that "This is not the end. It is not even the beginning of the end. But it is, perhaps the end of the beginning."
"You have a long way to go," Fine said "When you leave here today, people will call you doctor. Remember that there is still a lot of training that needs to be done, and you need to take that quite seriously."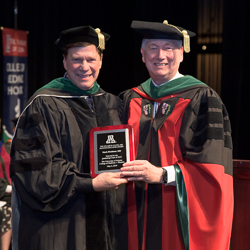 Before conferring the degrees, Dean Reed presented Mark Fischione, MD, with the Stuart D. Flynn, MD, Master Educator teaching excellence award, which recognizes extraordinary accomplishments in all aspects of education over all four years of medical school. He is an associate professor of Pathology, Histology and Embryology.
"Coming from the students, it can't get any better than this," Dr. Fischione said. "This class has just been so great. I carried them through four years, and they carried me. It is a great honor."
Graduating senior Aishan Shi, MD, was chosen to deliver the student address by her fellow classmates. Dr. Shi was chosen for her kindness, ambition, generosity and empathy. After graduation, she will pursue a residency in internal medicine at the UA College of Medicine – Tucson.
"It truly has been an immense honor to be a part of this class for the last four years and to be here now celebrating the conferment of our MD degrees," Dr. Shi said. "In a few short weeks, we will have more than just the proper dosing of Tylenol to think about. Starting today, we become the future of health care and hence forth, we are charged with the lives of our patients."
Of the graduating UA College of Medicine – Phoenix students, 50 percent will pursue primary care fields, such as family medicine, internal medicine and pediatrics. Arizona's physician shortage is one of the worst in the nation, with the state ranking 44th of 50 states in the number of primary care physicians. Twenty-four students will stay in Arizona for their entire residency. Overall, the students will continue their studies at programs in 25 states, including neurological surgery at the Cleveland Clinic, internal medicine at Harvard Medical School's Beth Israel Deaconess Medical Center in Boston and emergency medicine at the University of Southern California.
Maximilian Zelic, MD, was the 500th physician to receive his degree from the College of Medicine – Phoenix. Dr. Zelic, who will complete his residency at the University of Texas Health Science Center at San Antonio in anesthesiology, said he is excited to start the next chapter in his medical journey.
"I'm happy to be here; it has been a privilege," he said. "It has been amazing to be part of this campus and community. I went into medicine to help people and make a difference in a fulfilling career I could be proud of."
The first cohort of Pathway Scholars also graduated this year. Four students from the Pathway Scholars Program received their medical degrees, including Diana Elizalde-Rodriguez, MD, Thanh Cao, MD, Juliana Liang, MD, and Mei So, MD. The Pathway Scholars Program is for Arizona residents who desire to pursue a career in medicine and have experienced unique or greater than average challenges in preparing to become competitive medical school applicants.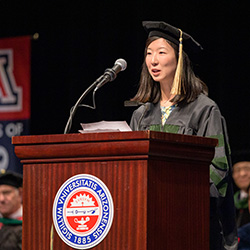 Dr. Elizalde-Rodriguez, who will train in internal medicine at the UA College of Medicine – Phoenix, said that "Pathways allowed me to experience the health disparities by working with community doctors and provided me with the support I needed throughout medical school. If I had to do it all over again, I would definitely choose the College of Medicine – Phoenix and Pathways Program."
Luce Kassi, MD, who will be training at McGaw Medical Center of Northwestern University in obstetrics and gynecology, said that today means everything to her.
"It's the summary of eight years of hard work," she said "We've all worked so hard to get here. I want the community to know that our college is a very big family; and it has been an honor to go to class each day and to get to know my fellow classmates, the faculty and staff."
When the medical college opened its doors in 2007 as the first allopathic medical school in Phoenix, Arizona was suffering from a severe physician shortage. In just 12 years, the UA College of Medicine – Phoenix will have graduated 500 physicians, including this class.
Class of 2019 Commencement News, Photos and Video
About the College
Founded in 2007, the University of Arizona College of Medicine – Phoenix inspires and trains exemplary physicians, scientists and leaders to optimize health and health care in Arizona and beyond. By cultivating collaborative research locally and globally, the college accelerates discovery in a number of critical areas — including cancer, stroke, traumatic brain injury and cardiovascular disease. Championed as a student-centric campus, the college has graduated 500 physicians, all of whom received exceptional training from nine clinical partners and more than 2,000 diverse faculty members. As the anchor to the Phoenix Biomedical Campus, which is projected to have an economic impact of $3.1 billion by 2025, the college prides itself on engaging with the community, fostering education, inclusion, access and advocacy.