UArizona College of Medicine – Phoenix Announces New Endowed Chair of Surgery
A Retired Surgeon has Gifted $2M to the Medical School That was Merely a Vision When He Practiced at Good Samaritan Hospital, Now Banner – UMC Phoenix
The University of Arizona College of Medicine – Phoenix today announced the creation of a new endowed chair of surgery that will be funded through the support of friends of the college and a $2 million gift from Dr. Harlan Stone and his late wife, Jean.
Their commitment will create the Jean and Harlan Stone, MD, Endowed Chair of Surgery. Proceeds from the endowment will support this faculty position in perpetuity, allowing the Department of Surgery to enhance medical education, translational research and clinical care. As a growing community welcoming more than 6,000 people each month, Phoenix needs skilled professionals in this critical specialty.
Nathaniel "Nat" Soper, MD, has been named the inaugural holder of the Jean and Harlan Stone, MD, Endowed Chair of Surgery. Soper joined the college in September 2020 as the chair of the Department of Surgery. He is a trailblazer in the field of minimally invasive surgery, foregut surgery and surgical education.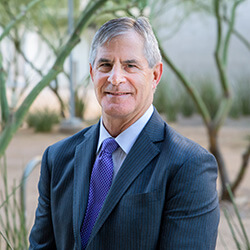 Soper was one of the first academic surgeons performing laparoscopic surgery, which has defined his subsequent career. His research efforts include applications of minimally invasive surgery for gastrointestinal disease, gallstones and benign esophageal disorders.
"I am proud and excited to be the inaugural recipient of the Jean and Harlan Stone, MD, Endowed Chair of Surgery. I have been an admirer of Dr. Stone for many years. He had a larger-than-life presence here at Good Samaritan and was the face of the Phoenix Integrated Surgical Residency for more than a decade," Soper said. "Dr. Stone literally put this surgical department on the map nationally. I will strive to live up to the example set by him. I am thankful for the impactful gift that he and his wife, Jean, have bestowed on this medical school and its Department of Surgery." 
Stone served as the director of the Phoenix Integrated Surgical Residency Program at Good Samaritan Hospital, now Banner – University Medical Center Phoenix, from 1990 to 2005. During his tenure, the program grew to train six chief residents each year, and it was ranked 16th of 262 residency programs in the United States by the American Board of Surgery.

"I have a special place in my heart for the Phoenix Integrated Surgical Residency Program. I became devoted to the fellows, and I wanted to do something for them," Stone said.
Stone supported the development of a medical school to serve the Phoenix community, though he left the area before the College of Medicine – Phoenix was launched in 2007. Nearly 16 years later, his strong belief in the value of a medical school to serve downtown Phoenix inspired the gift.
A Legacy of Giving
Funding for the endowed chair was made possible by Jean Stone — Stone's wife of 63 years, who passed away seven years ago.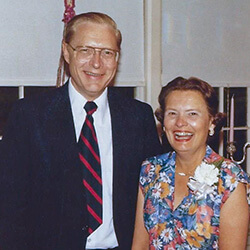 "God was so wonderfully kind to me — marrying who I did and going into medicine when I did. Surgery was beginning to have a scientific basis with lots of patients for clinical studies and research and access to labs. I hope these funds will contribute to scientific advancement," Stone said.

Stone earned a bachelor's degree from Yale University and later attended medical school at Emory University. He interned at Johns Hopkins for one year and later served two years in the United States Army as chief of orthopedic surgery. He finished his training at Grady Hospital in Atlanta and embarked on a distinguished career as a surgeon, mentor and researcher.
This is the third endowed chair of surgery that the Stones have created, and the first with the UArizona College of Medicine – Phoenix. Jean took money she had inherited, as well as funds she saved, and invested in the stock market. "She knew how to pick people to handle the finances in the market. She was wonderful, kind and just sharp as a tack," Stone said.
The two other endowed chairs the Stones established were at Emory University School of Medicine and the University of South Carolina School of Medicine Greenville.
"The College of Medicine – Phoenix has had phenomenal success in the relatively short amount of time since it opened its doors," said University of Arizona President Robert C. Robbins, MD. "With the creation of this endowment, the college will be able to do even more to prepare the next generation of surgeons. I am incredibly grateful for the generosity of Dr. Stone and the late Mrs. Stone, and I extend my congratulations to Dr. Nathaniel Soper. This is a well-deserved honor."
"Quality scholarship and training are fundamental to the success of the University of Arizona Health Sciences, and endowed chairs at our colleges signal a strong commitment to these critical endeavors," said Michael D. Dake, UArizona Health Sciences senior vice president. "This tremendous support from Dr. Stone and his wife, Jean, to fund an endowed chair will significantly advance the College of Medicine – Phoenix's academic reputation and ability to recruit talented physicians."
The college has established strategic initiatives to expand the breadth and distinction of research and education to better improve the health of communities it serves across Arizona.
"I am delighted and honored that Dr. and Mrs. Harlan Stone have entrusted the College of Medicine – Phoenix to carry forward their legacy of service to others," said Guy Reed, dean of the UArizona College of Medicine – Phoenix. "The Jean and Harlan Stone, MD, Endowed Chair of Surgery will allow the college to amplify our impact in service to our community by producing new physicians, new science and better clinical care."
The gift of an endowed chair is transformational for the future of the college and the state, said John-Paul Roczniak, president and CEO of the University of Arizona Foundation.
"The College of Medicine – Phoenix was created in 2007 to address a critical shortage of Arizona physicians. This permanent investment from Dr. Harlan and Jean Stone advances its crucial mission and helps ensure the citizens of our state will continue to access world-leading surgical care," Roczniak said.
About the College
Founded in 2007, the University of Arizona College of Medicine – Phoenix inspires and trains exemplary physicians, scientists and leaders to optimize health and health care in Arizona and beyond. By cultivating collaborative research locally and globally, the college accelerates discovery in a number of critical areas — including cancer, stroke, traumatic brain injury and cardiovascular disease. Championed as a student-centric campus, the college has graduated 669 physicians, all of whom received exceptional training from nine clinical partners and more than 2,600 diverse faculty members. As the anchor to the Phoenix Bioscience Core, which is projected to have an economic impact of $3.1 billion by 2025, the college prides itself on engaging with the community, fostering education, inclusion, access and advocacy.