Women in Medicine Fighting COVID-19: Ruth Franks Snedecor, MD
Physician Advises School District Regarding Reopening of Schools and Mask Wearing
In honor of this year's Women in Medicine and Science month, the University of Arizona College of Medicine – Phoenix has asked a few faculty to share their inspiring stories and work that is helping our community through the coronavirus pandemic.
Meet Ruth Franks Snedecor, MD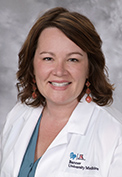 In addition to treating patients, training the next generation of health care providers, and caring for her family during the pandemic, Ruth Franks Snedecor, MD, has found the time to support her community by advising the Madison School District regarding the reopening of schools and mask wearing. During the pandemic, Dr. Franks and three other physicians have attended school board meetings to answer questions and several town halls where parents of the 6,000 students had the opportunity to ask questions.
Dr. Franks is a clinical assistant professor in the Division of Hospital Medicine at the University of Arizona College of Medicine – Phoenix. She is an associate program director for the college's Internal Medicine Residency Program with her area of expertise being Quality Improvement and Patient Safety and she is a faculty member for the Doctoring course, where she teaches first-year medical students how to take a history and complete a physical exam.
Describe your experience working in the hospital during the pandemic.
The overall experience has been difficult, but as time has passed since March, it has gotten significantly more rewarding. In the beginning, there was a lot of fear associated with caring for patients and my family and what the future would look like. Although there is much more for us to learn, it seems like we are in a better place to keep ourselves, our patients, and our families safe, protected and well cared for.
I think the most challenging part of COVID-19 has been that everything takes more time, even the basics of caring for non-COVID patients in the hospital. Every patient needs a little more reassurance and support; we all have taken on the additional role of the loved ones that cannot be at the bedside. Not to mention the extra sanitation required in every step of the day. Along with the emotional toll, the longer days have been the biggest struggle that I have had with COVID-19. As a full-time physician, educator, mom to three school age children and wife, I pride myself on my time management, and it has been difficult for me to find balance and accept the fact that everything takes just a little bit longer.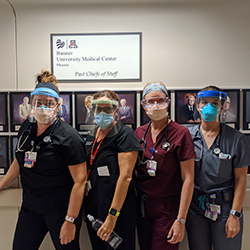 What words of encouragement or advice do you have for other physicians during this time of uncertainty?
We have already shown how creative we can be and we've done it in a really short amount of time. If we continue to look at the challenges of this pandemic as opportunities of creativity, this changes our mindset. It focuses us to think about how we can overcome the newest challenge, utilizing the newest information and newest guidelines and how we can implement this in a creative way. I don't think we can be comfortable anymore with the excuse, "that's how we've always done it." COVID has taught us that we can no longer do things like we have always done them. This is a real chance to fix systems that were not functioning optimally and rethink them to make them better.
What would you like the community to know about your work during this time as a woman in medicine and science?
Collaboration has never been so important. We are learning from physicians across the world, and we are learning so much, so quickly. Specifically, for women in medicine and science, collaboration is so valuable. As a woman in medicine and science, our voices have not always been considered. Now, I think collaboration is how we show young people, specifically women, that there is so much value in speaking to others, collaborating and sharing lessons learned and best practice for moving forward. As women, we need to confidently pull a seat up to the table where decisions are being made, socially distanced of course.
Describe your community work during the pandemic.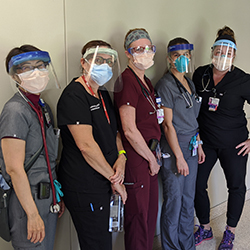 I have helped advise the Madison School District Superintendent and School Board regarding the opening of schools and mask wearing. During the pandemic, myself and three other physicians have been present for each school board meeting to answer questions from the board and several town halls wherein the parents of the 6,000 students had the opportunity to ask us questions. It has been an amazing amount of work and research to critically review the literature to help determine what is likely the best strategy for my children's district in this uncertain time.
My role as a physician does not stop when I leave the hospital. I will always be a resource to family and friends to help answer questions and calm fears on anxious phone calls, but I also feel that as a physician, I need to be a resource for my community and the policy makers that guide our state's reaction to the pandemic. This pandemic gave me an opportunity to volunteer my time and expertise to improve the safety of not just my immediate friends and family, but also the safety of my community. I have the knowledge and background to critically look through research and guidelines to help advise on a larger scale and I am very proud of this work.
You may also see my face flash across the screen on your favorite social media sites as a part of the #MaskUpAz campaign to encourage universal masking across the state of Arizona which I recognize is critically important to control the spread of COVID-19.
Why do you find this work with the Madison School District so important?
It has been really rewarding in that our voices are appreciated and heard. A lot of teachers and staff are very fearful right now of going back to school and falling ill. To be an advocate for their health and safety, and the health and safety of our students, has been a wonderful honor.
I am proud to be part of such a great school district. They have sought advice to better care for their families, staff and students and it has been inspiring. They balance the many opinions on both sides of the question to re-open schools; I have been so impressed by their thoughtfulness and creativity during a stressful time.
About the College
Founded in 2007, the University of Arizona College of Medicine – Phoenix inspires and trains exemplary physicians, scientists and leaders to optimize health and health care in Arizona and beyond. By cultivating collaborative research locally and globally, the college accelerates discovery in a number of critical areas — including cancer, stroke, traumatic brain injury and cardiovascular disease. Championed as a student-centric campus, the college has graduated more than 800 physicians, all of whom received exceptional training from nine clinical partners and more than 2,700 diverse faculty members. As the anchor to the Phoenix Bioscience Core, which is projected to have an economic impact of $3.1 billion by 2025, the college prides itself on engaging with the community, fostering education, inclusion, access and advocacy.