Women in Medicine Fighting COVID-19: Shaghayegh Abdollahi, MD
Physician Hopes to Provide Hospitalized Patients with Diabetes and COVID-19 Autonomy Over their Care
In honor of this year's Women in Medicine and Science month, the University of Arizona College of Medicine – Phoenix has asked a few faculty to share their inspiring stories and work that is helping our community through the coronavirus pandemic.
Meet Shaghayegh Abdollahi, MD
In addition to taking care of patients in Phoenix who are affected by the coronavirus, Shaghayegh Abdollahi, MD, is working on a research project regarding coronavirus and glycemic control in an inpatient setting. Through this project, Dr. Abdollahi hopes to provide hospitalized patients with diabetes autonomy over their care during the pandemic.
Dr. Abdollahi is a clinical assistant professor in Internal Medicine at the University of Arizona College of Medicine – Phoenix and a hospitalist at Valleywise Health.
Describe your experience working in the hospital during the pandemic.
I have never experienced this much sadness and sense of impotence that I've had during the pandemic. It is truthfully, distressing. Patients are isolated and cannot even have their family members close to them. These patients are incredibly sick and are lacking human touch. You cannot hold their hand without PPE and they cannot see your facial expression, because of the PPE.
Having an escalated number of patients with poor outcomes takes a psychological toll on the caregiver. I see myself as someone who is dedicated to improving the quality of life for my patients. However, during the height of the pandemic, it seemed like no matter what you did, it was an uphill battle and it was disheartening. It was an incredibly intense and emotional period.
The other perspective, I saw incredible humanism and dedication from every caregiver from nurses, residents, faculty members to hospital staff who chose to be there, be present and advocate for the patient.
What words of encouragement or advice do you have for other physicians during this time of uncertainty?
As this is an incredibly emotional and intense time, we need to make sure we look out for each other, reach out and share our experiences, because emotional burnout is very real. It's also important to stay hydrated, get adequate sleep and eat healthy. I know it sounds very basic, but wellness is incredibly important. This is a time of crisis, but this doesn't mean you shouldn't look out for yourself.
What would you like the community to know about your work during this time as a woman in medicine and science?
I think women bring a different depth and perspective into their profession as scientists and health care providers. Whether they are a parent or not is irrelevant. We need more women in leadership positions in these traditionally male-dominate areas. Whether it's physicians, nurses or even physical therapists, we need more women in leadership representing the various occupations in health care and in STEM.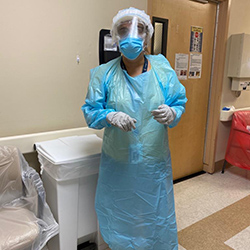 Are you conducting any research or community projects that relate to COVID?
I am working on a research project regarding coronavirus and glycemic control in an inpatient setting. We are currently in the IRB phase for our research project, which will allow us to optimize blood sugar controls in a patient-centric manner and also decrease the need for nursing intervention and exposure, while providing optimal care for the patient. Through the use of a device, patients will be able to scan their blood sugar levels, which will provide patients with more independence and foster their involvement and care in the hospital.
Why is this research so important?
This research project will allow the patient to feel like they have some autonomy over their care in the hospital. Generally, patients in the hospital feel like we strip them out of all autonomy, which we don't do intentionally. They are in a hospital bed, in a hospital gown, someone is drawing their blood, managing their medications, taking imaging and even telling them when they can eat or not eat. This project allows them autonomy of when they want to check their blood sugar levels and allows them to engage the team based on their needs. So if they feel symptomatic, they can scan it and call the nurse and the provider. It is patient-centered care. It's helpful for the health care providers as well, because if the patient is engaged and the levels are stable, the provider won't need to go into that room as frequently, which would decrease exposure to COVID-19.
Why did you want to study this?
I wanted to study this for a variety of reasons. First of all, I think it's important to respect the patient and their autonomy whether in an inpatient or outpatient setting. High blood sugar impacts length of stay in the hospital and keeps patients in the hospital longer than they should be. Patients want to get better and go home. This can potentially decrease their hospital stay while providing them independence to do so.
About the College
Founded in 2007, the University of Arizona College of Medicine – Phoenix inspires and trains exemplary physicians, scientists and leaders to optimize health and health care in Arizona and beyond. By cultivating collaborative research locally and globally, the college accelerates discovery in a number of critical areas — including cancer, stroke, traumatic brain injury and cardiovascular disease. Championed as a student-centric campus, the college has graduated 669 physicians, all of whom received exceptional training from nine clinical partners and more than 2,600 diverse faculty members. As the anchor to the Phoenix Bioscience Core, which is projected to have an economic impact of $3.1 billion by 2025, the college prides itself on engaging with the community, fostering education, inclusion, access and advocacy.