White Coat Profile: Dominic Julian
Training to Become a Physician Scientist
Meet Dominic Julian
A diagnosis of post-concussion syndrome after his younger sister's high school sports injury is what initially sparked Dominic Julian's career interest in neuroscience.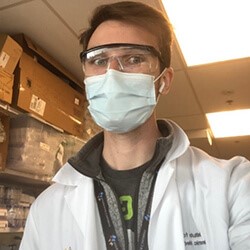 "She experienced a lot of changes in her sleep and in her metabolism. Just seeing how much that one hit to the head could completely change somebody's mood and personality made me have so many more questions. I wanted to understand why the brain was so hard to repair and why there weren't more resources available to help my sister," said Julian. "Physicians and scientists still don't know everything about the brain, and it represents a mystery and a new puzzling challenge to take on."
Originally from Columbus, Ohio, Dominic started out as a biochemistry pre-medicine undergraduate major in 2012. He changed his major to the new field of neuroscience at Ohio State University.
"The more I sank my teeth into my undergraduate coursework in neuroscience, the more I fell in love with it and realized this is my passion," said Julian. "There's so much still left to uncover, and I love learning about this three-pound chunk of tissue inside our heads. It holds who we are, what we do, and how we experience life and interact with the world around us; learning more about the brain can mean big things for our health in terms of aging and longevity, and for the development of children. There are so many different avenues to neuroscience."
Both during and after his undergraduate program, he worked in several labs, including Nationwide Children's Hospital in Columbus, Ohio. This helped him develop a strong research background studying the impact of rare genetic mutations in neurodevelopment and how they can lead to dysfunction in the brain — along with other conditions like Alzheimer's, autism spectrum disorders and epilepsy. Julian notes that he initially wanted to pursue a doctorate in neuroscience research; however, the more he worked in the lab, the more he realized something else about himself.
"I was missing something by just doing research and working in the lab for hours on end. Yes, I enjoyed translating findings into academic research papers and then communicating the science out to the rest of the world. But research alone wasn't what I was passionate about. I was missing the human element of translational medicine; I wanted to be a part of the team directly taking care of the people who were suffering from the conditions I was studying in the lab," said Julian.
"The physician scientists at Ohio State and Nationwide Children's who I worked with after undergrad were running their own research labs, and then taking their results from the bench to the clinic. Their results were helping patients and moving health care forward. I wanted to pursue this pathway because I saw an opportunity to blend my skills in the research lab with this profession of helping others. I want to be that person for somebody in the wake of a difficult diagnosis, or in the place where they need somebody to help them most," said Julian.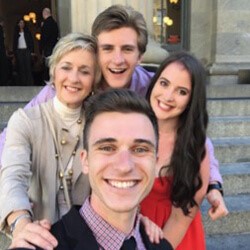 To make himself a more attractive candidate for the MD/PhD program, he completed a one-year master's degree at the University of Cincinnati in Ohio. It was during that time that he lived with his grandparents and watched his grandfather die from Alzheimer's, a progressive neurological disorder he researched in the lab.
"Seeing my grandpa pass from such a horrible disease and witnessing the lasting impact it left on my family was heart-wrenching. Ultimately, the pain of losing him and the treacherous nature of the disease made me that much more dedicated to fighting to save my future patients' lives as both a doctor and a researcher," said Julian.
Julian was accepted to the MD/PhD Program at the University of Arizona College of Medicine – Phoenix. The program is designed to train students planning careers in academic medicine or biomedical research. He will join his classmates as they participate in the Class of 2025 White Coat Ceremony.
"My grandpa was always one of my biggest supporters, and my family has always been so supportive of me chasing whatever dreams I want to pursue," said Julian. "I know I am going to be thinking of him the moment that white coat gets put on me," said Julian. "I am also going to be thinking of all of the people I love — my family, my mentors and the people I lost in my life who can't physically be there with me," said Julian about the important milestone.
"The white coat and responsibility that comes with becoming a physician is a privilege that I am honored to be entrusted with. When I sit down with my future patients and their families, I hope they feel like they have a true friend and partner in whatever battle or struggle they are facing."
About the College
Founded in 2007, the University of Arizona College of Medicine – Phoenix inspires and trains exemplary physicians, scientists and leaders to optimize health and health care in Arizona and beyond. By cultivating collaborative research locally and globally, the college accelerates discovery in a number of critical areas — including cancer, stroke, traumatic brain injury and cardiovascular disease. Championed as a student-centric campus, the college has graduated 669 physicians, all of whom received exceptional training from nine clinical partners and more than 2,600 diverse faculty members. As the anchor to the Phoenix Bioscience Core, which is projected to have an economic impact of $3.1 billion by 2025, the college prides itself on engaging with the community, fostering education, inclusion, access and advocacy.