Women in Medicine Fighting COVID-19: Elise Barney, DO
Physician Shares Experience Working on Frontlines as Nephrologist During Pandemic
In honor of this year's Women in Medicine and Science month, the University of Arizona College of Medicine – Phoenix has asked a few faculty to share their inspiring stories and work that is helping our community through the coronavirus pandemic.
Meet Elise Barney, DO
As a nephrologist, Elise Barney, DO, has been working in the hospital helping patients with kidney failure from COVID-19.
When the pandemic began, Dr. Barney, who is an assistant professor in the Department of Internal Medicine at the University of Arizona College of Medicine – Phoenix, traveled routinely between Georgia and Arizona to provide care where needed.
Describe your experience working during the pandemic.
My experience working during the pandemic has been one of the most challenging experiences of my life, both mentally and emotionally. In the beginning, I felt surrounded by tragedy and chaos. The ICU was overflowing and the work environment was intense. There was a shortage of intensivist physicians and the impending possibility of PPE shortages. The main hospital I worked at brought in other specialists to provide ICU care and to manage the volume of patients. The threat of catching the virus and ending up a patient myself was omnipresent.
Family members were prohibited from visiting the hospital. My heart broke to see people die alone without their loved ones. I witnessed this devastation on a very personal level when my cousin died from COVID-19 at the beginning of the outbreak. The only contact his wife, sister and daughters had in the three weeks while he was hospitalized was a glimpse from outside his ICU room minutes before he died.
I deeply empathize with every family who has a loved one hospitalized due to COVID-19. I carve out extra time to call patients' families and FaceTime them from patients' rooms. I squeeze the hands of my patients through my gloved fingertips, and urge them to keep fighting, and remind them that they are not alone because I am here with them. Now that some of the visitor restrictions are lifted, I am so heartened to see a family member in the room providing their essential role in the patient's recovery.
As the pandemic has stabilized, there is more hope. The most satisfying reward is seeing the patients who recover and leave the hospital. After caring for these patients for sometimes up to three months, saying "goodbye" to them has brought me to tears. It is an incredible moment to take a patient off dialysis who was once in kidney failure. As a nephrologist, this achievement is my greatest joy.
Is kidney failure a common issue with COVID-19?
Kidney failure is very common for patients with COVID-19. The incidence can be as high as 60 percent in high-risk populations. Nephrologists are the number two specialty to care for patients with COVID-19 after emergency medicine. In fact, some of my patients with the virus presented with renal failure alone without major respiratory complaints. While it has not received much media coverage, kidney failure is an extremely important complication of the virus. Many patients who are critically ill require dialysis.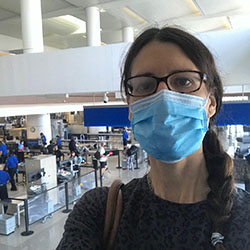 Describe your work helping patients in Phoenix and Georgia.
I work part-time at the College of Medicine – Phoenix as the Cardiovascular-Hematology (CVH) systems block director for the first-year medical students and as co-director for the Gastrointestinal Systems-Metabolism-Diabetes-Obesity (GIMDO) second-year block, with Rayna Gonzales, PhD. Since this past spring, my clinical work has mainly entailed providing nephrology services at a "COVID" hospital in Albany, Georgia. Albany is a town with one of the highest per capita rates of COVID-19 in the world. When the COVID-19 crisis began and Phoebe Health needed emergency health care workers in my specialty of nephrology, I felt compelled to help. As the need has continued, I routinely travel to Albany on a monthly basis, alternating shifts with another nephrologist. I also work intermittently at the Phoenix Indian Medical Center and at Yuma Regional Medical Center in Arizona.
What has been your day-to-day experience since the pandemic?
As an inpatient nephrologist, I see both critically ill patients in the ICU as well as medical ward patients. My day-to-day experience includes rounding on patients, overseeing dialysis, and working closely with interventionists and hospitalists in the care of our mutual patients. At the height of the pandemic, we had a shortage of both dialysis machines and trained nurses who were proficient in the dialysis procedure. To be unable to provide the level of care that patients needed was extremely frightening.
What advice or words of encouragement do you have for other physicians during this time of uncertainty?
We are all in this together. We do best for our patients when we work together collaboratively. It's important to recognize "burnout," and schedule breaks and time off from work. I have seen colleagues work for over a month straight without a day off. Not only is this behavior detrimental for the physician, it can be harmful for the patient. One of the signs of burnout is apathy. If you do not put self-care first, you cannot truly care for others.
What would you like the community to know about your work as a woman in medicine and science?
The future of medicine is women. Women make up 52 percent of physicians aged 35-44 and 60 percent of physicians under 35. Yet, women remain underrepresented in leadership positions such as health care executive positions, administration and academic program directors. This disparity contributes to the gender pay gap in Medicine as well.
Like many female physicians, I have personally endured gender discrimination in medicine. These experiences have motivated me to break barriers and gender stereotypes. I enjoy working with other women to support each other. One of the great aspects about working at the University of Arizona is the focus on diversity and inclusion. The Women in Medicine and Science group is so impactful because it brings women from different disciplines throughout the university together to share ideas, network and support each other. Through lifting each other up, we give each other the strength to achieve our goals.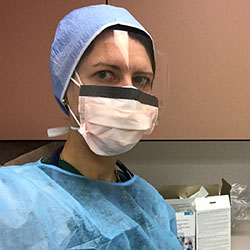 Anything else to add?
The pandemic has been eye-opening on many accounts for our society. It has placed a magnifying glass on our everyday lives and allowed us to examine the status quo—the good and the bad. One of the most persuasive revelations is how this pandemic has exposed many of the flaws in our health care system. My work in Georgia is in a predominantly African-American community. The health disparities are palpable and numerous. There is little access to healthy food in the community and chronic diseases are prevalent. Because of the lower socioeconomic status and education levels in these communities, there are often major differences in the quality of care provided. I cared for patients with advanced chronic kidney disease who were never referred to a nephrologist nor made aware of their kidney disease. I also saw patients in the hospital with indications for specialist consultation and when this was questioned, I was told "they won't come here."
Several patients were uninsured and while hospitalized, were told they would wait up to 6 months for approval of Medicaid and were stuck keeping tracheostomies because they could not be seen by ENT without insurance. At the height of the pandemic, we had many prisoners from a local state prison admitted with a guard in their room at all times and feet shackled to the bed, even when they were intubated and in a medically induced coma. Families sometimes were not informed the prisoners were hospitalized because "they might come here and try to break them out," despite being critically ill and intubated. Health care workers had cultural biases and stereotypes, sometimes blaming patients for their illnesses due to drug and alcohol abuse or other lifestyle choices.
Through raising awareness of these societal disparities, we are starting to have open conversations on these uncomfortable topics. I am encouraged by this and believe that acknowledging and addressing the health disparities will lead to much needed reforms in the current health care system and ultimately better patient care in the long-term. I am hopeful that the tragic illnesses and deaths due to COVID-19, which have disproportionately affected minorities in the U.S., will be a catalyst for positive changes in health care and society.
About the College
Founded in 2007, the University of Arizona College of Medicine – Phoenix inspires and trains exemplary physicians, scientists and leaders to optimize health and health care in Arizona and beyond. By cultivating collaborative research locally and globally, the college accelerates discovery in a number of critical areas — including cancer, stroke, traumatic brain injury and cardiovascular disease. Championed as a student-centric campus, the college has graduated 669 physicians, all of whom received exceptional training from nine clinical partners and more than 2,600 diverse faculty members. As the anchor to the Phoenix Bioscience Core, which is projected to have an economic impact of $3.1 billion by 2025, the college prides itself on engaging with the community, fostering education, inclusion, access and advocacy.