Women in Medicine Fighting COVID-19: Christina Bergin, MD
In addition to Her Clinical Role, Hospitalist Improves Medical Education for Students During Pandemic and Volunteers to Help Community Safely Vote in November
In honor of this year's Women in Medicine and Science month, the University of Arizona College of Medicine – Phoenix has asked a few faculty to share their inspiring stories and work that is helping our community through the coronavirus pandemic.
Meet Christina Bergin, MD
In the height of the COVID-19 pandemic, Christina Bergin, MD, was working in the COVID units as a hospitalist. During this time, she saw an influx of patients and witnessed grief, fear and heartbreak.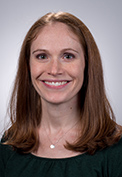 In addition to her clinical role, Dr. Bergin dedicated her time to improving medical education by creating an independent study elective to help medical students stay on track for graduation during the pandemic and she is volunteering to help the community safely vote in November.
Dr. Bergin, who has been faculty at the College of Medicine – Phoenix since 2014, is a clinical associate professor in the Department of Internal Medicine Division of Hospital Medicine and she is the Internal Medicine Clerkship Director for third-year medical students.
Describe your experience working during the COVID-19 pandemic.
When Arizona started to see its surge in COVID patients in June, I volunteered to work in the COVID units because that was the area of greatest need. Many of our patients were incredibly sick and needed to be hospitalized for prolonged periods of time. It was heartbreaking to see members of the same family hospitalized, with some pulling through and others not getting better despite our best efforts. Witnessing their loved ones' grief and fear, magnified by the inability to come visit at the hospital, has been difficult. But I have also been inspired by the kindness, empathy, innovation and collaboration that has been prominent during this time. I'm grateful to work with wonderful colleagues, nurses and staff.
In addition to my clinical role as a hospitalist, I focused on maintaining the quality of education for our medical students who had been pulled from their clinical rotations by the Association of American Medical College's mandate during the early months of the pandemic. I created an independent study elective on the COVID-19 pandemic over the course of a few days, so that fourth-year students would be able to stay on track for graduation despite needing to step away from their clinical learning. I designed the elective to enable students to learn about a highly relevant topic in a way that incorporates multifaceted approaches learning, including self-reflection and attention to wellness in a highly stressful time.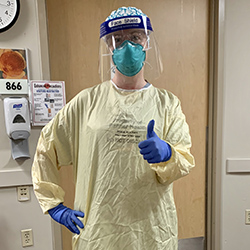 What would you like the community to know about your work during this time as a woman in medicine and science?
Although my work during the pandemic has been physically, emotionally, and mentally exhausting, it has also been rewarding to help meet the need in my community. It has been difficult for my family as well; the long hours and extra shifts are really hard on my young girls who miss me when I'm working. I know it's important for them to see me doing something I'm passionate about though, and we talk about how kind they are to share mom with the patients who need me. It is also clear to me, now more so than ever, that the qualities that I bring to the role of physician educator as a woman and mother are crucial – they engender a perspective that is beneficial to my patients, colleagues, and to the students and residents I teach.
What does your day-to-day look like as a hospitalist right now?
In some ways, my day-to-day work as a hospitalist is unchanged compared with pre-pandemic times, and in other ways it is very different. In addition to our patients with COVID-19, there are many patients hospitalized with non-COVID-related problems as well, particularly now that Arizona's surge is declining. We are seeing advanced stages of many of these conditions after patients delayed seeking care, because of coronavirus concerns. As a result, the acuity is quite high with many very sick and complex patients. In addition, visitor restrictions have been in place at the hospital since early in the pandemic to keep patients, health care workers, and our community healthy – phone call updates to families and helping to arrange video visits between patients and their loved ones are now a routine part of my day. The end of my work day now looks different as well. I disinfect everything and change into clean clothes before leaving work, and then I give "air hugs" to my family on my way to an immediate shower as soon as I arrive home. Once I'm showered and dressed, then I can safely hug my family hello without concern about bringing something home from the hospital.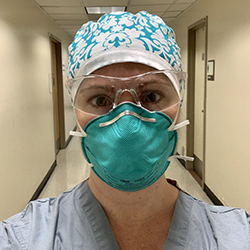 Describe your community work during the pandemic.
I am partnering with a nonpartisan and nonprofit organization called VotER to help patients, colleagues, residents, and medical students make a plan to safely vote this November. This organization provides a quick and easy way for people to check their voter registration and request a mail-in ballot, so that they can vote from the safety of their own home. In light of the ongoing pandemic, it's essential for everyone to be able to participate in the democratic process in a safe and healthy way, so that their voice is heard without risk of getting sick with coronavirus.
What advice or words of encouragement do you have for other physicians during this time of uncertainty?
Find joy and inspiration where you can to help carry you through the difficult times. Be kind to yourself; give yourself space to reflect and attend to your own wellness. Finally, remember that as physicians we are also leaders and as such, we must use our voices to help protect the health and well-being of our patients. Our words and actions can help bring about positive change and inspire others to do the right thing.
About the College
Founded in 2007, the University of Arizona College of Medicine – Phoenix inspires and trains exemplary physicians, scientists and leaders to optimize health and health care in Arizona and beyond. By cultivating collaborative research locally and globally, the college accelerates discovery in a number of critical areas — including cancer, stroke, traumatic brain injury and cardiovascular disease. Championed as a student-centric campus, the college has graduated 669 physicians, all of whom received exceptional training from nine clinical partners and more than 2,600 diverse faculty members. As the anchor to the Phoenix Bioscience Core, which is projected to have an economic impact of $3.1 billion by 2025, the college prides itself on engaging with the community, fostering education, inclusion, access and advocacy.