Women in Medicine Fighting COVID-19: Natasha Bhuyan, MD
Dr. Bhuyan Discusses Her Roles During Pandemic as Physician, Leader and Educator
Meet Natasha Bhuyan, MD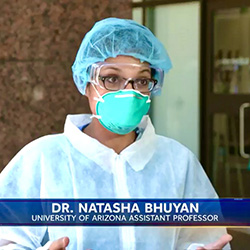 Natasha Bhuyan, MD, has helped the Arizona community during the COVID-19 pandemic by caring for patients, improving the delivery of care and patient experience at One Medical, and educating the community as a local and national expert.
Dr. Bhuyan is a clinical assistant professor of Family, Community and Preventive Medicine at the University of Arizona College of Medicine – Phoenix. She is also the regional medical director of the West Coast markets at One Medical.
Describe your experience working during the pandemic.
In my role at One Medical, I am the regional medical director of our West Coast markets. The evolution of the pandemic has been surreal. Seattle was initially the epicenter of the pandemic outbreak in America. Early on, my colleagues and I recognized that widespread testing was going to be key to fighting this pandemic. We worked quickly to offer the first COVID-19 test at One Medical in Seattle on March 7 (on a Saturday, nonetheless). I actually flew to Seattle that week to help the team set up the testing site. We worked with cross-functional teams to source PPE, secure testing supplies, and create both employee and patient education on what we knew about COVID-19. While I was in Seattle, I realized that travel was actually a major risk of transmission. That week, Tom Hanks also announced he had tested positive. Believe it or not, that felt like a turning point where Americans really started to take it seriously. I flew back to Phoenix and literally checked my temperature every day. From our learnings in Seattle, we were able to improve our workflows. Subsequently, we launched testing sites in all of our markets across the nation, with many being mobile testing tents.
In the meantime, it was still important for us to be able to keep our offices open in order to offer essential primary care services. We know that when primary care is delayed, it ends up leading to much worse health outcomes. I helped our team set up remote virtual visits with primary care physicians as an access point for patients. At the same time, I led our office redesign team nationally in order to safely deliver care in our offices. This included ensuring we had HEPA filters in all of our exam rooms, physical distancing floor markers, universal masking, sanitization processors and more. I am so grateful that we kept our doors open every single day of this pandemic; we prevented many patients from having to go to the emergency room for things like abdominal pain or chest pain.
The evolution in Arizona was so different compared to Seattle. While we were managing so many positive cases in different markets across the West Coast, Arizona initially did not have that many. But as you know, Arizona became a hotspot early this summer. About this point, we already had so many lessons from our other major markets, we were able to seamlessly pivot to offer high volumes of testing.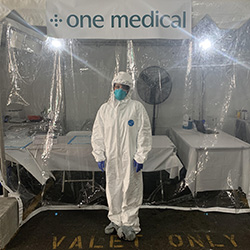 What advice or words of encouragement do you have for other physicians during this time of uncertainty?
Above all, the thing I am most grateful for during this pandemic are my colleagues. Surround yourself with a solid team of compassionate and talented people. While the days might still be challenging, they are so fulfilling when you feel supported.
What would you like the community to know about your work during this time as a woman in medicine and science?
As a female leader in a large primary care organization, I value being a mentor and support system for women who want to go into leadership. Men still hold many of the roles among the highest level of health care executives in America, but that is changing. I feel lucky to be in an organization that values equity, diversity, inclusion and justice.
What does your day-to-day look like right now?
My day-to-day continues to be a mix of patient care, as well as leadership work. The patient care is in office, as well as virtual, and includes testing patients for COVID-19. The amazing thing about primary care is we get to see so much — ranging from preventive care, to chronic diseases, to acute care, to mental health. I've certainly seen an increase in patients with mental health concerns during this pandemic. For some, it's the result of social isolation. For others, it's financial hardships; and for others, it's the weight of the world. I'm glad that I am able to connect with them and support them through this journey. My leadership work is equally fulfilling, and it involves care delivery, recruitment, leadership development, patient experience and more.
What do you think is the most important message for the community to know right now?
This pandemic is also an infodemic. There is a high volume of misinformation, and I am seeing a rising anti-science sentiment in the community as a result of the uncertainty and politicization of COVID. This is incredibly dangerous, as people are questioning the science behind well proven risk factor mitigation tools, like masks. Prior to the pandemic, I would do about two media interviews a week on topics related to primary care. During this pandemic, I average almost two per day. It's important now more than ever for credible information to be shared with the public. I hope the public understands that the scientific community — ranging from doctors, to scientists, to public health officials — aims to give people unbiased and evidence-based information. We value safety, but we also want patients to feel empowered to make the right decisions for themselves and their community.
About the College
Founded in 2007, the University of Arizona College of Medicine – Phoenix inspires and trains exemplary physicians, scientists and leaders to optimize health and health care in Arizona and beyond. By cultivating collaborative research locally and globally, the college accelerates discovery in a number of critical areas — including cancer, stroke, traumatic brain injury and cardiovascular disease. Championed as a student-centric campus, the college has graduated 669 physicians, all of whom received exceptional training from nine clinical partners and more than 2,600 diverse faculty members. As the anchor to the Phoenix Bioscience Core, which is projected to have an economic impact of $3.1 billion by 2025, the college prides itself on engaging with the community, fostering education, inclusion, access and advocacy.