Women in Medicine Fighting COVID-19: Claire Bowey, MD
To Better Treat Her Community, Dr. Bowey Transitions Clinic to COVID-19 Center
In honor of this year's Women in Medicine and Science month, the University of Arizona College of Medicine – Phoenix has asked a few faculty to share their inspiring stories and work that is helping our community through the coronavirus pandemic.
Meet Claire Bowey, MD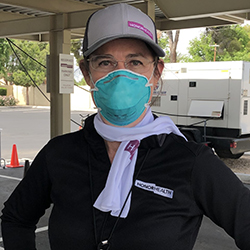 In the beginning of the coronavirus pandemic when Arizona started to get its first cases, Claire Bowey, MD, was dedicated to helping her community by transitioning her practice to a COVID-19 center. Dr. Bowey treated patients in the clinic and participated in Governor Ducey's Blitz COVID-19 Testing, which was open to anyone who wanted to be tested for the virus.
Dr. Bowey is a clinical assistant professor in Family, Community and Preventive Medicine at the University of Arizona College of Medicine – Phoenix.
Why did you decide to turn your clinic into a COVID-19 center?
The pandemic has been a shock to many of us — doctors, as well as patients. Fear often grows out ignorance and imagination fills in the details. Everyone in my group at HonorHealth saw the need for the data to fill the knowledge gap and at the same time, provide the best care to our patients. The decision to turn our practice in Central Phoenix into a respiratory and COVID-19 testing center was made early. We wanted to offer appropriate and best care, testing for COVID-19 and triaging patients in need of immediate evaluation and possible transfer to the hospital. My office is a visible, central location and lended itself to efficient patient flow (including a large parking lot for drive by testing) that would reduce the risk of infectious spread.
Was there a strong need in your area for more COVID-19 centers?
When we opened, testing was not available to most patients anywhere. The numbers of cases were exploding, but we did not have exact figures on the incidence, nor when to prepare for a tidal wave of sickness. The central location honored a duty to our community to be there for them in scary, challenging times.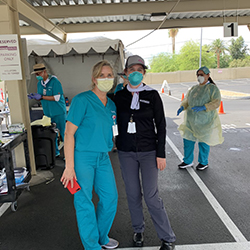 What goes into making a clinic a COVID-19 center?
We have to ensure we are safely screening and triaging a large volume of patients and that we have sufficient PPE safety of patients and medical and nursing staff, and administrative teams. We begin by attempting to sort the infectious patients from the less likely to be infectious and thoroughly sanitizing the clinical space after every patient contact. Practicing safe use and re-use of PPE equipment is critically important and involves educating and reminding all staff about proper procedures. HonorHealth sent us one of the germ-zapping robots the can sterilize rooms in minutes, this helped our safety and efficiency.
What impact has your clinic made in the COVID-19 pandemic?
I think the biggest impact is that patients who feel sick and have not been able to get in to see their doctors, can quickly be evaluated by medical staff and tested for COVID-19. It has helped us identify people with COVID-19, so they can be observed more closely or triaged to a higher level of care. We screened 240 patients the first day, eight were positive. The second screening day we screened 401 with 14 positive results. We have used this opportunity to educate patients about warning signs and symptoms as this virus is highly contagious, and the numbers can rapidly change. The screenings have helped alleviate patient anxiety around the pandemic.
Tell us about your involvement with Blitz testing. How was this experience?
One exciting thing is that our office participated in Governor Ducey's "Blitz COVID-19 testing," scheduled across Arizona on May 2, 9 and 16. Drive through testing was available to anyone on those mornings who wanted to be tested, symptomatic or not. The effort was aimed at getting a better understanding of prevalence across Arizona. Arizona had one of the lowest testing rates, but we hoped to change that. I was excited about my role as the incident commander for the May 16 screening Blitz, and I am glad we gathered even more important data points.
In doing all this, what did you hope to accomplish?
It upset me that as family physician experienced in hospital medicine, I could only watch my colleagues struggle to care for huge volumes of critically ill patients — without PPE and in the context of a disorganized public health response. The plan was to contribute in a small way to my community of patients, showing that our practice is present for them as a medical team, even as we privately suppress fears for our own safety.
What else would you like the community to know about your work during this time?
Although my part in fighting this pandemic is minor, it has been invigorating and rewarding to work with exceptional front office staff, medical assistants, nurse practitioners, physician assistants, radiology technicians, cleaning staff, administrators and physician colleagues. We have pulled together for one important purpose. The teamwork is rewarding, working to understand the threat and everyday finding ways to be more effective, more efficient and safer for our patients and community.
About the College
Founded in 2007, the University of Arizona College of Medicine – Phoenix inspires and trains exemplary physicians, scientists and leaders to optimize health and health care in Arizona and beyond. By cultivating collaborative research locally and globally, the college accelerates discovery in a number of critical areas — including cancer, stroke, traumatic brain injury and cardiovascular disease. Championed as a student-centric campus, the college has graduated 669 physicians, all of whom received exceptional training from nine clinical partners and more than 2,600 diverse faculty members. As the anchor to the Phoenix Bioscience Core, which is projected to have an economic impact of $3.1 billion by 2025, the college prides itself on engaging with the community, fostering education, inclusion, access and advocacy.