Women in Medicine Fighting COVID-19: Mara Windsor, DO
Emergency Medicine Physician Dedicated to Supporting the Emotional and Physical Well-Being of Physicians during COVID-19 through Nonprofit, L.I.F.E.
In honor of this year's Women in Medicine and Science month, the University of Arizona College of Medicine – Phoenix has asked a few faculty to share their inspiring stories and work that is helping our community through the coronavirus pandemic.
Meet Mara Windsor, DO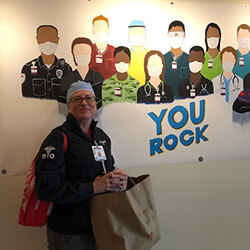 Mara Windsor, DO, has been working as an emergency medicine physician for more than 15 years, but said that these last few months fighting the coronavirus has been a completely different experience — something they've never seen before.
Dr. Windsor, who is a clinical assistant professor in Emergency Medicine and a physician in three Phoenix emergency departments, has been seeing patients during the pandemic, raising three children and three dogs, working as the chief wellness officer at her hospital and volunteering her time to support the emotional and physical well-being of her community through a nonprofit she started called L.I.F.E.
Describe your experience working in the ED during the pandemic.
It has been an interesting few months. In the beginning of the pandemic, we dealt with this massive decline in patients in the emergency department. There were many days where we didn't see patients for hours, because patients weren't coming in. We talked about this being the calm before the storm. At one point, before everything peaked, we were seeing no one. The strokes weren't coming in and neither were the heart attacks. Two of the centers I work at are level-one trauma centers, and we weren't having traumas coming in. It was such an eerie feeling. In my 15 years of practice, we have never experienced that. Meanwhile, we were all dealing with our own personal feelings and reactions to putting our lives on the line, potentially infecting ourselves, but also bringing that home to our families.
When it spiked, our lives changed drastically. I went from working four days in a row, with a couple days off, to working every single day. One point, I worked seven days in a row, I had one day off where I was on surge call (on-call if they reach capacity and need more physicians), then went back to another seven days in a row. That was a very exhausting time.
How has it been managing your various roles as a provider, educator and parent during the pandemic?
It has been emotionally, mentally and physically exhausting. We probably peaked in the second week of June, all the way into July we were in a crisis situation — where we were running out of ventilators, beds and staff. I'm a "type A" personality where I want to take on more. I'm naturally self-motivated and for the first time in my life, I can say I've actually reached a burnout. I have never experienced this in myself, because I really find this work that I do on the wellness and clinician side very meaningful and provides purpose for me, which has helped prevent burnout. However, when you have all these moving parts and so much going on at one time, it's really hard. For me, it has presented as exhaustion, mentally and physically.
There is also so much to deal with. Being a woman in medicine, people don't realize how hard we actually do work. We are not just a physician seeing patients in the ER. To be honest, when I was younger and starting my career, I always knew I wanted to be a mother, but I didn't realize what that meant. I joke in the hospital all the time saying that the hospital shift is one shift, and then I go home for my next shift.
What is your nonprofit organization, L.I.F.E?
I started my nonprofit organization six years ago. It's called L.I.F.E. (Living in Fulfilled Enlightenment). I started it after I had my third child. I knew we were pushing ourselves to the limit by having another child, but we really wanted to. Our third child had health problems, and we had problems throughout the pregnancy. He was on a feeding tube, then we needed two feeding therapists, two physical therapists and a nanny just for him because he had to be fed by a pump. My husband was starting his business, and I was working 18, 12-hour shifts. I was just strung-out. I remember driving home from a night shift, thinking what has happened to me? I had lost myself in becoming a career mom. I put myself last and I realized when talking to a lot of other career moms, they were doing the same thing. They were giving to everyone else and not putting their self-care first. I started researching: How do you have sustained happiness? I found that how you sustain happiness is built on three pillars: community, philanthropy and mentorship. That's when I decided to create an organization built on those three pillars. I was going to bring my female friends together to present a topic each month; however, they told me this is something men could benefit from as well. It really became this community organization where we discuss a new area of well-being monthly, educate people and open them up to all these opportunities in wellness.
Why is a nonprofit like this so important, especially right now?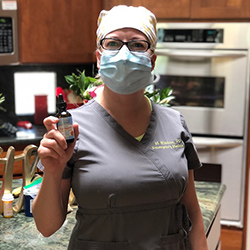 My mission and goals were always to support the total well-being of the community we serve. As I'm on the frontlines during the pandemic, I've been seeing physicians, nurses and hospital staff getting demotivated, burnt out and overwhelmed. I decided to focus my efforts on this.
For example, L.I.F.E. has a group sewing PPE and we have been getting donations to support the staff with food, because at one point the cafeterias closed. I am planning on launching an emotional support team this September, which will be a 24-hour crisis emotional support line.
Why is it so important to share your feelings, thoughts and emotions, especially during this time?
Through this work, I found that physicians have difficulty sharing their thoughts and emotions. They don't want to go to their colleagues for this, but they want to go to someone who does what they do and knows the struggle. However, it's almost better if they don't know them as it's easier for them to express their feelings.
There is still that stigma that expressing your emotions with your colleagues will make you look weaker. One of my goals has always been to change that culture of medicine, but I obviously recognize that is a big undertaking. You are not broken because you're emotional, stressed and overwhelmed. There is not something that is wrong with you. I think of physicians as elite athletes. These are high functioning individuals. If we could support the individual and their well-being, then they will perform optimally. This is exactly what we do for professional athletes. Why are we not doing this for our physicians and health care professionals?
What words of encouragement or advice do you have for other physicians on the frontlines?
You have to put your self-care as a priority so you can be the best physician for your patients and best caretaker for your family. It's okay to be tired, it's okay to be overwhelmed and it's okay to take time to rest. A lot of us physicians are this "type A" personality; it's hard for us to understand that less is more. It's okay to coast a bit, and it's okay to not expect yourself to always function at this highest level. We need to recognize that we are humans too, we do get exhausted, emotional and overwhelmed and that's okay.
About the College
Founded in 2007, the University of Arizona College of Medicine – Phoenix inspires and trains exemplary physicians, scientists and leaders to optimize health and health care in Arizona and beyond. By cultivating collaborative research locally and globally, the college accelerates discovery in a number of critical areas — including cancer, stroke, traumatic brain injury and cardiovascular disease. Championed as a student-centric campus, the college has graduated more than 800 physicians, all of whom received exceptional training from nine clinical partners and more than 2,700 diverse faculty members. As the anchor to the Phoenix Bioscience Core, which is projected to have an economic impact of $3.1 billion by 2025, the college prides itself on engaging with the community, fostering education, inclusion, access and advocacy.