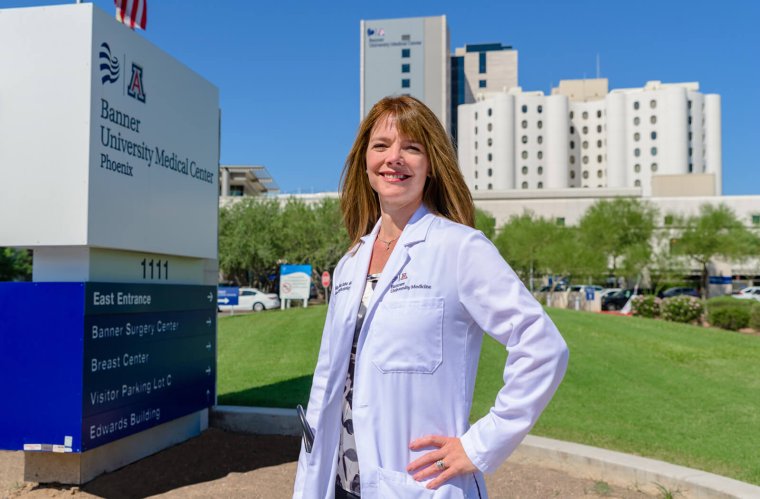 Women in Medicine and Science - Anne-Michelle Ruha, MD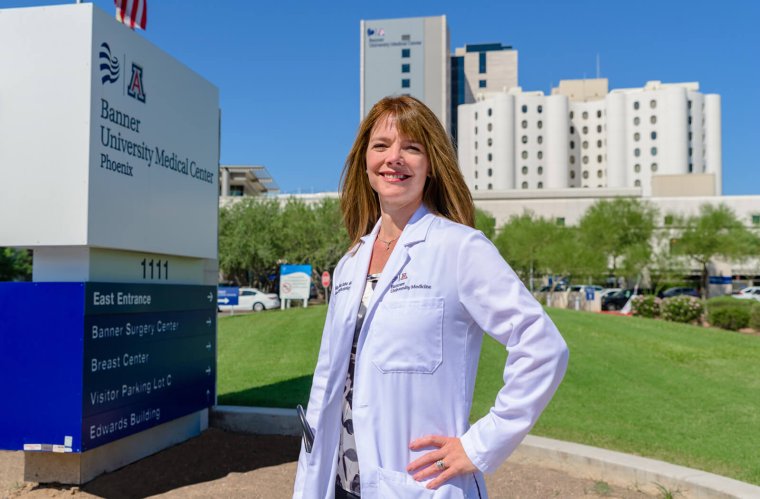 Anne-Michelle Ruha, MD, is a professor of Emergency Medicine and Internal Medicine at the University of Arizona College of Medicine – Phoenix. She also serves as the chair of the Department of Medical Toxicology at Banner – University Medical Center Phoenix.
Meet Anne-Michelle Ruha, MD
Name someone who influenced you and why
Early in my career as an emergency medicine resident and then as a young medical toxicologist, I worked with very few female physicians. For several years, I was the only woman in my department, and there were no women in leadership positions in graduate medical education at Banner Good Samaritan Medical Center (now Banner – University Medical Center Phoenix). I was fortunate to have wonderful male mentors, but it is so important for young women to have female role models. One woman at the University of Arizona, with whom I was able to collaborate and grew to admire tremendously, is Leslie Boyer, MD. When I met Dr. Boyer, she was the medical director of the Arizona Poison and Drug Information Center in Tucson. She was the first woman in a leadership position with whom I had any interaction, and I watched and learned as she confidently navigated challenging situations and projects. Dr. Boyer continues to inspire me to this day.
Another person who had an important influence on me was Dr. Erica Liebelt. She was the president of the American College of Medical Toxicology (ACMT) when I was first elected to their Board of Directors. Until then, I had never worked with a group of physicians led by a woman, and it was so inspiring to me. I watched Dr. Liebelt lead with confidence, compassion and a quiet strength that I hoped to someday emulate. Seeing a woman in the role of president allowed me, for the first time, to consider that I also might have the potential to lead the organization. Ten years later, I became president of ACMT.
Tell me about a stretch goal you set for yourself and then achieved
When I first became a medical toxicologist, my main goals were to take good care of patients and to positively contribute to the medical toxicology fellowship program. Over time, I recognized the need for more and better medical toxicology education nationally. I wanted to have an impact that extended beyond my department and hospital. Initially, my contributions were comprised of scholarly activities — such as presentations at national conferences, writing book chapters and peer review for medical journals. Later, I joined committees in the ACMT, so that I could have a larger impact on the specialty through development of educational programs. After I was elected to the board of directors of ACMT, I discovered what an important influence the organization has on the direction and even the sustainability of the medical toxicology specialty. A stretch goal for me was to become president of the organization, so that I could really help shape the future of medical toxicology.
What barriers did you break to work in your specialty?
I was lucky enough to do my medical toxicology fellowship at Good Samaritan Regional Medical Center in Phoenix and then to join the faculty as a full-time medical toxicologist right out of fellowship. Such medical toxicology positions are incredibly rare and were even more so at the time. Since then, the barriers that I have worked to break — and continue to work to — are those that prevent many medical toxicology fellow graduates from finding their dream jobs in medical toxicology. I work locally with my toxicology colleagues at Banner – University Medical Center Phoenix to grow opportunities for medical toxicologists. I also work nationally with the ACMT to demonstrate the value of medical toxicology to providers and patients, create opportunities for medical toxicologists, expand medical toxicology education and advance the care of poisoned patients.
What is the biggest lesson you have learned so far in your career and why?
The biggest lesson that I have learned is to take pride in your work — whether that means detailed attention to patient care, careful preparation and development of a talk, thoroughness when writing a book chapter or simply checking correspondence for typos before sending. If you do good work others will notice. This will open doors for you as you move through your career. On the flip side, I've also learned that a hard-working and detail-oriented physician in academic medicine may have more opportunities for professional and scholarly "volunteerism" than there is time. As important as these opportunities are to professional satisfaction and career growth, it is important to know your limits and to say "no" when you need to. You do not want to find yourself so over-committed that you no longer have time to appreciate and enjoy your accomplishments.
Who paved the way for you?
I was fortunate to have mentors in my residency and fellowship program who gave me the tools I needed to develop a rewarding career. My residency director was enthusiastic about toxicology, shared his excitement for the field with me, and recommended I train in Phoenix because of the unique and outstanding clinical experience it offered. During my fellowship, my department chair taught me to have a critical eye — to be skeptical of scientific publications, to recognize pseudoscience and, most importantly, to assess my own work. I witnessed some of my peers shy away from having their work subjected to such a high level of scrutiny. And, as a result, they lost the opportunity to further improve their writing, presenting and even clinical skills. I've found that one of the best things you can do for yourself is put ego aside and soak up as much knowledge as you can from those who have more or different experience than you — whether it be clinical, research, publishing or some other area in which you want to grow.
Who are you mentoring?
As past program director and faculty for the Medical Toxicology Fellowship program for over 20 years, I have had the opportunity to mentor many fellows, residents and medical students. I've especially loved working with trainees who are enthusiastic about research and writing, and who are interested in presenting their work and becoming involved with medical toxicology at the national level. It's been so rewarding to see many of my program graduates become national leaders in medical toxicology. Especially fun for me is when those same fellows, whom I mentored years ago, invite me to join them in the projects they are leading today.
Read all of our Women in Medicine and Science: Breaking Barriers, Leading Change profiles.
About the College
Founded in 2007, the University of Arizona College of Medicine – Phoenix inspires and trains exemplary physicians, scientists and leaders to optimize health and health care in Arizona and beyond. By cultivating collaborative research locally and globally, the college accelerates discovery in a number of critical areas — including cancer, stroke, traumatic brain injury and cardiovascular disease. Championed as a student-centric campus, the college has graduated 745 physicians, all of whom received exceptional training from nine clinical partners and more than 2,600 diverse faculty members. As the anchor to the Phoenix Bioscience Core, which is projected to have an economic impact of $3.1 billion by 2025, the college prides itself on engaging with the community, fostering education, inclusion, access and advocacy.