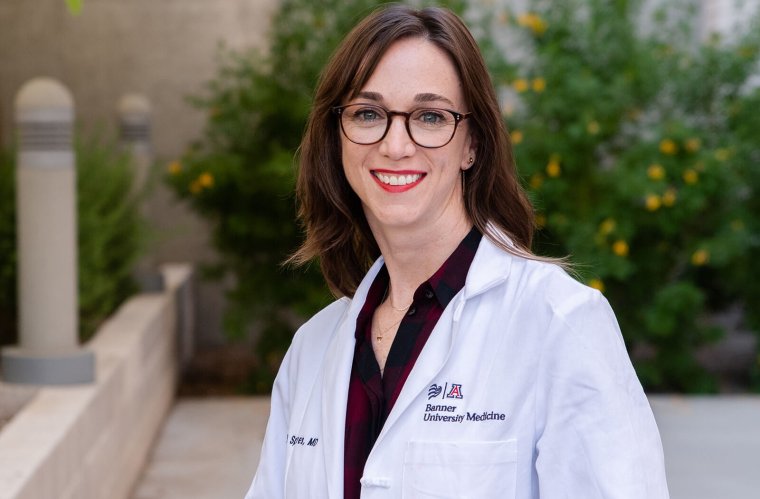 Women in Medicine and Science - Meghan Spyres, MD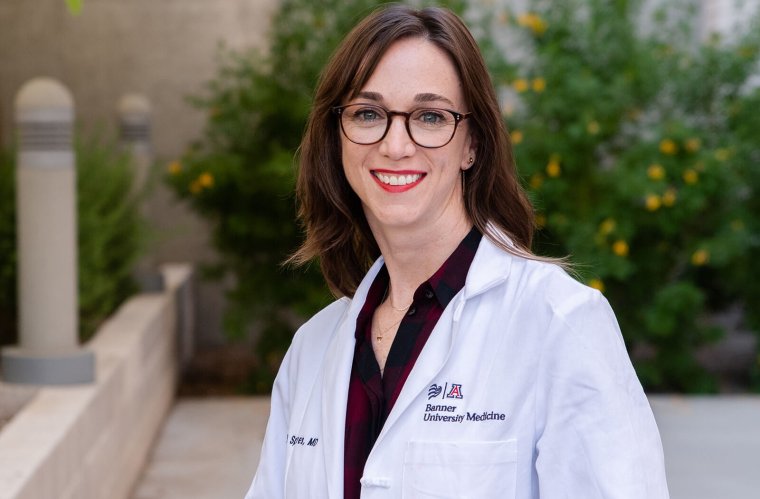 Meghan Spyres, MD, a clinical associate professor in the college's Department of Emergency Medicine, serves as a medical toxicologist at Banner – University Medical Center Phoenix. Dr. Spyres completed a fellowship in Medical Toxicology and works in Emergency Medicine, an underrepresented field for women.
Meet Meghan Spyres, MD
Name someone who influenced you and why
Anne-Michelle Ruha, MD, chair of the Department of Medical Toxicology at Banner – University Medical Center Phoenix, had significant influence on my development as a medical toxicologist and academic physician. Prior to fellowship, most of my educational and training experiences were largely in departments or programs dominated by male leadership. In her role as fellowship director, Dr. Ruha demonstrated a leadership style that was assertive and authoritative, yet also accessible and humble. Her ability to seamlessly weave strength and openness is a style I found remarkably effective and that I strive to emulate. Banner – UMC Phoenix's Department of Medical Toxicology is fortunate to have several strong female leaders as faculty.
Tell me about a stretch goal you set for yourself and then achieved
I have yet to consciously set a stretch goal for myself in my career. I will say that I always set my sights high and don't feel limited by traditional paths or arbitrary restrictions. When I encounter such barriers, I try to work around them or challenge them directly.
Though not related to my career, the biggest stretch goal I have set in life was to raise a baby on my own. I made the decision knowing I could not predict the many challenges I would encounter, and with no guarantee that I could simultaneously maintain a successful academic career. Raising a child alone as an academic physician (not to mention the added challenges imposed by COVID) is by far the hardest thing I have ever done. I've learned to reshape my expectations of my career and myself, incorporating my new role as a (single) mother. Despite the sacrifices, it has been the most rewarding role of my life and has made me a better person and a better physician.
What is the biggest lesson you have learned so far in your career and why?
The biggest lesson I have learned in my career is when to say no. Most of us, myself included, start out our careers by saying yes to everything. I do believe there is value in this approach, particularly in early careers when more specific aspects of professional tracks are still undefined. Saying yes to a variety of opportunities during that time can open new doors we might never have chosen, giving us the tools to evolve and grow.
What is harder is to recognize the point at which it is not only ok, but often imperative to start saying no. Just as important is identifying in which situations to do so, and how to go about actually saying no. Although, admittedly, I am not always steadfast in following through with this philosophy, I have learned to better identify that tipping point and to establish my own boundaries. I believe this approach ultimately not only helps our personal well-being, but better fosters academic and professional success.
Who are you mentoring?
In 2017, two colleagues and I developed Women in Toxicology (WiT), a section of the American College of Medical Toxicology (ACMT). The aim of this group is to inspire, sponsor and mentor women in the field of medical toxicology. In the form of quarterly meetings, we hold professional development workshops, host national leaders as guest speakers, and sponsor book clubs and other enrichment efforts. We also have an active mentorship program and work to increase opportunities for women speakers at national academic conferences to promote gender equity.
Read all of our Women in Medicine and Science: Breaking Barriers, Leading Change profiles.
About the College
Founded in 2007, the University of Arizona College of Medicine – Phoenix inspires and trains exemplary physicians, scientists and leaders to optimize health and health care in Arizona and beyond. By cultivating collaborative research locally and globally, the college accelerates discovery in a number of critical areas — including cancer, stroke, traumatic brain injury and cardiovascular disease. Championed as a student-centric campus, the college has graduated 669 physicians, all of whom received exceptional training from nine clinical partners and more than 2,600 diverse faculty members. As the anchor to the Phoenix Bioscience Core, which is projected to have an economic impact of $3.1 billion by 2025, the college prides itself on engaging with the community, fostering education, inclusion, access and advocacy.