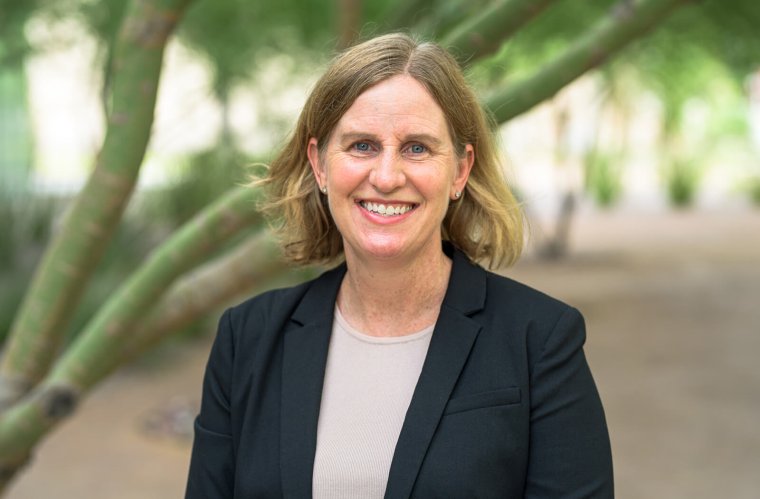 Women in Medicine and Science – Sharry Veres, MD, MHSM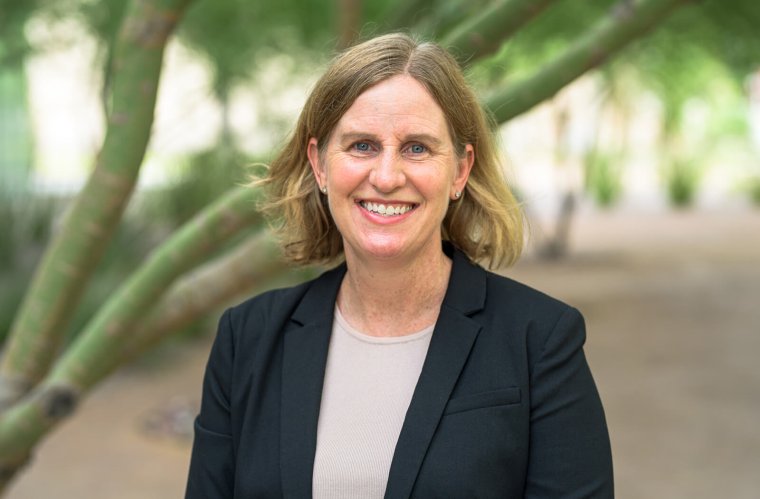 Dr. Veres is addressing the primary care physician shortage through innovative solutions
Sharry Veres, MD, MHSM, is the chair of the Department of Family, Community and Preventive Medicine, as well as a professor of Family and Community Medicine at the University of Arizona College of Medicine – Phoenix.
Meet Dr. Veres
What are the most pressing questions or health issues in your field and how will your work address them?
One of the more pressing issues in my field is primary care shortage. Family medicine is a specialty of access, connection and continuity of care for patients through the lifespan in our communities. If we are not producing enough family physicians with a diverse set of skills to cover the broader population, our most important outcomes fall short. This is difficult for people to hear. We tend to be more focused on an individual provider's talents and expertise. For family, community and preventive medicine to be a success, we must look at this bigger picture and work toward the solution, even if it's a daunting task.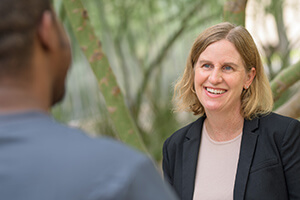 Another need is clinical practice transformation and innovation. We see opportunities to improve the way family medicine is delivered, how the physicians work with a team to improve health in the community. It's another formidable task, but also a piece of the puzzle in both patients' and physicians' satisfaction. Along with this, we must measure, understand, correct and, ultimately, prevent poor health and health disparities in the population.
We need to do all of this practice transformation in a way that brings joy and connectedness for both the family physicians and their patients in the community. We can't keep adding to the burden of burnout (and paperwork) to get there. Otherwise, nobody will want to be a family physician and the primary care shortage will continue to worsen.
How will we do all of this? That's probably the most pressing question in the field. I am blessed to have this role with resources and brilliant people who will help create these solutions with me, so that there is the kind of high-quality primary care and wrap around health services that our communities deserve.
How would you define success in your career?
I tend to be focused on teams as the way to bring about the biggest successes in my career. In my work with teams, I ask, "Am I helping my team (in this case our department) look and feel like a team? Am I helping the team connect with its true purpose and potential? Are we setting and reaching goals that are consistent with this purpose and potential?"
Earlier in my career, I felt that success was more about me and what I could accomplish/do/solve alone. As I got into different projects with different people over the past ten years, I have shifted in my perspective. The success in my career will come from forming, inspiring, coaching and leading a team to create the Family, Community and Preventive Medicine Department of the future, and to positively impact the health and well-being of our communities.
Through your role, how do you hope to inspire the next generation of physicians or researchers?
I would like to inspire anybody who cares about making our community healthier, happier, more connected, more aware of their health and more compassionate toward others. That is a tall order, especially when I realize that I need to aspire to be more of this myself. Making a community measurably healthier can feel like an impossible task, but I've been inspired by the works of others and their stoutheartedness in this endeavor. I choose to try!
I have also been blessed to have some strong women who have mentored and inspired me in my life and work. I once saw some of these mentors as too tough on me, not feeling sorry for me when things were unfair, not lowering standards for me when I felt overwhelmed. I am so grateful for their compassion, honesty and guiding hands. I hope to pay it forward in all that I do.
Why is collaborating with fellow Women in Medicine and Science so important?
Women must mentor and guide women, especially in leadership roles. We must create safe spaces to voice emerging concerns or confusing experiences. We must share leadership experiences with others to help build confidence and realistic problem-solving. Women can experience different kinds of feedback, gender associated expectations, unforeseen obstacles and confusing team dynamics. We need the support to discuss and navigate these situations. Women also hit very important times of career growth, often at the same time they are forming families and raising children. Balancing these roles can feel very overwhelming and personal.
The more women who collaborate and step into leadership roles, the more we can experience and trust a broader set of leadership styles. Earlier in my career I thought family medicine residency program directors had to be men. I made up reasons for this in my mind, for why only men were suited to do this job, and how I would have to emulate these male leaders to do the same role. I have seen and experienced that this is obviously not the case and appreciate that different people can develop successful, diverse leadership styles.
Title IX opened many doors for women, but what are the areas you think need to see further improvement in the coming years?
Some very real issues and barriers for women are still not discussed enough. This concerns me because if we can't discuss a problem and the interrelated details around the problem, we are not likely to find the solutions — let alone advocate for them. There are special difficulties that women may face in medicine and science careers. Many of these difficulties can be mitigated, adapted, overcome and even normalized. We must create safe spaces to discuss this, and where there aren't safe spaces to discuss important topics, we need to ask, "Why?"
I also want to see leadership development for women, and especially women who are underrepresented minorities in medicine and science. I appreciate that we have some of this, but we need more of it. We have decades of cultural norms in our discipline to overcome, and the continued tendency for imposter syndrome in women. I think with time, this is improving, but I also think we could do more to recognize, address and mitigate these gender-associated tendencies for our up-and-coming generations.
Read more Women in Medicine and Science: Transforming Medical Education and Clinical Care profiles
About the College
Founded in 2007, the University of Arizona College of Medicine – Phoenix inspires and trains exemplary physicians, scientists and leaders to optimize health and health care in Arizona and beyond. By cultivating collaborative research locally and globally, the college accelerates discovery in a number of critical areas — including cancer, stroke, traumatic brain injury and cardiovascular disease. Championed as a student-centric campus, the college has graduated 669 physicians, all of whom received exceptional training from nine clinical partners and more than 2,600 diverse faculty members. As the anchor to the Phoenix Bioscience Core, which is projected to have an economic impact of $3.1 billion by 2025, the college prides itself on engaging with the community, fostering education, inclusion, access and advocacy.