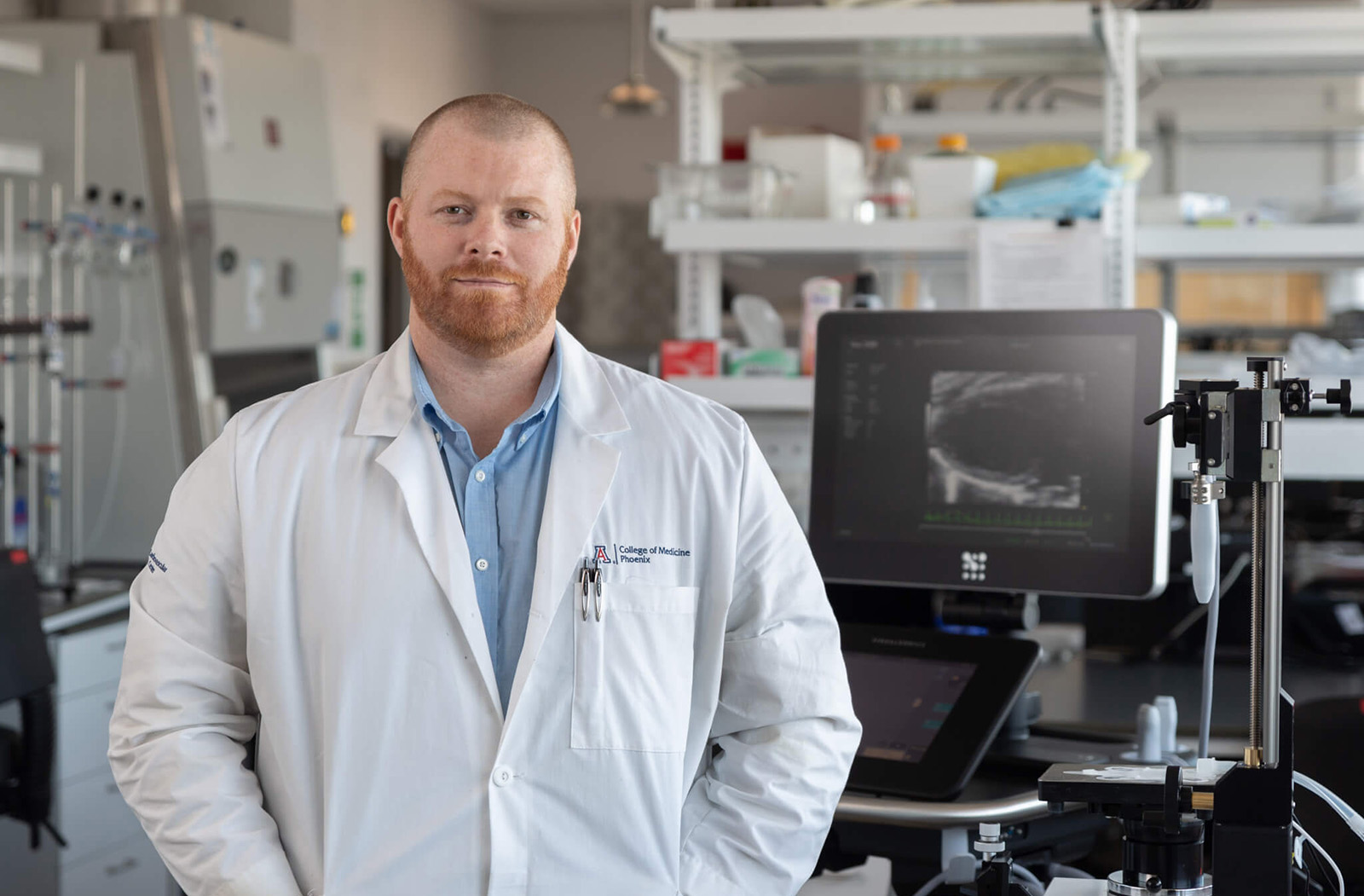 Young Investigator Receives Multiple Awards from the UArizona Sarver Heart Center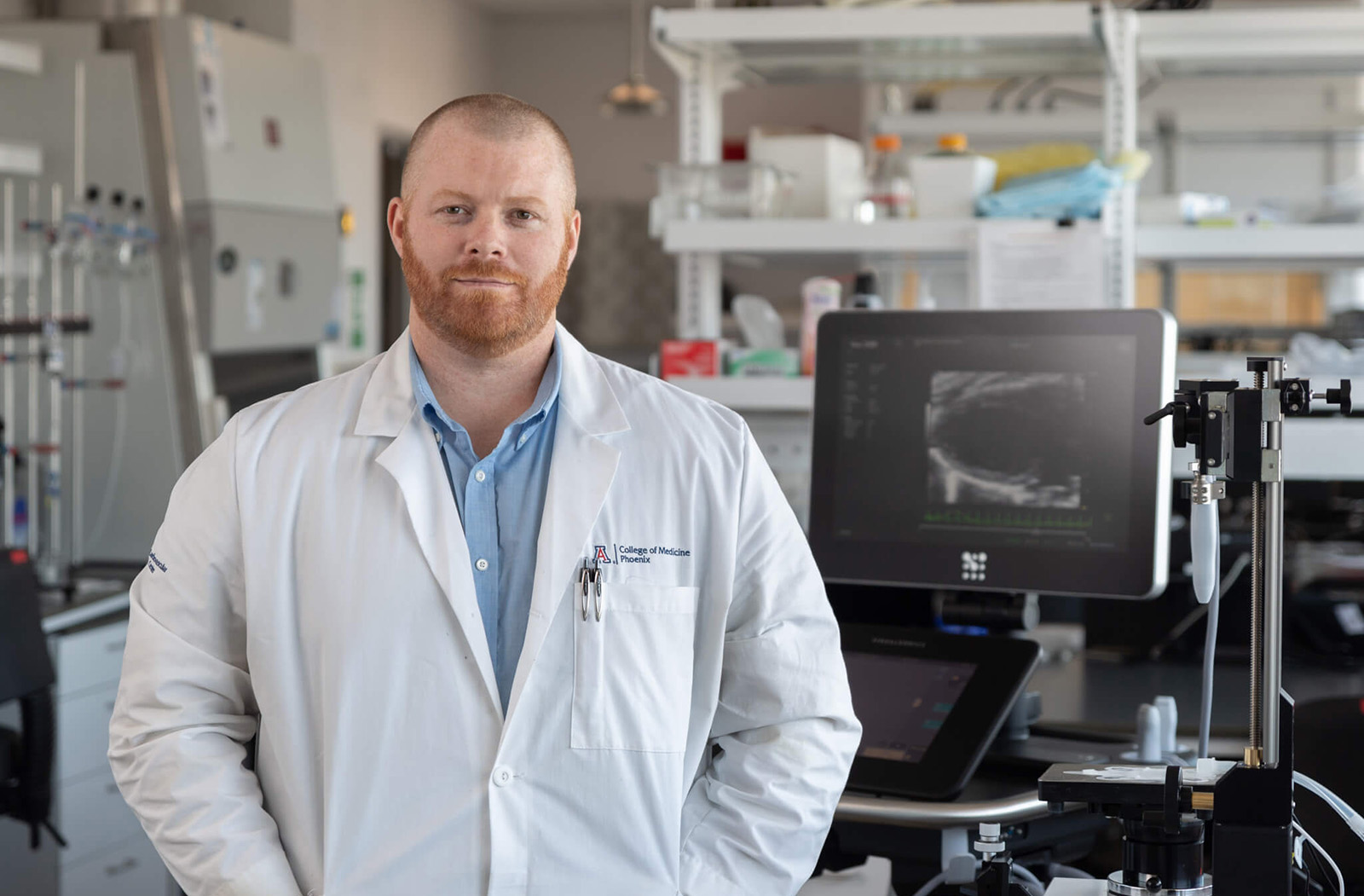 Erik Blackwood, PhD, is focused on understanding and treating the molecular causation of heart failure
Through his research, Erik Blackwood, PhD, a researcher in the Translational Cardiovascular Research Center (TCRC), seeks to understand the molecular underpinnings of both congenital and lifestyle-driven heart failure with the goal of identifying novel therapeutic targets.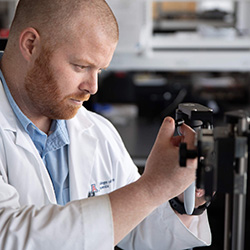 It is an interest that has seen him progress from a temporary intern to a full-time researcher. Ultimately, he hopes his work contributes to the progression of the field of basic cardiovascular sciences and to one day see his research make a direct clinical impact on the lives of patients.
His aims weren't always that lofty. Dr. Blackwood stumbled into this career almost by accident. Working as an EMT, he began volunteering in the lab of Christopher Glembotski, PhD — associate dean of Research and director of the TCRC at the University of Arizona College of Medicine – Phoenix — to help bolster his resume for medical school.
Yet it was also those days as an EMT that stoked his curiosity. "I was dismayed by the number of patients I worked with and would transport that suffered from atrial fibrillation," he said.
Dr. Blackwood attributes the freedom he was granted to explore cellular and molecular signaling and pathology during those early years as a volunteer with fostering that interest.
"Finding success in research, especially in an academic setting, is all about who you seek out and surround yourself with in order to maximize your development as an independent and creative thinker and scientist," Dr. Blackwood said. As a teacher, Dr. Glembotski would prove instrumental to his career development.
His mentor's myriad of successes, a dedication to touting the work of his trainees and the depth to which he approached scientific problems were inspiring to Dr. Blackwood.
Over the years, it's a relationship that has seen him grow professionally; and in January of 2022, Dr. Blackwood was honored with both the Irving J. Levinson Memorial Research Award and the J.G. Murray Research Award from the UArizona Sarver Heart Center. He is the first recipient of these awards at the college.
They will fund pilot studies testing the therapeutic efficacy of novel ATF6-activating compounds that Dr. Blackwood identified as signals of acute myocardial infarction — or heart attack, as it is commonly known.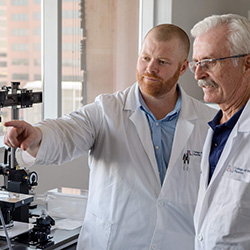 He further explained that additional testing would help, "Determine whether our compound has any untoward effects, which we haven't observed in any previous studies, and whether it can mitigate damage to the heart during an acute myocardial infarction."
His research and academic successes are all building toward his long-term career goal of becoming a principal investigator, whose aims are twofold: 1.) elucidating novel mechanisms in the heart that trigger its "molecular lifeguard" to counteract chronic systemic diseases and 2.) translating these discoveries into novel therapeutics and evaluating their efficacy.
And those pursuits are growing by the day. "I currently have two National Institutes of Health (NIH) grants in review that would facilitate my transition to a faculty member within the next year," he said. Moreover, these grants will see his research branch off into new scientific territory.
Since joining the college, he's been able to collaborate with neurobiologists, working to better understand the processes that lead to and exacerbate Alzheimer's disease. "I've established that there exists a clear heart-brain axis in which crosstalk occurs between these two vital organs, and pathology in one drives subsequent pathology in the other," he explained.
If he can further understand that axis and inter-organ communication in systemic-based diseases, including heart failure, it will be crucial for developing more accurate therapeutic discovery and targeting.
In addition to these prestigious awards, this year saw Dr. Blackwood selected as a University of Arizona Bio5 Institute postdoctoral fellow; be recognized with the 2022 Outstanding Postdoctoral Scholar Award for innovation in research and productivity in grants and publications; and in mid-June 2022, he will travel to Berlin to orally present a research abstract at the International Society for Heart Research (ISHR) World Congress.
About the College
Founded in 2007, the University of Arizona College of Medicine – Phoenix inspires and trains exemplary physicians, scientists and leaders to optimize health and health care in Arizona and beyond. By cultivating collaborative research locally and globally, the college accelerates discovery in a number of critical areas — including cancer, stroke, traumatic brain injury and cardiovascular disease. Championed as a student-centric campus, the college has graduated more than 800 physicians, all of whom received exceptional training from nine clinical partners and more than 2,700 diverse faculty members. As the anchor to the Phoenix Bioscience Core, which is projected to have an economic impact of $3.1 billion by 2025, the college prides itself on engaging with the community, fostering education, inclusion, access and advocacy.