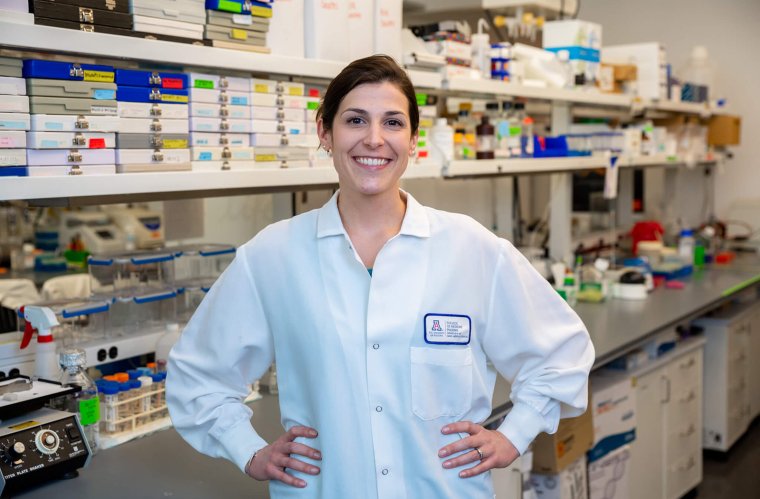 Sarver Heart Center Awards Grant to Postdoctoral Researcher at the College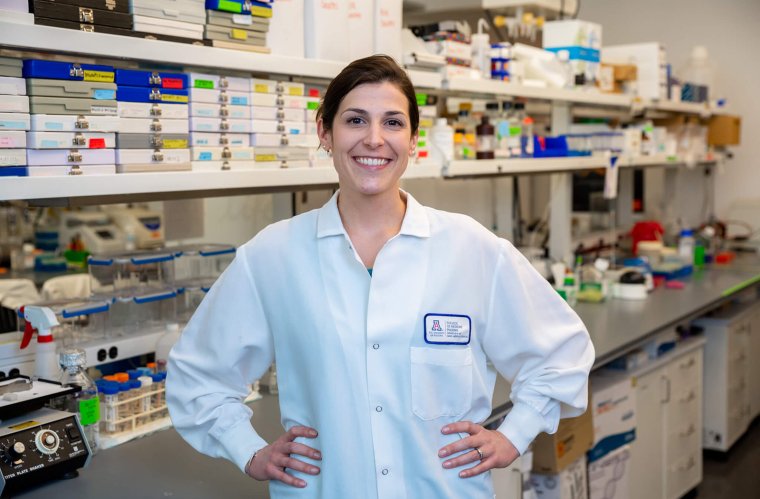 Alexandra Garvin, PhD, will use the award to further her studies on the underlying mechanisms of heart failure
Alexandra "Bobbie" Garvin, PhD, a postdoctoral research fellow in the Department of Basic Medical Sciences (BMS) at the University of Arizona College of Medicine – Phoenix, has been awarded a UArizona Sarver Heart Center grant for her work entitled, "Prohibitin as a Novel Therapeutic Target for Cardiac Fibrosis."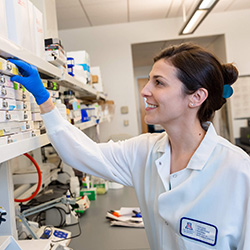 "This is an incredible honor for me to have received this award, which is providing critical funds for a new research direction as I gain more independence in my research career," she said. "The availability of granting mechanisms such as this are invaluable for young investigators carving out their independent research niche, while also increasing mechanistic understanding in cardiac diseases."
A physiologist by training, Dr. Garvin developed her passion for cardiovascular disease as she studied the increased risk for mortality women face after suffering a heart attack. "As a woman in science, this subject created a certain personal link to my work," she said.
Her current research — which led to the award — is focused on the mechanisms of cardiac injury and adverse remodeling in the heart that leads to heart failure. Often, fibrosis — a deposition of stiff fibers mediated by the cardiac fibroblast — is a key process in the progression of heart failure, a disease that effects roughly 6 million Americans.
There are currently no treatments to stop or reverse fibrosis. The grant from the Sarver Heart Center will allow Dr. Garvin to further investigate the role for the mitochondrial protein, prohibitin, in activated cardiac fibroblast cell fate. "This project looks to use the power of the mitochondria to control cell survival and use it to mediate cell death of these pathological activated cardiac fibroblasts — therefore 'turning off' the signal for fibrosis," she explained.
The findings could be potentially significant for clinical outcomes, possibly reducing the percentage of patients who've experienced hypertension or heart attacks from progressing into heart failure.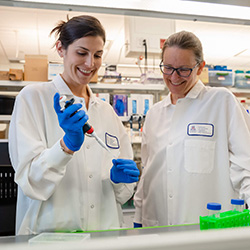 Dr. Garvin works in the laboratory of Taben Hale, PhD, an associate professor of BMS, who she credits with being instrumental in the development of this project. "Dr. Hale has supported me in numerous ways professionally and personally that have increased the impact of my time as a postdoctoral fellow. This sort of atmosphere has led to productive projects and the nurturing of novel ideas that blend my previous and newly acquired expertise to launch my independent project," she said.
She also credits Christopher Glembotski, PhD, associate dean of Research and director of the Translational Cardiovascular Research Center, for the valuable mentorship he's provided her since he joined the college in August 2020.
The guidance both he and Dr. Hale have given has informed her research experiences at the college and inspired her to give back one day.
"My pre- and postdoctoral training have truly provided a unique research niche for my future plans," she said. And with the goal of one day running her own academic research lab, she will continue working toward, "Elucidating novel therapeutic targets for heart failure, while also paying-it-forward by providing mentorship for the next generation of scientists."
About the College
Founded in 2007, the University of Arizona College of Medicine – Phoenix inspires and trains exemplary physicians, scientists and leaders to optimize health and health care in Arizona and beyond. By cultivating collaborative research locally and globally, the college accelerates discovery in a number of critical areas — including cancer, stroke, traumatic brain injury and cardiovascular disease. Championed as a student-centric campus, the college has graduated 745 physicians, all of whom received exceptional training from nine clinical partners and more than 2,600 diverse faculty members. As the anchor to the Phoenix Bioscience Core, which is projected to have an economic impact of $3.1 billion by 2025, the college prides itself on engaging with the community, fostering education, inclusion, access and advocacy.