Class of 2018 Celebrated at Awards Luncheon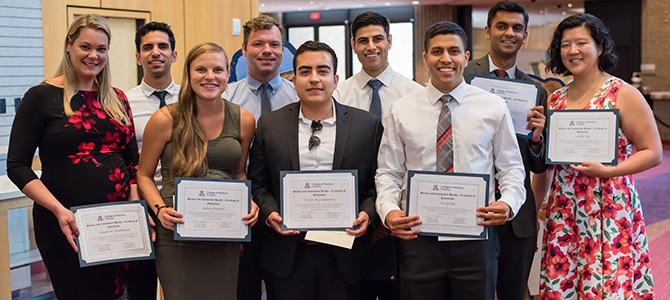 Service and Community Health Certificate of Distinction Students
Full Photo Gallery from the Event
The University of Arizona College of Medicine – Phoenix hosted a Senior Celebration Awards Luncheon May 7 to recognize the achievements of the Class of 2018. The 81 students in the graduating class were joined by faculty members and department chairs to celebrate their success.
"At the College of Medicine – Phoenix, we take pride in all of our students' achievements," Susan Kaib, MD, associate dean of Student Affairs, said. "Today, we recognize and honor students who consistently met the highest standards of personal and professional achievements."
The luncheon began with a light-hearted reflection of medical school given by graduate Daniel Kim, MD. Dr. Kim discussed their journey through medical school, which included the struggles and accomplishments of their third and fourth years.
"It comforts me that this is a special experience for all of us as a group and no one is acutely aware of all the blood, sweat and tears of this group than those sitting next to your right now," Dr. Kim said. "Looking forward, all of us will have countless opportunities to make an incredible impact on people's lives."
Department Awards
Department awards were chosen by the faculty to recognize one student from each of the required third-year clerkship departments.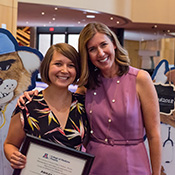 Family and Community Medicine – Ashley Jones, MD
Presented by Kathleen Brite, MD, Director of the Family Community and Preventive Medicine Clerkship
"The recipient of this award is one of the most talented, compassionate and amazing students I have ever had the privilege of knowing," Dr. Brite said.
Dr. Jones was recognized for her passion for patient care, advocacy for her patients and ability to connect with her patients and their families. She said Dr. Jones is an intelligent, hardworking professional who has been committed to primary care throughout medical school.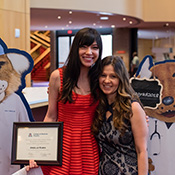 Internal Medicine – Arielle Rubin, MD
Presented by Tina Younger, MD, Assistant Professor in Internal Medicine
"This is the first year that we were all unanimous as site directors for the person who was chosen," Dr. Younger said. "This student has an amazing attitude toward life and has a smile on her face wherever she goes. Her gentle human spirit is so refreshing, which makes it so easy to interact with her."
Dr. Younger said Dr. Rubin was selected because of her teamwork and communication skills with patients. She is able to connect with patients on a personal level, which is just one of the many reasons she stood out this academic year.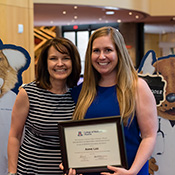 Obstetrics and Gynecology – Anne Lee, MD
Presented by Laurie Erickson, MD, Clinical Associate Professor in Obstetrics and Gynecology
"This year's recipient was chosen for a lot of her great qualities, but particularly because of her kind heart," Dr. Erickson said.  
Dr. Lee was selected because in addition to having a heart for her patients, providing outstanding medical care and advocating for her patients, she also worked to show that heart to the entire team.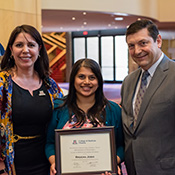 Pediatrics – Rhucha Joshi, MD
Presented by Jorge Masuello, MD, and Edith Allen, MD, Clinical Assistant Professors in Child Health
"This student is a wonderful person who is incredibly selfless and positive," Dr. Masuello said. "You can't help but be in a good mood when this student is around. She brought smiles to everyone's face."
"That is extremely important in our profession. Without a doubt, this student will be an outstanding intern," added Dr. Allen.
Psychiatry – Arielle Rubin, MD
Presented by James McLoone, MD, Chair of the Department of Psychiatry
"Arielle performed superbly in all aspects of the clerkship," Dr. McLoone said. "She has been a tremendous advocate and ambassador for psychiatry across the entire four years at the College of Medicine." 
Dr. Rubin was recognized for creativity, leadership, work ethic, scholarship, community service and passion for the field.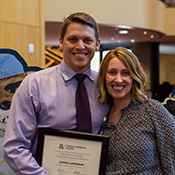 Surgery – James Lendrum, MD
Presented by Natasha Keric, MD, Assistant Professor of Surgery  
Dr. Keric said the student chosen possessed tenacity, kindness and maturity.
She described Dr. Lendrum as a student who functions beyond his years of training. He was a team player, hard worker and represented the exact type of student they welcomed for interviews.
Pillar Awards
Pillar Awards recognize students who have demonstrated exemplary performance in the areas that are considered pillars at the UA College of Medicine – Phoenix. These awards are chosen by the Senior Celebration Honors and Awards Committee.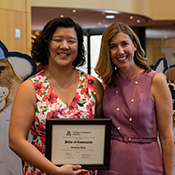 Community Award – Sophie Sun, MD, PhD
Presented by Kathleen Brite, MD, Director of the Family Community and Preventive Medicine Clerkship
The student selected for this pillar exhibits unparalleled commitment to, and positive effect on, the community. Dr. Sun was chosen because of her dedication to community service. She accumulated 503 service learning hours over four years. "That's monstrous on top of the rigorous academic medical school schedule," Dr. Brite said.
"It's important to remember that not everyone has the same advantages that you have," Dr. Sun said. "For me, I get a better grasp of those situations from working in community service and it allows me to understand the diverse culture."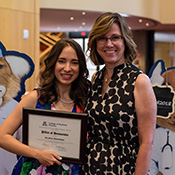 Humanism Award – Alona Sukhina, MD
Presented by Susan Kaib, MD, Associate Dean of Student Affairs 
The award is presented to the student who best demonstrates the ideals of outstanding compassion in the delivery of care, respect for patients, their families and health care colleagues, as well as demonstrated clinical excellence.
"As you can imagine with the culture at the college, this was not an easy person to select because all of you mirror that image of humanism and culture," Dr. Kaib said. "However, this student does stand out. She radiates humanism to fellow students, patients and even self."
Dr. Sukhina embraces the college's culture of help-seeking behavior, reaching out when needed and seeing signs of others when it's time for them to reach out. She is strong, brave and resilient and her advocacy for others has truly helped save lives, according to Dr. Kaib.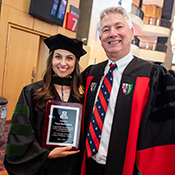 Leadership Award – Tiana Blank, MD
Presented by Guy Reed, MD, MS, Dean 
This honor is awarded to a student who has made a profound impact on and off campus, both as a medical student and community leader.
"She is kind, empowering, and supportive as a leader," Dean Reed said. "It's no surprise that this individual was selected as a Gold Humanism Honor Society inductee and student commencement speaker. She exemplifies everything we look for in a student leader."
Dr. Blank's leadership has been experienced by faculty, staff and peers. She was a student representative on the LCME task force, served as vice president of student government and found time to welcome and mentor medical school candidates as a student ambassador.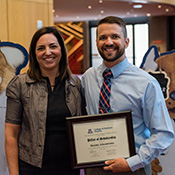 Scholarship Award – Daniel Crawford, MD
Presented by Cheryl O'Malley, MD, Interim Vice Dean of Academic Affairs
The Pillar of Scholarship is given to a student who has demonstrated an outstanding academic performance during his or her medical school career.
"It's with great pleasure that I present the Pillar of Scholarship award to a student who exemplifies our core principles, values and goals," Dr. O'Malley said. "In every respect, this student epitomizes these characteristics."
Dr. Crawford honored every clerkship rotation, performed in an outstanding manner in all the pre-clerkship blocks and scored exceptionally high in Step 1 and 2 exams. He was described as someone with impeccable character, a smile for everyone and a constant team player.
"This is an enormous honor," Dr. Crawford said. "I'm just proud to be part of this Class of 2018. My classmates are fantastic people and they will go on to be great physicians."
Certificate of Distinction in Global Health
Presented by David Beyda, MD, Director of the Global Health Program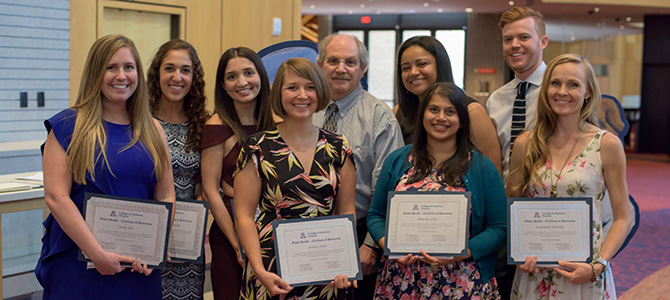 "These students have shown an incredible capacity and virtue for those they came across in the underprivileged countries," Dr. Beyda said. "I had the pleasure of traveling with them to the Dominican Republic and watching firsthand how incredibly passionate they were with those who came to them for help."
Now Bahar Alam, MD.
Ashley Jones, MD.
Rhucha Joshi, MD.
Nura Kanani, MD.
Anne Lee, MD.
Alicia Taase, MD.
Kateland Townley, MD.
Brandon Welbourn, MD.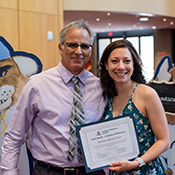 Certificate of Distinction in Rural Health
Presented by Jonathan Cartsonis, MD, Director of the Rural Health Professions Program
"Our students who are out in rural Arizona and rural New Mexico are really ambassadors for the UA," Dr. Cartsonis said. "They represent all of us. We have been lucky in our program to have highly professional students such as Michelle represent us. Michelle was placed for about 27 weeks in total in Silver City, New Mexico. There are still reverberations from her visit."
Michelle Blumenschine, MD.
Certificate of Distinction in Service and Community Health (Pictured above)
Presented by Baharak Tabarsi, MD, Academic Assistant Director of Service Learning
"We know that it's the commitment of the Class of 2018 and the preceding graduates that this campus has a strong culture of community involvement and service," Dr. Tabarsi said. "Despite your limited time, your class completed more than 6,000 hours of community service and 2,365 of those hours were completed by a small cohort of students whose dedication and leadership earned them a certificate of distinction."
Antoine Azar, MD.
Victor Arce Gutierrez, MD.
Jonathan Cagle, MD.
Tarek Eid, MD.
Porus Mistry, MD.
Kelsey Morgosh, MD.
Ravi Patel, MD.
Sophie Sun, MD.
Kimberly Weidenbach, MD.
Doctor of Medicine and Master of Public Health
Presented by Moe Bell, MD, MPH, Director of the MD/MPH Program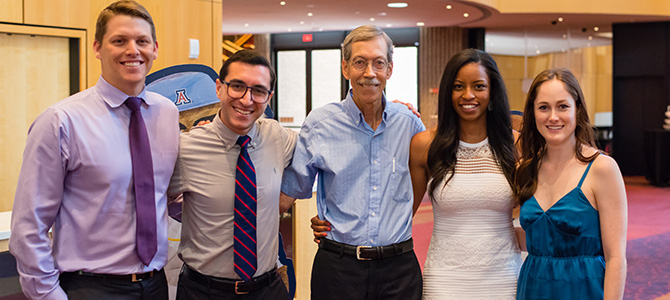 "The students here will not only received their medical degree, but also a master's in public health," Dr. Bell said. "These students, in addition to all the rigors of medical school, took nine extra graduate level courses and completed an MPH internship."
James Lendrum, MD, MPH.
Ralph Mohty, MD, MPH.
Taylor Pitt, MD, MPH.
Alyssa Thomas, MD, MPH.
Additional Awards
MICA Robert F. Crawford, MD, Scholastic Achievement Award
The Mutual Insurance Company of Arizona (MICA) awards the Robert F. Crawford, MD,  Scholastic Achievement Award to scholastically exceptional medical students:
Daniel Crawford, MD.
Anne Lee, MD.
Andrew Albert, MD.
The John Mattox, MD, Award
In recognition of academic excellence and dedication to women's issues in Obstetrics and Gynecology:
About the College
Founded in 2007, the University of Arizona College of Medicine – Phoenix inspires and trains exemplary physicians, scientists and leaders to optimize health and health care in Arizona and beyond. By cultivating collaborative research locally and globally, the college accelerates discovery in a number of critical areas — including cancer, stroke, traumatic brain injury and cardiovascular disease. Championed as a student-centric campus, the college has graduated 593 physicians, all of whom received exceptional training from nine clinical partners and more than 2,400 diverse faculty members. As the anchor to the Phoenix Biomedical Campus, which is projected to have an economic impact of $3.1 billion by 2025, the college prides itself on engaging with the community, fostering education, inclusion, access and advocacy.