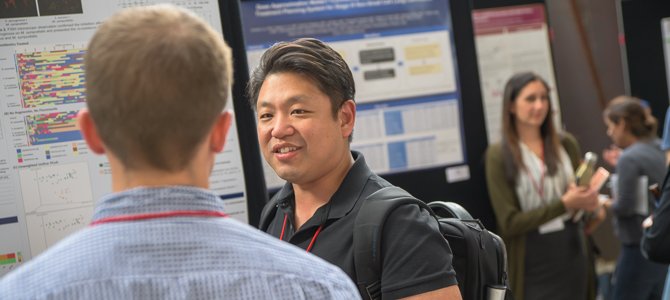 Researchers Share Discoveries with Community at ABRC Conference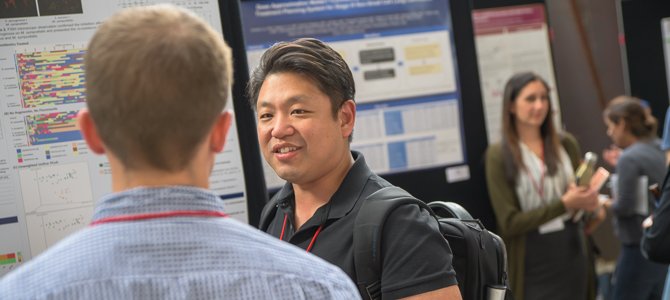 ABRC Research Conference Brings Together Grant Awardees from Across Arizona
More than 140 researchers gathered on May 2 at the University of Arizona College of Medicine – Phoenix to present their grant funded research at the fourth annual Arizona Biomedical Research Centre (ABRC) Research Conference.
The event, sponsored by the College of Medicine – Phoenix's Research Office, displayed the work of grant awardees from the Flinn Foundation, Valley Research Partnership (VRP) and Arizona Biomedical Research Centre.
"The ABRC research conference is designed to recognize the important and diverse research being done here in Arizona," said Paul Boehmer, PhD, interim associate dean for research, chair and professor of the UA College of Medicine – Phoenix's Department of Basic Medical Sciences. "This acts as a stepping stone for these researchers, and we are excited to see the discoveries that will come from their work."
The ABRC Conference displayed 80 posters and 16 researchers provided oral presentations.
Jennifer Barton, PhD, director of the BIO5 Institute, was the keynote speaker. She presented "Technology and Biology Advances: Enabling Progress toward Early Detection of Ovarian Cancer."
Dr. Barton develops miniature endoscopes that combine multiple advanced optical imaging modalities, and evaluates the suitability of these endoscopes for detecting early cancer development. She has a particular interest in the early detection of ovarian cancer, the most deadly gynecological malignancy. She discussed how there is currently no effective screening program for early stages of ovarian cancer.
"When I thought about what I wanted to speak about today, what I really thought about was my journey," she said. "I've been working on early detection of ovarian cancer for 15 years, and it has been a long journey. What has enabled it is the investigations from people like you and around the world who are making these advances in technology and biological understandings."
The event included a guest presentation by Paul Keim, PhD, the executive director of the Pathogen and Microbiome Institute at Northern Arizona University. He discussed "A One Health Approach to C. Difficile Infections: People, Dogs and the Environment." 
There are more than 500,000 cases of C. Difficile Infections every year and close to 30,000 deaths. Dr. Keim discussed his research in C. Difficile and this concept of one health.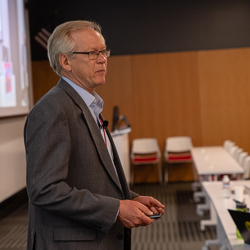 "This concept of one health has slowly been gaining traction around the world," he said. "We are all interested of course in the human medicine aspect of infectious diseases, but it is important to realize that this component is interacting with the environment and other animals."
The event included presentations from researchers across the valley on topics ranging from cancer, opioids and infectious diseases to valley fever. A few of those researchers included:
John H. Streicher, PhD
Funded by: ABRC
Title: "Heat Shock Protein 90 Inhibitors Enhance Opioid Anti-Nociception in Acute and Chronic Pain While Reducing Side Effects"
"This research is in an effort to improve opioid therapy," Streicher said. "We all know that there is an opioid crisis, but we still need opioids to treat pain. We need to find ways to make opioid therapy more effective and less addictive, so that we can treat pain more effectively without causing addiction and enhancing this terrible crisis."
Dr. Streicher's work is studying the Heat Shock Protein 90, also known as HSP90. He is interested in this protein because it's ubiquitous and highly expressed throughout the different cell types and the body. It has numerous roles, including regulating signal transduction, which is the process of transducing a signal from an activated receptor such as opioids. Dr. Streicher said that this protein is not well researched in opioids, and he believes this is a big opportunity for addiction medicine.
Heidi Steiner
Funded by: The Flinn Foundation
Title: "Genome-wide Association Study of Warfarin Stable Dose in Hispanics and Latinos"
Pharmacogenomics is how genetic variants affect your drug response. Through this approach, prescription doses can be adjusted for effectiveness based off each individual.
"We have an issue that we are failing in diversity in pharmacogenomics," Steiner said. "Most of these genetic studies are done on white people of European ancestry. This has been improving in recent years. However, it is still not good enough because we have knowledge that there are differences in pharmacogenomics and different race groups."
Steiner's research focuses on Warfarin, which is administered to patients who are at risk of clotting. Warfarin doses are calculated by measuring a person's international normalized ratio, which helps a health care provider know whether the anti-clotting medicine is on target or if the dosage needs to change.
Right now, genetic information can be entered into an algorithm to help determine therapeutic dose along with information regarding age, weight, sex and other prescribed drugs. However, it's not accurate for diverse groups. The genetic information in diverse race groups does not add a lot to these dosing algorithms as they lack the data.
Karen Yeager, DO
Funded by: The VRP
Title: "Insights: A Novel Visualization Dashboard for Children with Medical Complexity"
Dr. Yeager aims to improve provider comfort in caring for Children with Medical Complexity (CMC) by using informatics. CMC describes children who often have life-threatening health problems. This is a high-risk population for longer hospitalizations, readmission rates and morbidity.
"The current medical model is struggling to keep pace with this patient population and meet there intensive care needs," Dr. Yeager said.
The implementation of the electronic health record (EHR) led to massive amounts of big data. According to Dr. Yeager, these patients accumulate a lot of data points per admission, and they have multiple admissions. When a child with a medical complexity comes into the emergency department, physicians must sift through a large amount of data, but is there an efficient way to do this without missing key information?
Dr. Yeager created a dashboard for all the information a physician would need to know about a patient on one screen that is customizable. She has surveyed providers on their comfort level with CMC patients and plans to add emergency action plans.
About the College
Founded in 2007, the University of Arizona College of Medicine – Phoenix inspires and trains exemplary physicians, scientists and leaders to optimize health and health care in Arizona and beyond. By cultivating collaborative research locally and globally, the college accelerates discovery in a number of critical areas — including cancer, stroke, traumatic brain injury and cardiovascular disease. Championed as a student-centric campus, the college has graduated 593 physicians, all of whom received exceptional training from nine clinical partners and more than 2,400 diverse faculty members. As the anchor to the Phoenix Biomedical Campus, which is projected to have an economic impact of $3.1 billion by 2025, the college prides itself on engaging with the community, fostering education, inclusion, access and advocacy.