Commencement Crystallizes Years of Hard Work for the Class of 2023
With their medical degrees conferred, the newly minted MDs officially begin their careers as physicians
Monday, May 8, more than 70 medical students from the University of Arizona College of Medicine – Phoenix Class of 2023 processed through downtown Phoenix to the Arizona Financial Theatre. There, a boisterous crowd of their most ardent supporters waited.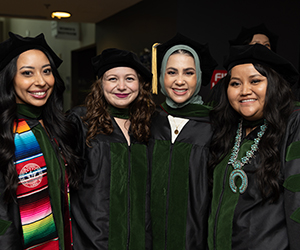 Led by the traditional bagpipe and drum corps, they funneled into the theatre to cheers and applause, taking their seats and eagerly anticipating the momentous occasion to come.
The Class of 2023 — the 13th graduating class from the college, which opened its doors in 2007 — was known as the "most inquisitive class." In his remarks, Dean Guy Reed, MD, MS, hoped they would always maintain that curious spirit.
"Today you stand before all of us and read aloud, for the world to hear, your class oath of commitment — your pledge to humanism, to promote health equity and justice for everyone, to pursue lifelong learning and to become exceptional physicians." he said. "You are committing to make the world a better and healthier place for everyone."
Robert C. Robbins, MD, president of the University of Arizona, addressed the graduates, as well, stressing how proud the university was of their accomplishments. "You are entering a profession dedicated to service to others, which is an incredible calling ... And I congratulate you on this achievement and for what you will go on to do in the future," he said.
Each year, the ceremony also recognizes a faculty member with the Stuart D. Flynn, MD, Master Educator Award. Chosen by the graduating class, the award signifies someone who exemplifies the dedication, hard work, empathy and discipline that it takes to be a great educator.
This year's winner was Marícela Moffitt, MD, MPH, FACP, director of the Doctoring Course. Dr. Moffitt played an essential role in the early years of the class's educational development, expertly guiding them through the intricacies and importance of the physician-patient relationship.
---
---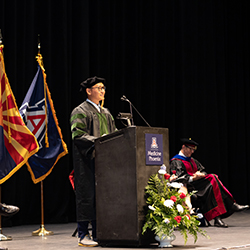 Abel De Castro, MD, who was selected by his peers to be the student speaker for the ceremony, touched on the value of mentorship — such as those informative sessions with Dr. Moffitt — when he began his remarks. "It's not always easy working with medical students, and we appreciate your patience and willingness to pour into us during the past four years," he said.
In addition, he offered these kind words for his fellow graduates. "I chose this school for the community and its culture, and I'm graduating today knowing that you all proved me right," he said. "As we step into the next phase of our careers, I wanted the last chance to say this: Don't forget the why. Don't forget that child-like excitement we all had when we were accepted into medical school. Don't forget that in a world that is constantly dividing us, our profession is one rooted in compassion, humanism and love."
Dr. De Castro's remarks were followed by this year's Commencement Speaker, Eric Reiman, MD. Dr. Reiman is a professor of Psychiatry at the college and the executive director of Banner Alzheimer's Institute.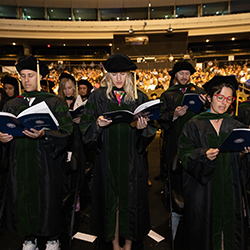 Dr. Reiman encouraged the students to embrace the challenges ahead and to cherish their opportunity to make a difference. "You are entering our profession at the most exciting and important time in the history of health care, and you will have unprecedented opportunities to make a difference," he said. "Careers may change, but your overarching values should not. Never forget about our patients and families and the things you can do — big or small — to help them."
The poignant moment was marked by tears of joy from the students and their families. The outpouring of emotion acknowledged all the effort — the long hours of studying, scholarly research and clinical time — that got them to this day, as well as the difficulty of saying goodbye to their fellow medical students and faculty mentors.
Now, these exemplary students will take the words they recited in their Class Oath and put them to practice alongside the skills they have honed over their time with the college to nineteen different states. Twenty-nine of them will remain in Arizona for all their years of residency training, helping to alleviate the physician shortage facing the state.
News, Videos and Photos
Student Profiles
About the College
Founded in 2007, the University of Arizona College of Medicine – Phoenix inspires and trains exemplary physicians, scientists and leaders to optimize health and health care in Arizona and beyond. By cultivating collaborative research locally and globally, the college accelerates discovery in a number of critical areas — including cancer, stroke, traumatic brain injury and cardiovascular disease. Championed as a student-centric campus, the college has graduated more than 800 physicians, all of whom received exceptional training from nine clinical partners and more than 2,700 diverse faculty members. As the anchor to the Phoenix Bioscience Core, which is projected to have an economic impact of $3.1 billion by 2025, the college prides itself on engaging with the community, fostering education, inclusion, access and advocacy.