PGY Level Calculation for Residents/Fellows
Stipends for full-time residents/fellows are based on the resident's or fellow's postgraduate years of Accreditation Council for Graduate Medical Education (ACGME) training, as determined by the Office of Graduate Medical Education in consultation with the training program director.
Only ACGME-specific training is used in this calculation, including required prerequisite training years (a preliminary internship year, for example).
Professional/Training experiences not included in the program year (PGY) calculation include:
Employment.
Military service.
Research.
Time spent obtaining other professional degrees.
Partial years of training.
Chief resident year (when it is done as an extra year of training after completion the core program).
2023–2024 Approved Salaries
For each period beginning on July 1 and ending on June 30 — an Academic Year — residents and fellows will be paid an annual salary equal to the amount approved by the Academic Management Council for the PGY that is applicable to the resident or fellow. During such Academic Year, the  approved amounts will be posted.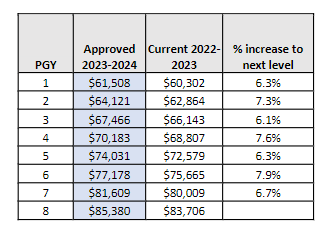 All compensation is payable in equal installments every two weeks and is subject to deductions for federal and state income withholdings and any other deductions required by law or authorized in writing by the resident or fellow.