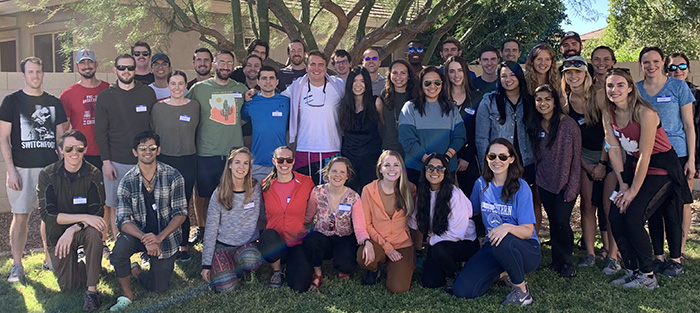 Residents have an important role in the education of medical students and (as upper level residents) of intern physicians. Some residents have a particular interest in teaching as well.
In addition to the Graduate Medical Education Department's Resident as Educator resources, our Internal Medicine Residency Program helps prepare all our interns and senior residents for their roles as medical educators in a number of different formats over the course of their 3-year training. Additional activities are available to help those with a special interest in teaching and/or academic medicine to excel at teaching.
All of our residents have "residents as teachers" training during the following:
Intern orientation.
Retreats:

Intern Retreat – November of intern year.
Valuable Advice to Develop into an Extraordinary Resident (VADER) Workshop.
PGY2 Retreat.

Intern Simulation Bootcamp.
360O feedback from attendings, interns, and students on their teaching skills.
Additional activities for those with a special interest in teaching:
UArizona College of Medicine – Phoenix "Resident as Educator" SIM activities.
Resident as Educator Program of Individualized Education (PIE) Certificate.
Advanced Teaching & Leadership one-month elective.
"Resident as Educator" Simulation Instructors for MS3 and MS4 SIM events (IM Clerkship, IM Core Sub-I, and more).
Events for high school students on careers in medicine.
Seven out-of-training chief resident positions.