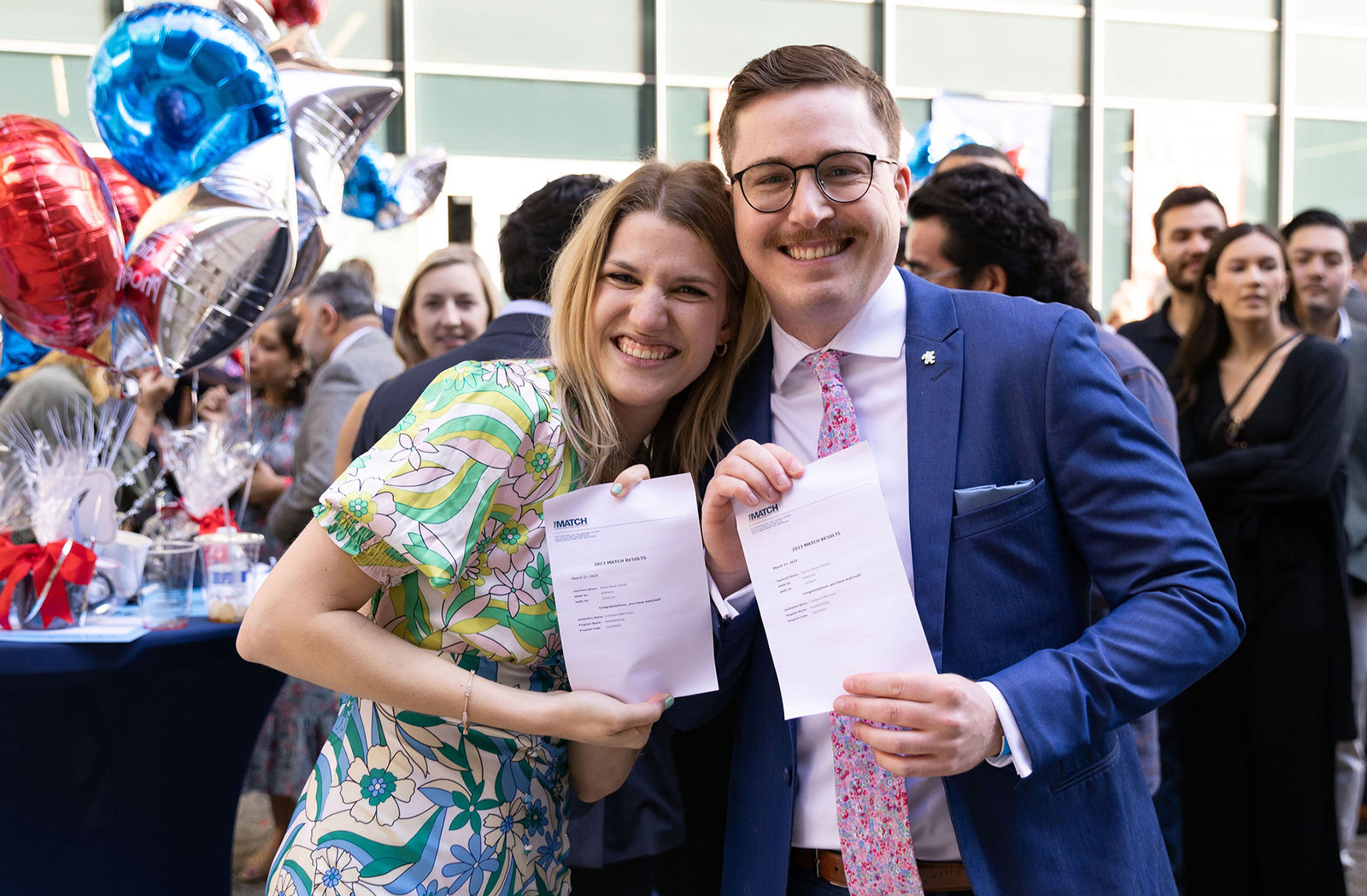 Destination Known: The Class of 2023 Match into Residency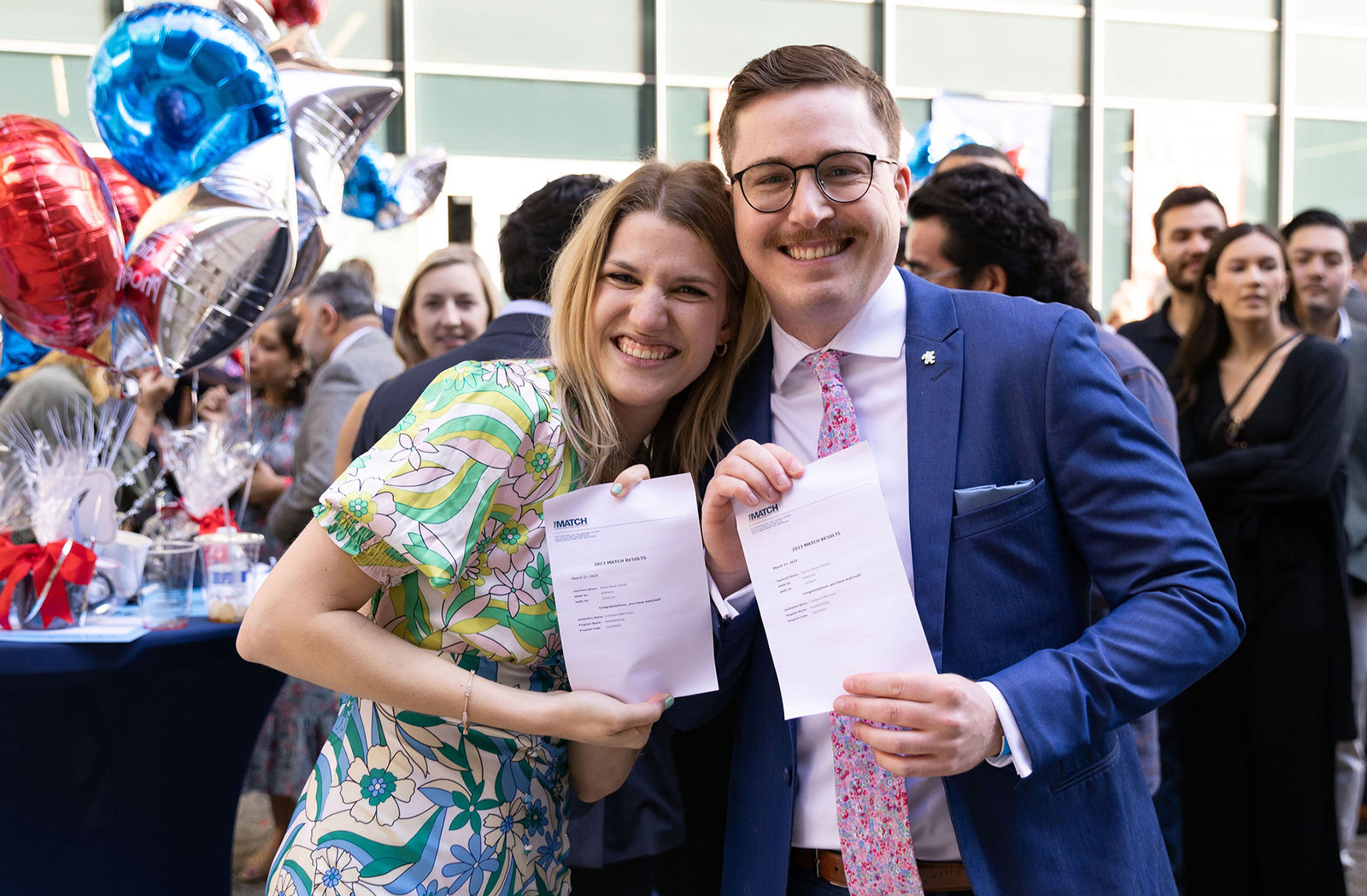 Amidst family and friends, the medical students unveiled the next step in their respective journeys
Through intensive — and often exhaustive — studies, daunting board exams and a global pandemic that upended their education, the Class of 2023 stayed strong. That resilience was rewarded Friday, March 17, during their Match Day.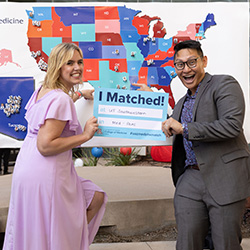 As their families and friends cheered them on, the more than 70 medical students tore open their letters — reveling in the joy of knowing all their efforts had paid off. Surrounded by paper lanterns and a hailstorm of confetti, it was truly a special occasion and one befitting the eight months of rigorous applications, interviews and travel.
Stephanie Briney, DO, associate dean of Student Affairs, addressed the future MDs as fellow medical students, faculty and staff looked on from an overlook of the Health Sciences Education Building. "They [the Class of 2023] have handled tremendous challenges and uncertainties with unwavering grace; they have strengthened our campus community and provided amazing support to their peers, their families and even our faculty and staff," she said.
And she expressed that there was little doubt each would be exceptional physicians in their specialties of choice.
Dean Guy Reed, MD, MS, who kicked off the occasion, shared in that sentiment, offering superlatives about the class and commending them for their focus throughout it all.
"You've been amazing in your journey to become a young physician. That is a challenge for most people; but you had an added complication: a worldwide pandemic that turned our universe and our world upside down. But you persevered, you endured, you succeeded," Dean Reed said. "You are also amazing in your commitment to the journey ahead — a journey of professional growth and development and in service to others. Making others' lives better, healthier and longer."
---
---
This year, nearly 43,000 U.S. allopathic seniors, osteopathic students, Canadian students, U.S. citizens who studied abroad to obtain their education, as well as non-U.S. citizens were all attempting to secure residency positions in the U.S. Despite such a crowded and competitive field, the Class of 2023 again showed why they were known as the "most inquisitive class."
They matched into prestigious residencies at world-class institutions across the country — such as UArizona College of Medicine – Phoenix, Phoenix Children's, UCLA Medical Center, Wake Forest Baptist Hospital, Barrow Neurological Institute, Vanderbilt University Medical Center and Barnes Jewish Hospital — and into highly competitive specialties like anesthesiology, dermatology, neurological surgery, ophthalmic pathology and psychiatry.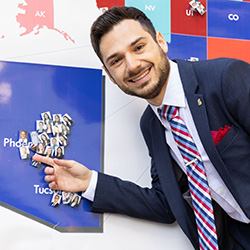 With years of residency still ahead, Dr. Briney encouraged the students to enjoy the moment. Their hard work to date had earned them as much.
In addition to their myriad of academic hurdles, the Class of 2023 had to overcome unspeakable tragedy. Classmate, Keenan McNamara, unexpectedly and suddenly passed away in October 2021. A moment of silence was shared in his honor prior to the class opening their match results. McNamara will again be honored at their commencement ceremony May 8.
The culmination of a complex, year-long process, the Match is about finding the right fit. Future physicians seek the specialty, residency program and mentors who will help them complete their professional training. Residency programs search for talented physicians who will advance the specialty and improve patient outcomes.
Match results are released nationally by the National Resident Matching Program™ and announced at Match Day ceremonies coordinated to occur each year on the same date (the third Friday in March) at the same time.
---
Class of 2023 Match Day Fast Facts
Thirty-two students will complete at least one year of training in Arizona.
Twenty-nine students will complete all years of their residency training in Arizona.
Of the students staying in Arizona for some, or all, of their training:

Seventeen matched at Banner – University Medical Center Phoenix.
Four matched at Banner – University Medical Center Tucson.
Four matched at Creighton University-affiliated hospitals.
Two matched at Mayo Clinic School of Graduate Medical Education.
Two matched at Phoenix Children's.
Three matched at other training sites in the state.

The other students will be spread out across the U.S., spanning 19 states in total.
Almost 30 percent of the graduates are entering primary care specialties — areas of immense need — including family medicine, internal medicine, pediatrics and Med-Peds.
Photos and Videos
Class of 2023 Match Day Profiles
About the College
Founded in 2007, the University of Arizona College of Medicine – Phoenix inspires and trains exemplary physicians, scientists and leaders to optimize health and health care in Arizona and beyond. By cultivating collaborative research locally and globally, the college accelerates discovery in a number of critical areas — including cancer, stroke, traumatic brain injury and cardiovascular disease. Championed as a student-centric campus, the college has graduated more than 800 physicians, all of whom received exceptional training from nine clinical partners and more than 2,700 diverse faculty members. As the anchor to the Phoenix Bioscience Core, which is projected to have an economic impact of $3.1 billion by 2025, the college prides itself on engaging with the community, fostering education, inclusion, access and advocacy.